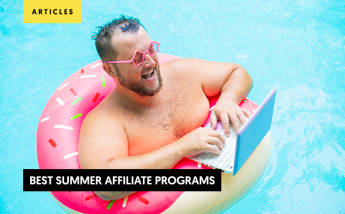 15+ Best Summer Affiliate Programs to promote in 2022
Are you ready for this summer? Yes, we know you can't wait to go to the beach and relax after this hectic year. But we meant, do you have your summer affiliate programs already under your radar? If not, we made a list of some interesting programs you can promote this summer. Some of the most amazing summer-related brand's affiliate marketing programs pay affiliates good money to bring them high-quality leads or sales. Here you have our selection for this year.
Best Affiliate Programs
1. Sittercity
Description: People are leaving on vacations and are worrying about who's taking care of their pets. One of our chosen best affiliate programs for 2022, Sittercity It's a marketplace for pet care services but not only that. Through their platform, you can find a trusted community and detailed profiles, ratings, and reviews from local families and reference contacts. Besides pet sitting they provide a platform for babysitters, nannies, housekeepers, and caregivers for adults.
Commission: $30 per lead
Description: People are trying to get fit after a whole year of being in sweatpants and besides their fridge. Fitbit belongs to the apps and gadgets dedicated to tracking our health and physical activity. Counting steps and tracking your weight are some major activities during the process of losing weight. Health and wellness affiliate programs Fitbit is the ultimate gadget and app for this purpose which makes it a weight loss product.
Commission: 7.2% per sale
3. Skybell
Description: When people leave on vacation, they will like to check on their homes. Skybell is a smart video doorbell that allows users to see, hear and speak to the visitor while they are on the other side of the door or remotely. When the system senses movement in its field of view for over 10 seconds, the user gets an alert on their mobile device. All the people who have access to the skybell device get an alert too.
Commission: 12%
Cookie Duration: 90 days
4. Garden Tower Project
Description: As we mentioned in our article the best gardening affiliate programs, one of the things people do systematically as the sun heats up, is taking care of their green spaces. As the name suggests this is a stackable tower made of interlocking segments that allows you to grow 50 plants or vegetables in just four square feet of space.
Affiliate Commission: 16%
Cookie: 60 days
5. Pool Deals Affiliate Program

Description: Around 4.2% of the homes in the US have a pool. It doesn't matter if it's a new vacuum or PH regulator products, pool owners need pool stuff before the summer. Pooldeals.com provides the best deals on swimming pool supplies, pool equipment, liners, covers, parts, and accessories.
Affiliate Commission: 12.5%
Cookie: 15 days
6. Beachsissi
Description: Who says summer says bikinis! Beachsissi offers a wide collection of women's bathing suits and swimwear.
Affiliate Commission: 10%
Cookie: 15 days
7. Ikamper
Description: Sun comes out and so do campers! Ikamper manufactures innovative roof tents and outdoor equipment of great quality. With these roof tents, camping enthusiasts can set a camping site at any time.
Affiliate Commission: 10%
Cookie: 30 days
8. Jack's Surfboards

Description: The largest selection of wetsuits, surfboards, leashes, traction pads, sunglasses, skateboards, surf apparel, and more. Your surf adepts will definitely find their surfing gear here.
Affiliate Commission: 8%
Cookie: 120 days
9. Barbeques Galore

Description: Already thinking about your backyard BBQs? So is your audience! Barbeques Galore it's the biggest Australian BBQ and outdoor furniture retailer.
Affiliate Commission: 6%
Cookie: 14 days
10. Outdoorsy
Description: This is a large and safe community-driven RV marketplace for renting RVs directly from their owners. Now that people are more likely to travel locally instead of jumping in an airplane to go visit an exotic country, this affiliate program can be very attractive.
Affiliate Commission: $60
Cookie: 30 days
11. Swimoutlet.com
Description: A wide range of swimming, summer fashion, beach, and surf products shop offering a great experience and best value.
Affiliate Commission: 8%
Cookie: 7 days
12. Eartheasy
Description: Eartheasy provides practical products and information for sustainable living. We think it's an important affiliate program during the summer, as people get way more connected with the planet during the sunny periods of the year.
Affiliate Commission: 10%
Cookie: 90 days
13. Worldwide Golf Shops
Description: WGS is an authorized dealer for all major golf brands including Titleist, Ping, TaylorMade, Callaway, Bridgestone, Nike, Cobra, Srixon, Puma, and more. If your audience enjoys golfing, they will for sure find here a product they need.
Affiliate Commission: 7%
Cookie: 45 days
14. Al's Affiliate Program
Description: Based in Utah, Al's offers gear and clothing for every outdoor adventure.
Affiliate Commission: 9%
Cookie: 45 days
15. The Home Depot

Description: Summertime is also the time where we take care of our home and garden. At Home Depot your audience can find almost anything they need to succeed in their summer bricolages. Home Depot makes part of our selection of the best gardening affiliate programs for this year as well as the best home decor affiliate programs to have into account this spring.
Affiliate Commission: 5 -10%
16. Bass Pro Shop
Description: Outside activities? Bass pro shop is a trusted place for quality fishing, hunting, boating, and outdoor sporting goods.
Affiliate Commission Rate: 5 %
Conclusion
Summertime brings out of us a desire of connecting with nature, to get in shape, and to share moments outdoors with family and friends.
Always try to think of the products you would like to have or renew during the summer and your audience for sure will feel related to those products you are promoting. The wider the selection of products of the affiliate program is, the more likely your audience will find the perfect fit for their budgets and needs.
Want to find top offers for this summer? Join our affiliate network as a publisher today.
Accelerate your Conversions, Increase your Revenue
with lemonads
---
You would like