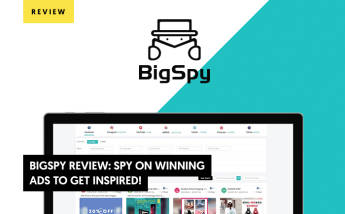 BigSpy Review 2021: Spy On Winning Ads To Get Inspired!
Our BigSpy Review is a complete full guide of the knowledge you need to achieve and put into practice by spying on those winning ads to score higher goals in 2021!
Not only is it an amazing Ad spy tool for you to draw creative inspirations for your new marketing campaigns, but you can also track competitor's ads to see what's working for them and test if they will work for you!
If you're looking for a social media advertising spy tool, especially for Facebook's ads, with a user-friendly design, simplified filtering and in-depth analysis, then you must experience BigSpy's advertising spy tool!
So, let's dive deeper into learning BigSpy, to earn not only tips, pricing plans, pros and cons, but also to understand the big value of what their ads spy tool can do for you by overviewing:
BigSpy Review Company;
BigSpy Review Data Inventory;
BigSpy Screening options;
BigSpy Tips to Spy Ads
BigSpy Review Pros & Cons;
BigSpy Review Pricing Plans;
BigSpy Review Conclusions.
BigSpy Review Company
BigSpy is an ad spy tool that can capture the most important information of ads from multiple social media platforms with more than 40 different countries and they store 160 million ad data!
BigSpy is the world's largest ad database existing today!
BigSpy is not only a Facebook ad spying tool, but it's a highly qualified all-inclusive social media ads spy tool for many social media networks and channels where BigSpy grabs ads from, such as:
Facebook Ads
Youtube
Pinterest
Yahoo
Admob
Twitter
If you advertise on Facebook, we know the importance of maximizing the effectiveness of advertising ads and today you can also research competitors' ads to "spy" on their working strategies!
Timing to analyze and maximize the effectiveness of each product takes time and it's almost impossible to analyze each competitor's ads one by one.
If there is a tool that can do this for us, especially for free, why not use it?
This is why BigSpy helps advertisers with their spy tool to monitor competitors' ads, especially on Facebook, to let us check the competitor's advertising ideas and strategies, in order to succeed earlier in achieving the goals we set.
With BigSpy, you can research the competitor's advertising ideas to find your product ad targeting so that your ads can be more effective than ever, and the best way to get this advantage is to research in advance with competitors' customers and analyze all the data from their case studies.
What's great about BigSpy is that you can find a hidden market and profitable opportunities for you to eliminate the hassle of creating all content, determine campaign goals, and so much more.
Spying is not about stealing and imitating. It's all about learning from the competition, creating your own ideas that inspired you most and applying a similar strategy that worked for your competitors,  giving you the chance to see if it'll also work for you.
With BigSpy you can find all ads people track by saving time and money. Not only you can get niches and ideas with social proof and Real-Time data, allowing you to monitor activity as it happens, but the system can also automatically pick winning or trending ads on a daily basis with the intelligence you need to drive down ad expenses and maximize profitability.
So, what are we waiting for? Let's see more!
BigSpy Review Data Inventory
As we previously mentioned, BigSpy is one of the best tools for monitoring social ads which stores a huge database that almost covers every ad type, niche and also any country!
BigSpy currently has more than 2 million ads from more than 40 countries and regions having more than 40 ad types and it's keeping on growing!
The BigSpy ads spy tool includes product trends, product stores and top-level reports you can't ignore and you can easily create social media ads and earn the funnels that work in a matter of seconds!
BigSpy also provides an intuitive layout for both beginners and pros. You can search for any type of ad on the desktop and mobile with many unique advantages:
6 platform advertising monitoring
More than 400 million advertising data inventory
Multi-type screening function
Simple registration
Completely free (and paid plans we'll check later)
Direct online use.
BigSpy developed this amazing ad spy tool so that ads would be more transparent, making it easier for you to always achieve the goals you're setting in your advertising strategy.
BigSpy Screening options
BigSpy supports a variety of screening options including:
Marketing Objectives Goal Filter: page post engagement, Website Conversion, App Install, COD
Ads by Country: BigSpy contains ads for 40 countries
Ad Creative Format: Choose from image/video or carousel creatives
Industry
All CTA Types: Contains all cta types commonly used in facebook ads, such as  "Learn more", "Like page", "Email now" "Travel Now" and so on
E-commerce software is literally the magic-lamp for dropshippers: WooCommerce, Shopify, Magento, PrestaShop, BigCommerce, OpenCart.
Ad creation time and ad run time: Filter ads from the last 1 week, the last 3 months, and the most recent June.
Keyword Search: possible searches are by the title, ad content, ad elements of your ad, or by search of a website, product or directly your competitor.
Ad category: You can select from "Game/App/ or Ecom".
Page categories: Once specified, only ads being run from pages in that category are shown.
Countries: I'm not telling you what this filter does. Go figure.
Language: This one has a lot of "creative" uses. (Hint: Target a specific community even in countries with multiple languages.)
Devices: Choose which ads you wish to spy on, Android, iOS or Desktop (PC)?
Like-range: Lets us set a "minimum-maximum" number of likes that the ad has fetched so far.
Affiliate Networks: Choose only those ads which are from your favourite Affiliate network.
Custom date range: Searching for longest-running ads generally reveals some of the most successful ads.
Affiliate ID / Offer ID: There are networks which do not show ad information directly. Well, BigSpy also works with affiliates and offers IDs.
And...
BigSpy can sort the searched ads in 5 ways:
Sort By Last Seen,
Sort By First Seen,
Sort By Like: find popular ads with most likes;
Sort By Comment: most commented ads increasing engagement
Sort By Share: most shared ads to learn which content highly engages most users that inspires them to spread that brand's identity to increase its awareness.
These best advertisements can be used as reference case study to learn from creative ideas and headline content.
Engaging is truly hard since the high competition, but this doesn't mean you can't earn that same success your competitors are having, especially with BigSpy!
So, let's check more about what you should look for in the ads of your competitors that BigSpy can give you.
BigSpy Tips to Spy Ads
What is it that we are truly looking for?
As we said, spying on competitor's ads is not to steal their posts, but to study and understand what we could improve, by checking what's working and what's not.
There are many points we should overview and to be focused on when we search for a specific ad to earn the strategies that are working!
So, let's check some of the following points to study in your competitor's ads and get inspired to create your own next winning ads!
Understanding the Ad-creatives
Let's zoom-in on Facebook ad models on Facebook:
In BigSpy you can check the following Facebook ads this way:
You'll need to check:
The days the ad has been running.
Social media engagement (likes/comments/shares).
Heat: an interior BigSpy metric that assigns each ad-creatives, a number for you to check the effectiveness of the ad. The higher it is, the better the ad is performing. Take note this interior metric is only for Facebook's ads.
CTA button.
And the landing page URL.
The name of the page can be clicked to check the ad directly on the page where it is running and, with BigSpy, you can also check the interface for other social media channels as well.
Besides the "heat" metric, all the other displayed metrics are the same across BigSpy ads tools and the ad creatives are "interactive" meaning that, as you click on the landing page URL, it will automatically direct you to visit it or, by clicking on the CTA, to trigger it.
Detailed Ad-insight
This is an aspect you don't want to miss in discovering an ad creative insight, to view more on the "view more" button that's displayed, and by clicking on it, will trigger a popup, showing some of the best insights available for that specific ad.
The offered data includes:
Category
Ad-text/description
Date-range for which the ad was visible
Performance (Engagement /heat)
Country
Device (PC / Android / iOS)
If you need to download the thumbnail/video used in the ad, click on their download button and you can check even more detailed insights, getting a complete full access to every piece of data available of the ad that fits the metrics you're interested about.
Gender, age and location
Talking about insights, you surely want to focus on getting access to BigSpy's insights on gender, age and location.
Trying to find the exact demographics of your target audience that will provide the most profitable ads for your campaign is a must and BigSpy can help you achieve this goal with their intense data!
To not even mention how much money you'd be saving in test-runnings of ads that could work or not.
BigSpy can give you access with an easy to understand, non-boring graph that is used to preview and underline the data you're looking for by checking the age-groups which were targeted with the ad, as well as the Gender-distribution and location. BigSpy will show you the best countries to target for that particular ad or for any ad in that niche/industry.
Track Competitors ads
When advertising on any social media platform, especially on Facebook, it's obvious that practicing regular advertising tests is a must and, if you want to know the results of the ad test, you need to monitor and track these ads at the same time.
So, what could ease our work? BigSpy!
BigSpy can help you collect and track these ads to analyze user-to-test ads and see for each one their effective results of the A/B tests of your competitors and see which worked best for you to apply the same strategies and create your new and own inspired creative ads!
BigSpy's "People tracked" option shows ads others are tracking and, by finding amazing insights of tracked ads that someone tracked that fit your niche/industry and promotional strategy, you can add them directly to your "track list"!
And spy on ads!
In case you don't have an exact product/industry or niche yet, the "Ad Ideas" feature is exactly what you need by simply clicking on the "Ad Ideas" from the top-bar of BigSpy's platform.
Select an ad "idea type" option that includes:
Question
Hashtag
Emojis
Free
Exclamation etc.
To get an idea of which type of ads are performing better than others, get inspired with BigSpy ad ideas!
BigSpy Review Pros & Cons
BigSpy has impressive features: not only can you capture the outgoing URLs, but you can also grab the redirecting URLs, which then lead to the final URL, uncovering cloaked, affiliate and hidden URLs.
Check here below:
So, let's see all BigSpy's Review Pros & Cons:
BigSpy's Review Pros:
Forever free plan with many insights and features;
Different affordable plans, if you need extra insights and metrics;
Unique "heat" metric for Facebook ads;
Many different ad ideas offered for free;
Top-charts feature;
Extremely filter-rich search panel;
Ads from 6 Social Networks + Yahoo.
Tracking feature;
Detailed ad insights;
Downloadable ad-creatives.
And so much more with their pricing plans!
BigSpy's Review Cons:
BigSpy Review Pricing Plans
BigSpy has a unique free plan!
Why unique? Simply because by selecting their free plan, they'll actually give you access to most of their many amazing and useful features without paying!
Even though BigSpy's free version is difficult to meet higher demand, it's still very powerful.
Choosing the best plan is not always simple, but this also depends if you're a personal marketer, marketing products on Facebook or if you're a corporate marketer.
In the first case, since your demand is not very large, the free version should be able to solve your needs, meanwhile, in the second case, you can choose a paid ads spy tool.
BigSpy is also great for insisting on developing new features to help advertisers achieve their goals for either, if they choose free or paid plans!
It's obvious that each paid version plan will give you more access to many other insights or features, but it's important to check which are the points you need to focus to acquire and only then, pick the best plan that fits your needs.
So let's check BigSpy Free and paid plans:
Choose the best plan that fits your needs!

Read More :
Bigspy competitor and alternative
AdEspresso
AdSector
AdPlexity eCommerce
MagicAdz
PowerAdSpy
Swipe Worthy
BigSpy Review conclusions
As we arrived at our conclusion, is BigSpy the ad Spy tool you've been looking for?

Surely advertising on social media is where you can earn an impressive traffic source and using a social media ad spy tool could help you in achieving your goals sooner!
BigSpy covers most insights, search filters and metrics with their impressive database that you won't find elsewhere and, as we saw, their efficiency has proven with their stats!

Bigspy is a really great tool that a lot of lemonads affiliate uses to get inspired to have great performance Facebook ads campaigns with our CPA offers.
We hope our BigSpy Review cleared all your doubts and, if you want to give it a try ... what are you waiting for? Register now with BigSpy!
Accelerate your Conversions, Increase your Revenue
with lemonads
---
You would like