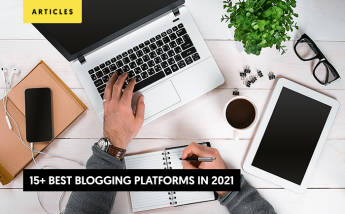 Best Blogging platforms for Affiliate Marketers and Content Creators in 2022.
Are you willing to start a Blog this year? If you are, you are so right to do so! With the digital marketing boom, blogging is still a very profitable career option. Some people are making thousands of dollars from blogging. So if you thought 2022 was not too late to start, you are right. In this article, we will take you from what is a blog to the best blogging platforms, the pros, and the cons. In the end, you will be able to choose wisely the platform where all your creative effort is going.
What is a Blog?
A blog is a type of website. We can imagine blogs as online journals. Bloggers are constantly creating content for their blogs related to their passions which can be very niche. This content typically includes text, pics, GIFs, pictures, or infographics.
The difference between a blog and a website is that by nature, websites are static, their content is organized in pages and the content is not changed frequently. On the other hand, a blog is dynamic as there is new content almost every day. Blogs can be part of a website but not all websites contain a blog.
Successful personal blogs (inspiration list)
There are a lot of success cases in the blog world. 6 of the biggest examples can be HuffPost, Engadget, Moz, Perez Hilton, Mashable, or Techcrunch.
Big guys can be inspiring, but as you are thinking to start, we chose some successful personal blogs in different niches so you can pull out some ideas of the things you can do with your blog.
Marketing and Social Media: Jon Loomer, Awario, Mari Smith
Tech and Gaming: Wolf's Gaming Blog, What's Eric playing.
Lifestyle: Apartment Therapy, Say Yes, A Cup of Jo.
Health and Fitness: Fit Bottomed Girls, Love Sweat Fitness.
Food Blogs: Rainbow plant life, Our food stories
Fashion: Color me Courtney, Style, and error
Travel: PS I'm on my way, Travels of Adam.
First 3 steps to build a blog
If you are reading this article, you might already have an idea of what you are willing to write about. But if you want to make money out of your blog there are some things you better have in mind:
Choose a good niche. We know you think big, and because of that, you want to become an authority in the subject you will be writing about. By defining your niche, you will guide your creative mind to focus on your niche audience's subjects. This will also help to choose the products you promote on your blog, making a logical link between your articles and your money source.
Choose your name. This is one of the most exciting steps, we know. You already imagine your logo, image, and so on, but wait. Before you get super excited about that name, think if it's relatable to the niche you chose and if it's catchy enough. Get inspired by wording you use in business or slang.
Think about the audience. There is a long-living trend of choosing names in English for brands worldwide. If your blog is targeted at other language-speaking countries, it can be useful to use their language. By discovering what your keywords are in other languages, you can find some catchy, sonorous, and cool brandable ideas.
You can get more inspiration from our article, how to build a niche site.
Choose your blogging platform. And here is where the main purpose of this article takes place. You can also include another step before this one "buy your domain through a domain registrar and hosting", but some blogging platforms give you both things in the same place, which makes it convenient. It's up to you to decide how you want to proceed.
Let's start by understanding, what is a blogging platform?
What are blogging platforms?
A blogging platform is software that allows people to create, edit and publish content on the internet. There are many free or paid blogging platforms available and some of the website builders include blog building options.
Things to have into account when choosing your blogging platform?
You should have a very clear purpose for your blog, what kind of blog you want to create, and your vision in the long term. If you're going to grow in time, maybe you should think of using a  platform that is flexible and has room to grow.
Your coding and design skills. Some platforms are extremely easy to use as their drag and drop options allow you to create visually impressive blogs. These platforms might seem more expensive but it makes it affordable in the way you don't need to spend on designers or webmasters once your blog requires more creative attention or more features.
Trying a free version of different platforms might be a good idea so you can check which interface feels more comfortable for you.
Best Blogging Platforms
Choosing the right platform is crucial for your online success. In this list, we have free and paid blogging platforms and they are the platforms our clients use the most.
WordPress.Org vs Wordpress.com
Worpress.org is sometimes confused with wordpress.com.
To make it easy to understand:
On free wordpress.com blogs are free for up to 3G of storage, in exchange, they display their ads on your blog. You can not have a custom domain. Limited SEO. You are not allowed to sell ads. No plugins allowed… If you want to upgrade it will cost hundreds of dollars a year for each feature upgrade
On Wordpress.org, with an estimated $46-100 a year, you have WordPress hosting and domain, you have all plugins allowed, full theme support, monetization freedom, branding freedom, All Search Engine Optimization features, powerful analytics, free themes, e-commerce store and more. Setting up a self-hosted wordpress.org is easy and there are lots of step-by-step tutorials you can use to build yours.
Cons:
WordPress has a learning curve at first.
Users are responsible for backups and security.
2. Wix
Wix is a classic template "drag and drop" website builder and an AI platform rolled into one, easy to set. It is a great blogging platform. With plenty of easy features and free web hosting. You can choose from over 500 industry-specific templates and make use of its incredible drag-and-drop editor.
Wix is available for free for as long as you want. If you need professional features like your own domain name or e-commerce, you must choose from one of their premium plans ranging from "Combo" to "Business VIP". The cheapest ad-free plan with a custom domain name costs $14 per month.
Cons:
The blogging features are not as good compared to other platforms.
3. Medium
Medium is a free and open platform where readers find dynamic thinking, and where expert and undiscovered voices can share their writing on any topic. Anyone can write on Medium. Thought-leaders, journalists, experts, and individuals with unique perspectives share their thinking there.
While you can't use Medium for affiliate marketing, You can use Medium and gain exposure to your affiliate website by sharing your expertise.
Cons:
Branding in Medium is not possible with such limited design options.
You can't run ads on your blog.
4. Weebly
Weebly is a very user-friendly, robust, and reliable blogging site and website builder. Anyone can use it to launch a blog, online store, or personal website without writing a single line of code.
Weebly gives users a personalized domain and email address, reliable and free hosting, fully customizable and modern themes and templates, and premium support via email, chat, and phone, video tutorials, webcasts, and more. You also get a 30-day money-back guarantee plus loads more features. Their cheapest paid plan is  $25 per month.
5. Blogger
Blogger hosted by Google, it's a free online content management system (CMS) that facilitates the creation of blogs. To use Blogger, users must use their existing Gmail email addresses or create a new one. It provides free blog hosting and a free Blogspot subdomain to get started. All Blogger's themes, gadgets, and other options are free as well, though there are some third-party themes you can pay for.
Cons:
Limited blogging tools and you can't (at least until now) add features as you expand.
Limited template design quantity.
6. Ghost
Ghost is a free and open-source blogging platform written in JavaScript and distributed under the MIT License, designed to simplify the process of online publishing for individual bloggers as well as online publications. They have more than 2.5 Million active users. The Ghost blogging software is free to download and use.
Cons:
Complicated Install and customization
Limited options and features.
Theme diversity is limited.
7. Typepad
Typepad is a reliable and configurable blog hosting service used by influencers and large organizations. The platform puts users in complete control of their site designs, web pages, and individual posts. Their cheapest paid plan is  $8.95 per month.
8. Tumblr
Tumblr is a microblogging and social media tool that allows users to publish short blog posts called "tumblelogs". Tumblr's is free and they already count 450 million users. To earn directly from your posts on Tumblr, use ad networks, such as Google Adsense.
Cons:
Included features are limited.
Moving your content to another blogging platform it's very difficult.
9. Jekyll
Jekyll is unlike any of the other free blogging platforms on this list. This platform works entirely from your command line and doesn't have a graphical interface. With Jekyll, you'll need to use HTML, CSS, Markdown text, and Liquid templates to create simple sites. Jekyll is free, has an advanced feature set however is not user-friendly and requires knowledge of Ruby. If you are not very tech-savvy, Jekyll might not be for you.
10. Squarespace
Squarespace's an easy-to-manage all-in-one platform. They provide high-quality hosting, you can buy your domain directly from their platform and you don't need to know to code.
Their cheapest paid plan is t $12/month (paid yearly) for personal use. It's ad-free and includes a free domain name for 1 year. The Business plan costs $18/month and adds marketing features.
Cons:
Limited features, integrations, and tools.
11. Gator by Hostgator
It's an innovative website builder that also offers free domain and SSL certificates at a low cost. It offers a drag-and-drop page builder that makes it easy to have a nice-looking blog in minutes. Their cheapest paid plan is $3.50 per month.
Cons:
45-day money-back guarantee but no free - no credit card version.
Limited library of apps and extensions.
Conclusion
Blogs are still relevant in 2022 as long as you are giving the public information that is authentic, unique and that brings something valuable to their lives.
You can think of building a blog just to share some experiences and put "on paper" the way you see the world. But, if you want to make money out of your writing, you need to go deeper into the nature of your blog. Choosing a specific niche, as we explained, is part of that process. Are you thinking of an evergreen subject or a seasonal subject? You can get inspired by this article on how to monetize your blog.
There are very different blogging platforms and all the ones on this list are good. Choosing yours depends on your tech knowledge, your design capabilities, your budget, and the project you have in mind for your blog.
If you are open to learning while building your blog, our pick is wordpress.org. We found during the research for this article that price-wise is a great option and it has all the room you want if you need to grow. Besides the platform capabilities, there are plugins to achieve everything you would need in the future and tons of youtube tutorials and documentation that can help you build, optimize and grow your blog.
We hope this article helped you on your quest to choose the best blogging platform. Check what are the best affiliate programs for bloggers this year. If you have a project of becoming an affiliate marketer, we have a lot of information on how to start your affiliate business on our blog. You can subscribe by following this link.
Accelerate your Conversions, Increase your Revenue
with lemonads
---
You would like