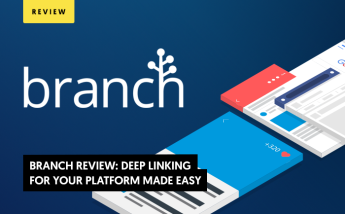 Branch Review: Deep Linking for Your Platform Made Easy
Hyperlinks, which are normally referred to simply as links, play crucial roles in the worldwide web. Besides helping search engines and other platforms scour the internet, links can also be used to direct users to specific content. This, in turn, can create a seamless transition between mobile app and website, resulting in a much better experience for end-users.
With the above in mind, figuring out which hyperlinks need to be included and where they need to go isn't a simple process, especially if you don't have prior experience with deep linking apps. Fortunately, Branch is a superb deep linking platform that can help you identify the best opportunities and deploy hyperlinks that have a positive impact on your performance.
In this article, we will go over the definition of deep linking and what it can be used for. Moreover, we'll also share our Branch review, where we discuss the features and benefits of using this deep linking tool to grow your app.
What Is Deep Linking?
First, let's take a moment to define deep linking.
In simple terms, a deep link is a hyperlink that takes the user into a specific section of a site or app. Deep links work as the connection between websites and mobile applications, which are two distinct realms. When the right deep linking strategy is in place, users can navigate to and from each realm frictionlessly, increasing the chances of registering conversions and keeping users engaged for longer.
It's important to note that mobile deep linking varies slightly when compared to its desktop counterpart. This is because not all parts of a mobile app support HTTP. Therefore, when a mobile deep link is used, the developer has to ensure that the link sends users to a part of the app that supports this coding language.
There are many types of mobile deep links, but the main three are standard, deferred, and contextual links.
Standard links send-users to a specific part of the app, but if the application is not installed then an error message is displayed. Deferred links, on the other hand, send-users to a specific part of the app if it's already installed or to the app download page if it's not installed on the device yet. Finally, contextual links record information about the user, like name and phone number, in order to transfer it directly from the site to the app.
Below, we'll go over the main benefits of deep linking.
A Streamlined User Experience
The most obvious benefit of having a deep linking strategy is that it streamlines the user experience. In many cases, users are hesitant to leave their browser for an app and vice versa. You can help mitigate this phenomenon through deep links that help users locate the content they want easily.
Superb Prospect Funneling
A reduction in friction can easily translate into a higher number of conversions, especially when it comes to mobile app installations. Deep linking allows for robust prospect funneling because you can choose exactly where users are redirected based on the content you're sharing. Plus, it also narrows down the scope of your optimization as you'll only need to work based on a single page or stage.
User Acquisition Boost
One of the most common questions that app developers ask when creating a deep linking structure is "what if the user doesn't have my app?"
Simply put, having a deep linking strategy can actually increase the number of people that download your app. Just make sure to use deferred links that send-users to the download page if they don't already have your app. At the same time, you should ensure that the app then opens on to the right place after installation.
Better Attribution
By using deep links, you cut the buyer journey as much as possible. A lower number of contact points is much easier to track, which means that it's easier to attribute conversions and see where traffic is coming from if you use deep linking. Plus, you'll also be able to zero in on the most engaging parts of your campaigns.
Higher Conversion Rates
Lastly, research suggests that deep links can have conversion rates 2.5 times higher than other types of links. Not only this, but deep links can increase app installation rates by as much as 50% depending on your industry, making this strategy a must-try for all app devs.
Introducing Branch
Now that we understand what deep linking is and how it works, let's go over our Branch review. Simply put, Branch is a powerful platform that can help you master mobile apps and make sure that your linking structure boosts your bottom line.
Through Branch, developers can overcome cross-channel obstacles, rebuild broken experiences, and scale their apps in a sustainable way.
While the platform has a collection of great features, the company's two main products are its:
Deep Linking Tool
Branch's deep-linking tool is the platform's signature product as well as its most powerful solution. This tool is responsible for identifying opportunities, but it can also store an almost limitless amount of custom information that gives app developers maximum flexibility.
Simply put, the deep linking tool is a dynamic solution that can help you create and launch your entire deep linking strategy. Depending on your goals, your deep links can store contextual data about users, where they want to go, and where they came from, among other details. All of this improves the way users interact with your content, improving the results you generate at the same time.
Attribution Platform
Branch's attribution model is very different from its competitors. Rather than selling raw retargeting data, the platform focuses on tracking all touchpoints and following all versions of the buyer's journey, even the non-linear paths. This means that Branch can track approximately 30% attributed conversion and give you a full picture of how each one happened so that you can shape your content and other materials accordingly.
Branch Tools and Features
In addition to its two main products, Branch also offers a wide range of additional tools and features to help you achieve mobile success. These include:
Journeys
Having a mobile website doesn't automatically mean that you'll drive a huge volume of app installs through the internet. The Journeys feature on Branch allows you to see how users search for your app before downloading it. Rather than starting from a blind spot, Journeys can help you drive growth and produce engaging content that transforms your mobile site into a huge source of installs.
Universal Ads
Businesses that have an app and a website can use both of these channels for advertising. However, the cross-platform KPIs in this scenario aren't always accurate. Through the Universal Ads feature, Branch users can improve the performance of their entire marketing stack through one single interface.
Universal Emails
Email marketing is known as one of the most effective techniques in both desktop and mobile industries. That said, most companies struggle to develop a healthy email to app transition, which can result in extremely low installation rates. Fortunately, you can now create a seamless journey thanks to Branch's Universal Emails feature, which creates a frictionless path from your email content directly to a specific part of your application.
Over the Top Campaign Support
Over-the-top (OTT) marketing can provide great results, especially if you have the right deep links in place. Branch's OTT support feature can help you choose the best deep links and attribute conversions for this type of content.
Cohort Analysis and More
Branch provides a wholesome attribution solution because it tracks all touchpoints across the web. This same technology also enables it to provide comprehensive cohort analysis in order to boost cross-channel and cross-platform campaign performance. Plus, Branch users can also leverage data feeds, custom onboarding content, and app-to-all linking that can boost the number of installs you generate.
Benefits of Branch
Branch was founded back in 2014, but it has quickly earned a reputation as one of the most reliable deep linking tools on the market. Some of the benefits of using this platform include:
Impeccable User Experience
Every time a user is redirected, it has a negative effect on the experience. However, the relevancy and quality of the content on the landing page (or app) can transform a bad experience into a superb interaction. Branch can help you achieve this by helping you select the best place for your deep links to land while also giving you information to adjust the rest of your deep link strategy.
Integrations
The team at Branch has placed a huge amount of attention on functionality. This has resulted in a wide range of out-of-the-box integrations, as well as a robust API that can be adjusted based on your requirements.
Sustained App Growth Rate
According to Branch, some mobile apps have experienced up to 48% year-over-year growth rate since implementing the deep linking platform.
Increased Customer LTV
Deep links help users see more value in your content, which can increase the lifetime value of each client up to 3.5 times. In other words, if your average customer LTV is 1 year, a robust deep linking strategy can push that to a stunning 3+ years.
Ready to Test Out Branch? Find the Best Affiliate Programs Today
Developing a successful deep linking strategy manually takes a huge amount of time. Fortunately, Branch can help you identify opportunities for deep links, select the right destination, and automate a series of processes that accelerate the strategy deployment process.
If you want to learn more about developing a superb affiliate marketing campaign and attracting the best marketers, contact lemonads and we'll be glad to help you scale your app.
Accelerate your Conversions, Increase your Revenue
with lemonads
---
You would like