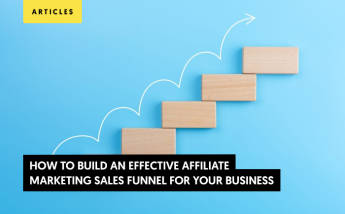 How to Build an Effective Affiliate Marketing Sales Funnel for Your Business
Did you know that affiliate marketing is used by 4 out of 5 companies on a global scale? This is because this marketing technique allows businesses to partner with seasoned marketers that run performance-based campaigns. With that said, the success of your affiliate marketing efforts doesn't only depend on the affiliates you partner with. This also depends on the structure of your affiliate sales funnel and how well you cater to your buyer's journey.
At lemonads, our team has been working with leading companies and affiliates in a wide range of industries. In addition to helping these businesses find the best partners, we also analyze the different sales funnel structures we find and figure out which one offers the highest chances of success.
In this article, we'll provide a brief description of how affiliate marketing works and explain what a sales funnel is. We'll also highlight the importance of the buyer's journey and provide tips on how to develop an affiliate marketing sales funnel for your business.
How Does Affiliate Marketing Work?
Before going over the steps to improve your affiliate marketing sales funnel, it's important to understand how this type of advertising works. In simple terms, affiliate marketing is an approach where companies (advertisers) create partnership agreements with independent marketers (known as affiliate publishers or affiliates) in order to get more business.
Affiliate marketing is a form of performance advertising because advertisers only have to pay when affiliates generate conversions. A conversion is an action that advertisers want their audience members to take, like filling out a contact form or making a purchase. In other words, companies only have to pay affiliates when these marketers generate leads or similar results.
Let's take a deeper look at the different stakeholders that participate in the affiliate ecosystem.
Advertisers
As we mentioned previously, advertisers are the companies that want to promote their products and services through affiliate marketing partnerships. Advertisers are in charge of developing the affiliate program, which contains all of the details and conditions surrounding the partnership. This includes information like the exact payout for each conversion, requirements like target user location, and similar details.
As an advertiser, it's also your responsibility to develop basic materials that help your affiliates create better campaigns. This includes elements like logos, banners, and similar content that affiliates can then edit before publishing. The idea behind this is to help affiliates by handling monotonous, time-consuming tasks and let them focus on elements that help you generate more revenue.
Consumers
As you probably know already, consumers are the individuals that advertisers want to attract. In this context, these individuals constitute each advertisers' target audience. But, consumer trends can change in the blink of an eye, so you need to stay updated with all major tendency changes to get the best results.
Once they start working with affiliates, any advertisers stop worrying about consumers. But, remember that affiliates are responsible for sending traffic to your affiliate program landing page. They are not responsible for ensuring that this landing page and the following experience are both engaging. The key is to monitor your audience and make adjustments based on any new trends, even if this means investing resources proactively.
Affiliates
We've covered fairly well who affiliates are and what they do. But, one thing you need to keep in mind is that not all affiliates are the same. Some marketers have well-established platforms with a steady source of engaged users. Others may not boast of the same combination of quality and volume, so you need to pay close attention to the partnerships you create.
It's true that you can work with individual affiliates, but this puts a huge amount of pressure on your team. In this scenario, the advertisers need to attract new partners and evaluate their specific cases individually, reducing the amount of time they have available.
Rather than investing in-house resources into vetting each potential customer, you can also partner with networks that can help you track down the best affiliates.
Affiliate Networks
Affiliate networks are platforms that are in charge of connecting advertisers with the top affiliates in their verticals. In simple terms, affiliate networks like lemonads create great relationships with both affiliates and advertisers, serving as a middleman between the two sides in all aspects, including performance and financial.
Moreover, networks can specialize in a few types of affiliate programs, but these often provide a limited scope in terms of affiliate reach. Instead, you should look for a successful affiliate network with a wide portfolio and a successful track record to show for it. This will ensure that you cast the net wide, then you can go through an elimination process to find the best affiliates.
Defining a Sales Funnel
As a business owner, you're probably familiar with a sales funnel. Simply put, a sales funnel is a visualization of the steps that your customers take before becoming customers.
Your sales funnel is just a different angle to your buyer's journey, which describes the process that most customers go through before making a purchase from your company. Every company has a unique sales funnel and buyer's journey combo, so you need to evaluate your business' unique circumstances and develop a unique structure for your venture.
With the above in mind, the vast majority of sales funnels can be divided into four sections, which are:
Awareness
The awareness level describes the "top" of the funnel, which is wide and more general than the rest of the steps. When creating content for your sales funnel, you should assume that your audience knows practically nothing about your businesses, solutions, or how to solve their issue. Therefore, these materials need to be largely informational, but they should also have a clear CTA to help generate conversions.
Interest
As we move down the sales funnel, we find the next level: interest. Consumers that are in the interest stage have taken notice of your products and services, but need to learn more about them as well as all their other alternatives to make the best choice. This content should be more specific than the awareness stage and tell the audience why your type of product/service is the best way to go.
Desire/Consideration
After you develop content that establishes your type of solution as the best alternative, you move onto the desire or consideration stage. This is where you need to convince your audience that you are the best alternative and that opting for your solutions will help your customers overcome whatever obstacle they are struggling with.
Action/Decision
The last stage of the sales funnel is the action or decision level, which is all about closing the sale. Remember, the goal here is to encourage your audience to take action. So, it's important to use active language, include strategically-placed CTAs, and avoid disrupting the flow of your funnel by providing too many options.
How to Create an Affiliate Marketing Sales Funnel
It doesn't matter if you're promoting video game consoles, footwear, or supplements, you need to have an optimized sales funnel if you want to get the most out of your affiliate efforts.
With that said, improving the performance of your funnel requires an in-depth knowledge of the steps that customers take before completing a purchase. So, you need to study your audience and make sure that your funnel is designed to keep these users engaged.
Let's take a look at some of the steps that most businesses need to go through to improve their affiliate sales funnel.
Optimize Your Website
The content on your website directly reflects the quality of your products and services. When sending traffic to a page via affiliate marketing, you need to make sure that the content and entire site are attractive as well as optimized for performance. Keep in mind that this includes appearance as well as functionality and loading speed, so make sure that your technical team is involved in the process.
Develop Engaging Content
As we mentioned previously, the content on your site is your online business card and portfolio, so it needs to be engaging, accurate, and legible. At the same time, the graphics you use should be relevant and appear original. So, you should take the time to run images through a few filters and edit other materials you download if you use stock photos.
Build a Trusting Relationship with Your Audience
Next, you need to leverage this content and use it to build a strong relationship with your audience. Many companies create special discounts, develop affiliate programs around them, and reward users who complete the required process with a voucher or promo code. This helps bolster their company-customer relationships while giving both parties something in return.
Make Sure that Your Site Has Elements that Help Close the Deal
Whether it's a one-click checkout basket or auto-fill contact forms, you need to increase your affiliates' chances of success by ensuring that your site features revolve around conversions. Take the time to figure out what hurdles stop prospects from traveling down your sales funnel and implement additional features that help smoothen out these kinks.
Ready to Start Building a Great Affiliate Sales Funnel? Get in Touch with lemonads Today
Developing an affiliate marketing sales funnel that converts is not an easy task, especially if you don't have experience with this type of advertising. With that said, affiliate programs have the ability to exponentially boost company growth without costing a huge amount of money. Therefore, you should take the time to understand your buyer's journey, develop a tailored play, and create a powerful sales funnel for your affiliate efforts.
At lemonads, we know that a solid sales funnel starts with the right partnership. To learn more about working with our affiliate network and tracking down the leading affiliates in your industry, contact us today and we'll be glad to help.
Accelerate your Conversions, Increase your Revenue
with lemonads
---
You would like