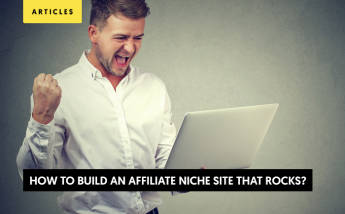 How to build an affiliate niche site that rocks?
You want to promote other people's products and earn a commission every time your visitors order these products through your links. Then you want to build an affiliate niche site that rocks!
This article covers everything you need to do, step by step, to create a quality and successful affiliate website that makes Google happy.
With no further ado, let's get into it.
Step 1- Select your niche
If you think you know what your site will be about you should still read through. Being clear in what your niche is, it's fundamental for your site to be successful. So let's begin by understanding what is a famous niche.
What is a niche?
A niche is a specific segment of the market for a particular product or service, or specific products, services, or interests that appeal to a small specialized segment of the population.
Why is it important to have a niche?
Having a niche is essential in Affiliate Marketing, and finding your niche can be one of the first challenges for you as an affiliate marketer.
By choosing your niche correctly, you will not only guarantee to enter a not-too-saturated competitive market but being an authority about the chosen niche subject.
You really have to like your niche and hopefully know a lot about it or be keen to learning about it daily. Otherwise, the content quality will be poor, you will not engage with your potential audience and in consequence, you will not be selling anything at all.
Niche Examples
Some popular niches are the Lifestyle niches that include:  Luxury, Cruises, Travel, Online dating, Airlines, Fashion, Jewelry, Gambling, and more.
CBD and marijuana are a growing niche as legalization is expanding through the country. Essential oils, Herbal, Personal development are other examples of alternative niches
What are the best Niches for 2021?

If you haven't selected a niche by now, we suggest you read our article about the best niches for 2021 and you will get some cool ideas of niches that are trending now.
I chose my niche, what's next?
Step 2- Find affiliate products in that niche to promote on your site.
Let's say you decided to work in the Fitness niche. As we mention in our article The best niches for 2021, Home fitness is witnessing a lot of success as a consequence of covid-19 but it's here to stay. Around 70% of the people training home say that they will continue home fitness programs once normality is re-established.
That's how you need to think when choosing your niche. Is it evergreen or seasonal and that way you'll know better how to treat each site of yours.
Then you want to make a  specific site for a product. Now you need to see what is out there.
How to find affiliate programs and products?
Google search
Our first go-to tool is google search. Simply type in "Affiliate program" + (your chosen niche) and you will have a long list of the active affiliate programs.
You will find lists of affiliate programs that you can check out and then review. Always check the reviews on different platforms and decide on affiliate programs that are serious and will pay your commissions.
Affiliate Networks
A good way to be safe commission-wise besides other perks is to work with an affiliate network. As the network has a relationship with the brands/advertisers, they will only propose serious offers. Another pro of working with an affiliate network is that they give affiliates multiple options to receive their payments. lemonads for instance, manage PayPal, wire transfer, paxum, and e-payments. Amazon can be seen as a network too. While you can always find a product to promote on Amazon, their commissions are very low.
Other
Another way to find affiliate products and programs is offervault.com, Thru this platform you can check not only what offers are better paid in your niche of choice, but also the "gravity" which is the percentage of affiliates that are selling the product.
Step 3- Find a domain name
Your domain name doesn't have to be packed with keywords. Focus on it being short, catchy, and brandable. Cute and cool and related to your product is way more important than having the keyword in it because google already knows that trick.
Step 4- Buy your domain and your host
There are several domain registrars. Here we give you 5 our clients use the most:
Hostinger: It's a hosting provider and an internet domain registrar too. It has over 29 million users, collectively with its subsidiaries in 178 countries. The company uses cloud web hosting technology and provides hosting with MySQL, FTP and PHP.
Godaddy: Internet domain registrar and web hosting company. GoDaddy has more than 20 million customers and over 7,000 employees worldwide.
Bluehost: Bluehost is a domain registrar and web hosting company hosting well over 2 million domains. The company operates its servers in-house in a 50,000 square feet facility in Orem, Utah, and employs 750 people in that facility.
Namecheap: Provides domain name registration and budget web hosting They count 11 million registered users and 10 million domains.
Hostgator: Web hosting service that's simple to use and offers an array of useful plans for consumers and small businesses.
Step 5- Choose your layout.
Once you have your domain and your host, you need to build the look of your site. Depending on the product or service you are promoting, you will choose your colors and your different elements. If you work with WordPress you can use "customize" for your theme. Some free ones are quite ok. Always have in mind that you need to convince Google but also your visitors, so try to look as amazing as you can.
Step 6- Install Plugins
If you are working with WordPress we suggest that you install these 4 plugins:
Contact form 7- you can replace it with another one but this one is a descent-free contact form plugin you can use.
Updraft Plus- This plugin is for your backups.
SEO Yoast- Will help you with your search engine optimization.
Childify- WordPress customization
WP Insert- To create legal pages
As you learn and navigate the options, you will for sure add more plugins you'll like to have. To start you will be great with this 4
Step 7- Create an author Bio for your webpage
Always create a profile that will appear under your posts. The more complete this profile is, the more trustable you are for google and obviously to your visitors.
Step 8- Setup Google Analytics
You want to have all the data that is possible and for that matter, you should set up Google Analytics and Search console. We leave you these links so you can do it with google's instructions directly.
Get started with Google Analytics
Search Console
Step 9- Build a Hold Home Page
Once you have all the steps we just mentioned checked up from your list, It's a good idea that you create your homepage with a notice to your visitors that you are in construction, a brief description of what the site will be about, and when it will be ready.
Step 10- SEO
Well, this is not a real step but before we go on, this is a good moment to speak about Google. When building your page, you need to think about SEO. If you are not familiar with search engine optimization, we recommend you learn about it so you can nail it with your affiliate activity. This SEMrush SEO-free course is very good for beginners.
Step 11- Content Mind Map
Before starting to create content for your site, a good practice is to design a content mind map. As you can see in the image below, we divide website pages into 5 categories.
1. Homepage- The page your visitors will land into more. Its mission is to direct traffic around your site.
2. Legal Pages- These are Contact, Privacy, Terms, Disclaimers, and Copyright.
3. Authority Pages- These are the main pages on your website. Here you will cover the main topics. These pages have to look like if an expert wrote them and it's in here where you will apply your SEO skills, include keywords and phrases, and so on. They will be your main source of traffic because they will be so well constructed that Google will like them and in consequence rank them.
4. Blog Pages- They are optional and they are a good tool to support your authority pages. They help to keep the website up to date. Blog They offer bite-sized pieces of content to your visitors. If you find a cool youtube video that speaks about your theme, you can easily add the video with some side notes, and voila! You have a new blog post that can serve as extra information to your visitors. If you decide to build your blog, use some of our affiliate marketing strategies for bloggers.
5. Affiliate Product dedicated pages or product review pages- Well, these are the pages where you promote your affiliate products.
Step 12- Build Authority Pages
Go to Google search and type in your keyword (the product you are building a page about)
Open in separate tabs all the articles that appear on the first page.
Analyze the content of these pages and pull out titles, subtitles, and highlighted keywords.
Analyze in Google Keyword planner the top keywords related to your theme and search the articles with the most authority in each subject.
By reading and merging in your own words the content of 3 or 4 articles, you will have the most complete version out of those 4 and your content will be valuable for Google.
Step 13- Build Affiliate Product pages
Instead of finding a website full of affiliate links, you are offering Google a website full of information related to the product or service you will promote on your affiliate product page. The smarter related content you have on your website, the better you will rank as Google sees you as an authority. If you have one page containing the link amongst 20 or 30 pages of rich content, well, you are a serious page for google.
For this page, you need as much information as you have about the product you are promoting. A picture of it and of course your affiliate link. These affiliate links are provided to you by the affiliate network or the affiliate program.
Step 14-Internal linking
Internal linking is not just useful for you to send your visitors in the direction of other content that might interest them but it's very important in SEO.
You can also automate your internal links with WordPress plugins like  CI Backlinks.
We suggest that you edit your links and make them pretty. The plugin we suggested for WordPress is prettylink it's free and it works well.
Step 15- SEO Tool configuration
As you may remember, we propose YOAST as a plugin in the plug installations step. Now is the time to configure it. If you already installed it, you have on the left menu of your dashboard an SEO title. Simply follow the installation wizard and complete each question with the answer that better suits your website. In the YOAST SEO WordPress installation video, you can learn in under 9 minutes how to do it.
Step 16- SITEMAP
Every time you add a new page, post, or update content, you want the sitemap to be automatically updated and submitted to google, as you want all your content to be indexed. For this, you need to configure the options in your SEO and introduce your XML sitemap URL in the Google console.
Step 17- Link your Social Media Channels.
Before you start creating your content, you should set up (if you didn't yet) your social media accounts.
Depending on your niche you will decide if you want Facebook, Instagram, Twitter, Pinterest, or LinkedIn accounts, that's up to you. But you should have them ready to boost your traffic with the help of your social channels.
So go ahead and create your Facebook page, your Twitter account, and so on.
For Facebook, as we mention in our article Affiliate Marketing from your Facebook page, you are required to create your pages from a personal account. Some people try to create a separate profile to manage their pages separately, well, that doesn't work as it goes against their terms of service. However, the information from your pages is invisible to your Facebook friends (unless you don't want to) and the info from your profile is inaccessible to your page's visitors.
Step 18- Automating Web Posts
You might like to automatically post to your social networks the new content you add to your website. You can use automated posting tools for this matter like iftt.com
Step 19- Affiliate Disclosure
Some affiliate marketers get away with undisclosed affiliate sites but if they catch you not having a proper disclosure, you can get fined and or kicked out of your affiliate programs.
We recommend that you be informed about the laws and keep up to date with any changes. You can check on the website www.ftc.gov
Another way to learn is by checking what other affiliates do on their pages. Check your favorite affiliate marketers' websites and get inspired by their disclosing texts and check where do they have their disclosure tab.
Amazon has a disclaimer and we know they are very serious about amazon affiliate sites disclosing it. So always be informed of the disclaimers your programs require and the local laws.
Conclusion
Affiliate commissions are a passive income but once you put a lot of work into your pages. To build a successful affiliate niche site you have to dedicate time and brain to build it and always have in mind the benefit of the user and provide information that is valuable for the search engines.  The better site you build, the better Google will rank you, the more traffic you'll get, and the more conversions as a result.
There are no shortcuts for success, work smart and you will make a lot of money with your affiliate niche websites. Make your niche site an authority site and put the chances on your side.
Want to join the fastest-growing affiliate network? Join lemonads today
Accelerate your Conversions, Increase your Revenue
with lemonads
---
You would like