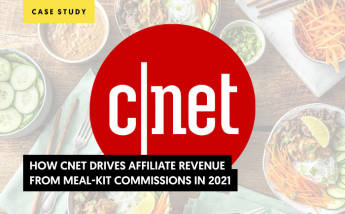 How CNET Drives Affiliate Revenue from Meal-kit Commissions in 2022? (CASE STUDY)
Let's analyze how CNET, a world-class publisher, is using affiliate marketing to monetize the different audiences it receives on the very trafficked website cnet.com.  Even when their site is filled with affiliate links, the editorial quality is very high and the articles help objective decision making.
Other publishers working with lemonads® are exploiting the same strategies.
What is CNET?
Founded in 1994, and owned by Red Ventures since 2020, Computer Network (CNET) is an American media website that publishes reviews, news, articles, blogs, podcasts, and videos on technology and consumer electronics globally. CNET originally produced content for radio and television in addition to its website. Now, they use new media distribution methods like their Internet television network, CNET Video, and its podcast and blog networks.
In addition, CNET has region and language-specific editions. These include Chinese, French, German, Japanese, Korean, and Spanish.
According to Similarweb statistics: In April 2022, CNET received about 70 Million visits from more than 40 million unique visitors, mostly coming from organic search. The United States represented about 57% of its global traffic share.
CNET's Affiliate Marketing Strategy
Along with other publishers like blogs or content sites, CNET uses a similar affiliate marketing strategy. CNET focuses on creating valuable, relevant, and consistent content such as product or service reviews, news, and articles to attract a clearly defined audience, with regular newsletters.
CNET is constantly creating very professional content that has made them authority with a high influencing power over customers with purchasing intent. The aim of their content is both helping potential customers to do their research and make informed decisions, which reflects positively on their partner brand's awareness.
In April 2022, 30% of outgoing links were leading to E-commerce and Shopping Marketplaces through affiliate links (Amazon, BestBuy, Walmart, eBay, etc.)
In this article, we'll look at how CNET mastered affiliate marketing and became an effective marketing channel for meal-kit providers like Home Chef and Blue Apron affiliate program.
Why is CNET's content great for affiliate marketing?
We analyzed how they structure their content and how they use different elements to make products appealing for readers. Here is how it goes:
First, they publish an article on their website. As we are analyzing how they handle meal-kit delivery services, we found this post in the Nutrition section. The post is then shared on their Facebook page which is followed by more than  3.5 million people around the world. A light-hearted but intriguing headline "The Best meal kit delivery services".
Anyone who feels curious about meal kits and that is wondering how this trend became so popular in 2022 would click.
Users rapidly land on a nice-looking and well-written article. A very small disclaimer on top of the headline mentions that affiliate links are present on the page. Readers normally don't pay attention to those disclaimers, anyway.
Even before the bulk of the article starts, a list with five meal kit services is visible and organized in a very appealing way, with a photo, the name of the brand, a short description, and a call-to-action with an affiliate link. Most probably, even before arriving at the article's main text, the hungry visitor will have already clicked on one of these links.
At the right of the list, a video "The best meal-kit for you" is ready for visitors who prefer interactive content. The video shows the process of a nice lady unpacking different meal kits and giving some expert opinions about the box content, the pros, and the cons.
After a little scrolling, a section is presented for users to Sign Up for CNET's newsletter. This newsletter is one of the channels used by CNET to drive traffic to their website, broadcasting daily new articles.
Most of the news articles are also shared on their social media accounts (Facebook, Reddit, Twitter, Youtube).
The article continues. The information is well structured and it's easy to read. The text includes navigational links. Paragraphs are regularly spaced with "Read more" CTA's linked to other related articles, (in this case "Nutrition"). If a reader is curious about the specific proposed subject, s/he can simply click and follow these articles that are designed in a similar way, and that contain, as well, affiliate programs.
It makes sense that someone interested in meal kits might be also interested in prepared meal delivery solutions, and willing to click through the affiliate links in the corresponding article.
Besides mapping a selection of related articles with navigational links, content writers did not miss opportunities to insert each affiliate link every time a brand name is mentioned.
The last section, which is the larger part of the article, is a presentation of each meal-kit brand service. Actually, that's what the reader was expecting out of an article titled "The best meal kit delivery services in 2022", however just now the reader is getting to the list.
Each service is presented in the same way:
1. The brand.
2. CNet's opinion about the brand in a few words.
3. A nice picture.
4. A presentation paragraph.
5. Description of the plan subscription model with an affiliate link under "subscription".
6. A "very" visible call to action "See at <BRAND NAME>, that essentially contains the same affiliate link.
After the description of all the brands in the list, at the end of the article, Cnet proposes a vast selection of navigation links for the visitor to leave to another article in the same thematics.
Takeaways from CNET
As you can see, CNET uses every single opportunity they have in their article to add their affiliate links, however, the editorial quality is high. Even before starting the article, an organized list and a video are already catching the reader's attention in a way that they might not even get to the article body itself. When they mention a brand, they are not shy to add the link within it. When they actually get to the description of each brand, they add their affiliate link multiple times in different words and calls to action.
Subscribe to lemonads blog today and get access to the latest news, case studies, and reviews in the affiliate marketing world.
Accelerate your Conversions, Increase your Revenue
with lemonads
---
You would like