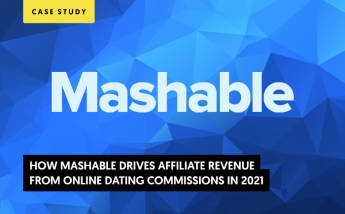 How Mashable Drives Affiliate Revenue from Online Dating Commissions in 2021? (CASE STUDY)
Let's analyze how Mashable, a world-class publisher, is using affiliate marketing to monetize the different audiences it receives on the very trafficked website mashable.com.  Even when their site is filled with affiliate links, the editorial quality is very high and the articles help objective decision making.
Other publishers working with lemonads® are exploiting the same strategies.
About Mashable
Mashable is an international entertainment, culture, tech, science, and social good digital media platform, news website, and multi-platform media and entertainment company. It started as a blog in 2005. Just 4 years after, in 2009 Time magazine classed it in the 25 top blogs.
Mashable has grown and expanded to many countries on multiple continents, including Europe, Asia, the Middle East, and Australia. It is also served in several languages.
According to SimilarWeb, The Mashable website receives an average of 12 Million visits per month with an average time spent an average of 2 minutes. Each visitor browses on average more than 1.5 pages.
As for the geographical origin of the audience, it comes mostly from the US as one can imagine (49% in May 2021), then from other English-speaking countries such as Canada and the United Kingdom. Nearly 65% of the traffic visiting this site comes from search engines.
Mashable Affiliate Marketing Strategy
Along with other publishers like blogs or content sites, Mashable uses a similar affiliate marketing strategy. They focus on creating valuable, relevant, and consistent content such as product or service reviews, news, and articles to attract a clearly defined audience, with regular newsletters.
Mashable is constantly creating very professional content that has made them authority with a high influencing power over customers with purchasing intent. The aim of their content is both helping potential customers to do their research and make informed decisions, which reflects positively on their partner brand's awareness.
In this article, we'll look at how Mashable mastered affiliate marketing and became an effective marketing channel for lending Love Dating Platforms.
How was the article conceived?
The title and the catchphrase are very promising. It shows the ambition to present us with the best "dating" applications for single people in the market, without any presupposition on the orientation of the person. It is very general.
On the right side, we find a disclaimer that justifies the presence of affiliate links. The way it is formalized is sensible and suggests that the editors have selected the best products regardless of whether commissions will be received by Mashable.
Just under the teaser, there is a top 3 ranking, each with a complex link with affiliate parameters.
The links are generated with a URL shortener tool.
Clicking on the first link, which appears to be an affiliate link to Match.com, one notices multiple redirects. This suggests that the URL shortener is used to hide the affiliate tracking software that Mashable relies on.
According to whois.com, the domain zdcommerce.io is owned by Ziff Davis LLC.
Ziff Davis, a subsidiary of j2 Global, Inc. is a leading global digital-media company operating in three core verticals: Technology, Gaming, and Shopping. Its brands - PCMag, Mashable, Speedtest, ExtremeTech, Toolbox, IGN, AskMen, RetailMeNot, Offers.com, TechBargains, emedia, and Salesify. It produces and distributes premium content across multiple platforms and devices. Ziff Davis also delivers advertising, performance marketing, data services, and licensing solutions to thousands of clients worldwide.
You can see that every link on the page is highly decorated, which suggests strong data analysis capabilities on outbound clicks to gather a lot of data on navigation and learn what works best in terms of affiliate/performance marketing and related revenues.
The article starts strong, highlighting some of the research that has been done, with links to the sources. The first few paragraphs also contain links to related articles to expand on certain topics.
Then comes links to other similar articles highlighting dating applications for more specific niches (serious relationships, hookups) and containing many affiliate links on the same principle as this one.
Then comes a link that serves as a break in the text. This one is for people who think they need to learn how to further improve the way they present and organize their profile information on the various dating applications. One wonders why such a link is not in a "Read Also" section at the end of the article.
Finally, we find the first affiliation link in the text content of the article sending to an advertiser of the dating vertical
Further down is the "listicle" part of the article, where the different dating platforms are linked with very structured information and affiliate links in the thumbnail, the "See Details" button, and sometimes also in the body of the text. Each card contains the essential information that a visitor is looking for. In addition, the cards are by default "collapsed" to take up a minimum of vertical space, as the content in each card can be quite long. This allows visitors to look at the most essential information such as price, teaser, visual preview, and of course the call to action button from which the visitor is sent to Match.com or others with tracking to bring up conversion information.
In the case of this article, 13 cards like this one follow each other, comparing the best solutions on the market for a searcher including the Silver Singles affiliate program, match.com amongst others.
Note that this is how the article ends, there is no section to find articles on the same topic as cnet.com offers, mashable prefers to have links in the context of the surrounding text.
Accelerate your Conversions, Increase your Revenue
with lemonads
---
You would like