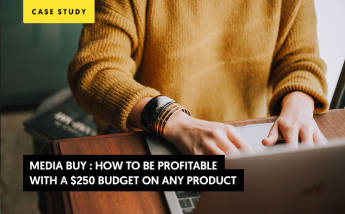 Media Buy Case Study: How to be profitable with a $250 budget on any product.
In this case study, we will give you our 10-point performance checklist and explain how to launch a profitable Media Buy campaign with only $250 budget, an Affiliate marketing offer, Adcash as traffic source and Voluum as optimization software.
Why a case study with a $250 budget?
For the past few years, the world of affiliate marketing and media buying has been constantly caught between two very different positions, the first one being that you absolutely need very big budgets to make a successful campaign, the second one being that you can make money with a handful of dollars.
As always, neither of these extreme positions are fundamentally true. So there is a middle path, where very small budgets can lead to profitability. Of course, this cannot be done without an adapted methodology and choices upstream of the campaign. Our case study today aims to present this possibility and hopefully will give the most veteran media buyers ideas while allowing beginners to get started without the fear of huge financial losses.
Step 1: the preparation of our campaign: strategic choices concerning sources, offers, and tools.
Step 1.1 It all starts with the source.
This particular configuration that we imposed on ourselves had the first impact: we had to make choices, and sort out the essentials of the accessory.
Among these choices, the very first was to choose a source of traffic that would allow us to reach a wide range of targets, a source that was qualitative but also affordable in terms of cost.
This last point is fundamental, if we don't want to sacrifice the statistical quality of our campaigns, we will have to opt for sources that offer a very interesting volume/cost ratio. However, as already mentioned, we also had to select a source that proved itself daily in terms of quality and marketing performance.
The choice was quite naturally directed towards Adcash for its adequacy with our requirements:
Access to a variety of media site typologies.
Reactive and helpful support.
Performance-based campaigns are carried out every day on this source and last over time, a more than encouraging sign of their profitability.
Prices that allow us to envisage large volumes for our tests.
Step 1.2 Match source and offer.
Generally speaking, one builds a campaign starting from the offer. However, as seen previously, the methodological specificities that we have to put in place to get this first campaign off the ground for sure meant that this time we had to start from the source and make sure that it meets our needs.
Lemonads offers us hundreds of offers available in a wide variety of verticals, so we wanted to understand the areas of preference of our source to try to match the offer and the source.
Here too we imposed strict specifications for the offer.
The first point was that it had to allow us to broadcast on all formats so that we maximize the chances of finding the one that performs.
The other major point was that we had to choose offers with a high conversion rate. Indeed, the budgetary constraints we had meant that we had to look for offers with a high number of conversions, even if the unit price of these conversions was lower. For example, an offer at CPS would not have been a good choice, because we would have only had to make three sales to be profitable, but we would not have been able to draw any statistically reliable lessons from it.
The last point of our selection element was that the offer, or failing that, the vertical, had to be in the verticals usually provided by the source. In this $250 budget, we could not spend any budget on a spytool. We then turned to our account manager at Adcash who was able to confirm the expected verticals. One of these verticals particularly put us on the track of an interesting offer: the gaming vertical.
With accessible CPLs and landings pages designed for conversion, this vertical offered real development potential.
In this vertical, we had to choose, this time unfortunately not on data but relatively arbitrarily an offer. To do this we set up objective criteria (average CPL offered, type of game, etc.) and more subjective impressions: type of landing page we are used to see in our navigation, typology of widely distributed games, etc. Once again, this point could have been streamlined by using a spy tool, but it did not fit into our budget.
As we searched we found the following offer in lemonads:
The offer we chose for this case study, League Of Angels III, matched our criteria as follows :
The offer was in SOI, meaning that conversion occurrences should be numerous since the lead validation requirements are reduced.
The LBC offered at 2.24 euros or about $2.50 was a very good LBC to start with.
The landings pages were numerous and we were able to find one that was in the spirit of the ones we saw the most circulated.
The landing page finally chosen was the following:
Step 1.3 The initial setup
We now have the source and the offer, we still have to produce the complete setup and select the essential marketer's tools for the smooth running of the campaign.
In this sense and for this case study, we certainly wanted to set up a profitable campaign with a $250 budget, but we also wanted to lay a solid foundation for the creation of an affiliate business "from scratch". While we could have relied entirely on lemonads' multi-dimensional tracking system, we chose to use an external tracker to be as close as possible to the real conditions of a new affiliate.
The choice went to Voluum, for its SAAS solution, and for all the advantages provided by the tracker (for more information, refer to the Voluum review). The integration was very fast, Voluum having a complete integration with lemonads and our Adcash traffic source. We then made sure that postbacks worked between lemonads, voluum and adcash. We were ready from a technical point of view.
However, there was still a fundamental point of strategy to be defined. How were we going to structure our campaigns on Adcash so that we could test a maximum number of sites without consuming the budget in sterile tests. Once again, it was the communication with Adcash and especially our AM that allowed us to set up a robust strategy from this point of view:
The structure of the campaigns exactly reflects our willingness to test, in terms of:
Formats: Push and interstitial are tested...
Bidding methods: CPM, CPC, CPA Target are tested...
Targetings: Targeted websites VS user interest.
Everything is controlled by daily budgets to avoid any potential slippage.
The structure of the campaigns was therefore the final step in the preparation of our case study. You may have noticed that we have greatly detailed all these points because we are convinced that this kind of campaign with such strong budget constraints cannot be successful without careful preparation. If there is one methodological point to be retained from this case study, it is this one.
Step 2: Learning and exploitation
Now that everything was set up, we had to throw ourselves into the deep end and launch the campaigns. That's what we did, with increased surveillance for the first three days.
Step 2.1 early learning.
This stage, which we call early learning, constitutes the very first hours of the launch of the campaigns. Here are the global statistics of this launch:
As you can see on the screenshot, the performance is not very good. However, what is important to us at this stage is not the direct profitability, but what we have learned and what can lead to profitability in the short term.
For this, we will apply a so-called funnel method. We start from general statistics and then apply filters to understand the areas of performance (high or low), but also the main losses of money.
The first check on the campaign side, we apply the campaign ID filter on this period :
The first thing you can see is that the campaigns had egalitarian budgets but did not spend everything in the same way. In addition to these differences in spending, there were also differences in ROI.
Thus almost 43% of the budget was consumed by a campaign with a more than bad ROI (-93%). The other campaigns that received a correct amount of traffic to study the performance, generated an ROI that was also negative but in smaller proportions (-47% on average). The other campaigns generated little revenue but above all little expenditure, which limits their statistical relevance.
The campaign generating the most expenses and the least ROI is the least targeted, it is the campaign created for the interstitial in CPM. We will therefore focus on it to see how to bring it back on track.
By zooming in on this specific campaign we realize that it is itself cannibalized by a location that takes the vast majority of the budget.
One zone spent $21 without generating any sales. This means that 63% of the budget for this campaign went to a non-performing location. If we take all the expenses together, this represents almost 27% of the overall budget. So we decide to cut the site immediately.
We could repeat this methodology at will by presenting you all the sorting we have done on each dimension (device, type of connection...) and each campaign. However, this would make this case study unnecessarily long. Just know that this manual sorting and funnel method has been repeated on all the dimensions of the campaigns, as well as on all the campaigns.
Step 2.2 The transition to profitability.
In this optimization phase, the next step was the transition to profitability, including iterations of the optimizations already described in the previous section.
If we look at what is happening from a macro point of view we see a cross phenomenon: volume goes down and profitability goes up. In other words, targeting becomes more precise, we focus on higher-value populations, which has the effect of lowering the volume received but actually increasing profitability.
To be more concrete, we can see that immediately after the first series of optimizations (which took place on May 8), the print volume drops drastically, but almost simultaneously the profitability rises. Except for the 11th day, which is really exceptional, from the 10th we enter a phase of profitability. More importantly, if we look at the average number of transactions per day, we still have between 3 and 4 conversions per day even though the number of printings has been divided by 4.
What does this mean? It means that it is very easy to buy a lot (and buy badly), but that the media buyer's job is to do two complementary things:
The first is to buy only the population that is useful to him (i.e. profitable).
The second is to eliminate any friction for the user, because the higher the conversion rate, the higher the affiliate's profitability.
And all this is happening against a background of volume. Indeed, for the operation to be profitable in the long term, it is necessary to balance optimization and volume.
The exploitation phase.
This phase consisted of continuing on the path initiated previously and never stop optimizing, always trying to keep the maximum volume.
While the gains are modest, about 20 such campaigns would be enough to generate income equivalent to a minimum wage per month.
The goal of our study was not to ultra-scale and start spending very large sums of money. That's why we didn't scale this campaign. It would nevertheless be the next step in this kind of case to take advantage of the mass of knowledge generated to increase its turnover.
Conclusion: Our 10-point checklist for making profitable campaigns regardless of budget.
Before concluding this case study, we've kept our bet! With a budget of $250, we generated a positive ROI (21%) by including the learning phases in these costs.
It is therefore possible to launch a campaign today with very small budgets and start your online affiliate business. However, this cannot be done without a precise methodology that we detail here:
Make a selection of traffic sources according to your means and objectives.
Make a drastic selection of offers, they must correspond to your source but also provide you with a lot of conversion hits to make quick decisions.
Select in your stack only the necessary tools, do not launch yourself into a useless expense.
Build your campaigns with care, their structure and tracking must be flawless to make quick decisions.
Optimize from the general to the detail, don't completely sacrifice your volume for the sake of profitability, try to keep a maximum of conversions.
Don't hesitate to use source optimization aids, and test them in competition with your manual biddings.
Iterate enormously on your optimizations, as soon as you have relevant statistics to do so. On the other hand, do not make decisions that are not based on your data.
Once you have reached profitability, gradually extend your campaigns to formats, locations, or bidding methods that are related to the methods that work for you.
Multiply the offers once your campaign is profitable to test if other offers are more successful.
Multiple sources to diversify your acquisition.
We are sincerely convinced that with the method seen in this case study, you will very quickly be able to live very comfortably from affiliate marketing, whatever your vertical, your country, or your initial financial contribution.
Accelerate your Conversions, Increase your Revenue
with lemonads
---
You would like