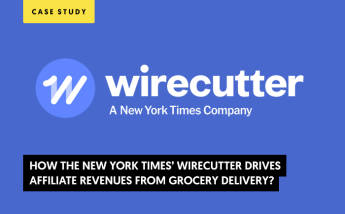 How The New York Times' Wirecutter Drives Affiliate Revenues from Grocery Delivery? (CASE STUDY)
Let's analyze how The New York Times, one of the most important journals in the world, is using affiliate marketing to monetize the different audiences it receives on its digital version.
Other publishers working with lemonads® are exploiting the same strategies.
About The New York Times
Founded in 1851 in New York, The New York Times is an American daily newspaper based in New York City with a worldwide readership. It has an outstanding Palmares of 130 Pulitzer Prizes, and has long been regarded within the industry as a national "newspaper of record". It is ranked 18th in the world by circulation and 3rd in the U.S.
The New York Times has a digital and a home delivery subscription option with a reported total of 7.8 million subscribers across both print and digital platforms Estimated 6.9 million of the visits coming for online news or its cooking and games apps. In addition, The NYTimes has language-specific editions in Spanish and Chinese.
New York Time's Affiliate Marketing Strategy
The New York Times does affiliate marketing through their review section Wirecutter (formerly known as The Wirecutter). This website is owned by The New York Times Company since 2016 after buying it from Brian Lam for about $30 million. The site focuses on writing detailed guides to different categories of consumer products that recommend just one or two best items in the category.
Why is Wirecutter NY Times' content great for affiliate marketing?
Wirecutter helps people buy the right things for the way they want to live. Experts research, test, and review hundreds of products across categories in real-life scenarios to recommend the best option for the task at hand.
Wirecutter is constantly creating very professional reviews and content that has made them authority with a high influencing power over customers with purchasing intent.
At lemonads®, we analyzed from top to bottom how they structure their content and how they use different elements to make products appealing for readers.
Before being acquired by The New York Times, wirecutter was one of the biggest review websites. People go to Wirecutter to know what the best option for products and gadgets is plus people can go from The New York Times Menu.
If you go directly to nytimes.com/wirecutter you can find a browser to directly browse the product or service we want to see reviews about.
As you can see, right below the menu, written in blue, the first affiliate disclosure makes an appearance. We are searching for reviews of grocery delivery services so we typed that in the browser:
Immediately a list of 54 review articles is displayed and the affiliate disclosure is still present under the top menu.
We click on the latest article " The Best Options for Grocery Delivery During the Coronavirus Pandemic"
Still, with the disclaimer on top of the article's picture and Title, the article begins by giving tips on how to master shopping lists and choosing local providers. The text is very well written and it continues.
Now we get to another subtitle: " Try your luck with online grocers", and we find for the first time some affiliate links that you will recognize as they are in red. By clicking on any of the links and buy as the following action, The New York Times will get a commission.
We keep scrolling down. The next section is a description of the 4 companies mentioned before again with the affiliate link preceding.
This strategy repeats for Walmart, Shipt, and peapod.
After describing the 4 companies they are recommending, another block of text appears. This time they are less descriptive but they take the chance also to add their affiliate links, including Amazon's fresh associates' link and wholefoods food affiliate programs.
The following subtitle is "Supplement with grocery subscription boxes"
The same strategy is used. Well-written text including affiliate links to companies that supply groceries with a different approach: Food subscription boxes.
The next section speaks about Meal-Kit deliveries and in this case, they use 3 brand's affiliate links and suggest an article with their full recommendation of meal kit delivery services.
They conclude the article and right after they propose a reading section with related articles that contain also affiliate links everywhere.
Takeaways from NY Times' Wirecutter
As you can see, Wirecutter uses every single opportunity they have in their article to add their affiliate links, however, the editorial quality is high and there are no buzzing ads everywhere which make the reading easy and clean. Also, the affiliate disclaimer is present at the top of all pages which shows transparency vis-a-vis their readers.
The title of the article is grocery delivery services however they use the opportunity to speak about other food-related products like meal kits or food box subscriptions increasing their chances of making some affiliate commissions.
Accelerate your Conversions, Increase your Revenue
with lemonads
---
You would like