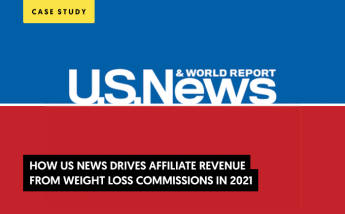 How US News Drives Affiliate Revenue from Weight Loss Commissions in 2021? (CASE STUDY)
Let's analyze how US News, a world-class publisher, is using affiliate marketing to monetize the different audiences it receives on the very trafficked website usnews.com.  Even when their site is filled with affiliate links, the editorial quality is very high and the articles help objective decision making.
Other publishers working with lemonads® are exploiting the same strategies.
About U.S. News & World Report:
U.S. News & World Report is an American media company that publishes news, opinion, consumer advice, rankings, and analysis. Founded as a news magazine in 1933, U.S. News transitioned to primarily web-based publishing in 2010, although it still publishes its rankings. U.S. News covers politics, education, health, money, careers, travel, technology, and cars.
According to SimilarWeb The U.S. News & World Report website receives a total of 55.24 Million visits per month with an average time spent an average of 2 minutes. Each visitor browses on average more than 2 pages.
As for the geographical origin of the audience, it comes mostly from the US as one can imagine (88%), then from other English-speaking countries such as Canada, United Kingdom, etc...
Nearly 86% of the traffic visiting this site comes from search engines. We notice that the architecture of the information is influenced by this need to have a very good performance on organic traffic (many categories, size of the articles, internal links, organization of the content very structured, etc...)
Check out how to find best affiliate niches for this year.
US News Affiliate Marketing Strategy
Along with other publishers like blogs or content sites, US News uses a similar affiliate marketing strategy. US News focuses on creating valuable, relevant, and consistent content such as product or service reviews, news, and articles to attract a clearly defined audience, with regular newsletters.
US News is constantly creating very professional content that has made them authority with a high influencing power over customers with purchasing intent. The aim of their content is both helping potential customers to do their research and make informed decisions, which reflects positively on their partner brand's awareness.
In this article, we'll look at how US News mastered affiliate marketing and became an effective marketing channel for weight-loss meal delivery providers.
How was the article conceived?
The title is simple and clear, just like the catchphrase.
U.S. News highlights the sources which make their information very accessible by simply hovering over the author's name. This is very important for visitors who care about the legitimacy of the information, as they can quickly check that the contributors have relevant editorial experience with the article's topic.
Just below the tagline, there is a disclaimer that notifies the readers about the presence of affiliate links. This disclaimer wording is very effective in expressing that the editorial independence of usnews.com is not challenged by the affiliation.
Advertising is an integral part of the business at U.S. News & World Report. Advertising revenue helps to support free access to the content and rankings and allows reputable businesses to appeal to the audience.
That said, U.S. News understands the importance of integrating advertising on their site in a way that will not interfere with your experience as a user, and take editorial integrity very seriously by having a strict separation between advertising and editorial content.
U.S. News claims in their policy Editorial Guidelines that content and U.S. News rankings products are never influenced by advertisers.
….
Just below the disclaimer, we find a block with anchors on the left and affiliation links on the right.
These will be very effective for users who are looking to remember a company name or those who don't have the patience to read the entire article. These Anchors also lead people interested in a particular company to the corresponding section within the article.
The first block of the text introduces an issue and contains internal links to other articles of the publisher. Further down, there is a navigation link to an educational article presenting 10 weight-loss tips in the form of a carousel.
Before presenting the objective of the article (the list of services), there is an entire section explaining "The Best Ways To Lose Weight". It includes numbers, links to studies, which gives authority to the article and its selection of services to follow. This section also includes many internal links to pages describing a specific type of diet.
These are sub-pages like "Mediterranean Diet" for anyone looking for information without having to leave the site. The navigation is well planned so when a visitor inquires, they have all the information in their hands. Also, when they are looking for solutions for a given type of diet, it is easy to come back to an article like "10 Best Services for XYZ Diet" including affiliate links and important recommendations.
The section ends with a link to a USNews article ranking the best diets
Finally, we get to the section at the heart of the article and what the user came for: The list of "Top Meal Delivery Services for Weight Loss".
The hyperlink "Meal delivery service" points to another article classifying services and including affiliation links, this one is less generic, more specific for a type of "diet": "Top Mediterranean Diet Meal Delivery Services".
Coming back to our page, the last section presents a total of 7 different services. The first 6 have an affiliate link in the title, and at the end of each, via a "View Deals" CTA button. Only the last one doesn't have a "View Deals" button and has a normal link in the title.
We notice that this is how the article ends, there is no section to find articles on the same theme as Cnet (cnet.com) offers, for example.
U.S. News & World Report prefers to have a single suggestion at the end of the article, which is presented in a very visual way, just below the conclusion (Takeaway section).
Accelerate your Conversions, Increase your Revenue
with lemonads
---
You would like