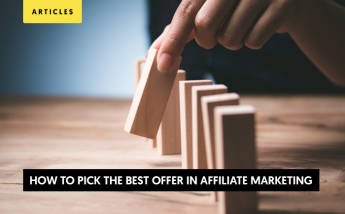 How to pick the best offer in Affiliate marketing?
Choosing the best affiliate marketing offer can be a tough task and some aspects need to be considered to get the best results before you start your campaign.
If you make a little mistake during the process of choosing the best Affiliate Program, it can be a huge setback on the long path to success. If you have any doubts you can always contact your account manager, he/she will be the best person to answer your questions and help you pick the best option.
In this article, we will explain the different variables that need to be analyzed to choose the offer that fits you better. We will explain the different types of offers, traffic sources, costs, and restrictions plus other topics that we consider important when choosing an offer.
Another topic that we want to stand out before starting, is the importance of thinking about the lifetime of a campaign. Is it better to have a campaign that generates money for you for a long time period or make a good amount of money in a short one? Easy question.
Type of Affiliate Programs
There are different types of offers that are related to a specific vertical or category. To have success in affiliate marketing, it is important to be focused on one vertical and work hard on it. Let me show the most common verticals in affiliate marketing:
Nutra, Health, and Well-being: This vertical is oriented to medical, diet, supplements, skincare, and weight loss pills, among others. The majority of these offers are CPS (Cost per Sale and Straight Sale) model, which means that you earn a commission when the user purchases the product. It's halfway to success knowing the trending products according to, for example, the country you are working in. There are other common models like COD (Cash on Delivery) and Trial.
Sweepstakes: These offers give a chance to the end-user of winning something like a supermarket voucher or a smartphone in exchange for data, for example, email or phone number. They are usually CPL offers and can work very well if you bet on an advertisement strategy that catches impulsive users.
Astrology: If your target wants pieces of advice about their life, destiny, and future based on the cards or their zodiac sign, Astrology is the best vertical for you. The majority of these offers are on the CPL model but keep in mind that the flow isn't everything, you need an adapted audience to keep quality in the long run.
Mobile content: Mobile content offers are usually mobile products (Games, Downloads, Anti-virus, etc) that users can subscribe to, also called VAS (Value Added Service) offers. There are different types of flows for these offers. The most popular ones are 1-Click flow and 2-Click flow besides SMS flow which has a much lower CR. Very interesting if you can get cheap carrier traffic and click flow offers to match together.
E-commerce: These offers are based on selling products and services through online retailers. They work usually on CPS model. If you have an E-commerce website or if your target is a fan of gadgets, this is the perfect vertical for you.
Knowing what are the trending gadgets and also being quick to react is fundamental to be a winning affiliate on this vertical. One of the top traffic sources for this type of offer is Social.
Finance: If your audience is receptive to loans, trading, and insurances, this is a huge opportunity to make good money. But keep in mind that these offers are very sensitive and even if there is usually no defined KPI, the quality needs to be even higher than usual.
Gaming: If your audience is addicted gamers, don't hesitate in finding out what are the trending games these days and get a huge profit from them. Here, there can be some KPIs that need to be achieved.
Gambling & Casino: Most of these offers are casinos online or betting houses. Once more, you need to have the proper audience and be an expert on this vertical to expect to live out of it.
Crypto: This is an ever-growing vertical in affiliate marketing and has a high demand these days. It had a boom after the economic crisis that ended in 2008 and that has led many banks to close. Cryptocurrency is an alternative to money as we know it since ever and it has winning many fans around the world. If you can do proper targeting, you can find here your cash cow.
Get to know your audience
Despite your traffic coming from social media, a website/blog, emailing or media buy, one of the most important things is to know your audience and what they want.
For example, if you have a blog about a healthy lifestyle, you know that your audience would be more receptive to see Health-related ads and more close to buying the product you're promoting. Still, if you are promoting gaming offers on your healthy lifestyle blog, it's more likely that your audience won't be tempted to click on the ad and even less to convert.
You might be interested in checking out the best health and wellness affiliate programs for this year.
Below are some characteristics that define your audience and you should consider them when picking the right offer.
Country/Region: We won't dig much on the "country" topic because it's one of the obvious targets and characteristics of a campaign. But the states or regions inside the same country may have an impact. For example, different regions may have different religions, different languages, or even different habits.
Let's take a look at the United States for one second, according to the political preferences, the population of the same state may have a different culture/behavior compared to other ones. And this detail is not always considered when selecting the best offer and matching it with our audience.
Wealth: You will find more and more worldwide Straight Sale offers, where the user needs to make an immediate purchase. Needless to say that you need to have this in mind because the capacity to purchase a specific product is not the same over the globe. Avoid less developed countries for this kind of offer. Or avoid this offer if your audience is from less developed countries.
You always have this kind of small detail that can have a major impact so don't forget to think through it. Here you have some other examples that you should pay attention to:
Age
Gender
Education level
Marital or family status
Occupation
Personality
Interests/Hobbies
General behavior
Traffic Sources
The best traffic sources depend on the audience you want to reach and on the offer you want to promote. You need to be very careful regarding the choice of the traffic source so that you can get the best out of it.
Before we make a list with the most common traffic types that might fit your audience and the offer you want to promote, let's see some aspects you need to consider before choosing the traffic source:
Audience
Top countries
Cost of the traffic (If you're buying it)
Type of traffic
Minimum deposit
Restrictions/Rules
Now, let's see some different traffic types where you can promote your offers. Don't forget that there are many more and new ones are appearing constantly but these are probably the most common ones:
Push Notifications: This traffic source is becoming more and more popular in affiliate marketing. The major advantage of the Push Notifications is that it's more invasive to the user (it can also be negative at some point).
Therefore, your ad appears instantly to the end-user and this increases your CR. Sweepstakes & Mobile content offers are verticals that work well with push notifications due to the easy flow mixed with the more "aggressive" ad type. Here, we advise you to work well on the copy to avoid making it look like spam or a scam.
Native Ads: This paid traffic source can be found almost anywhere, on websites, blogs & on social media. Native Ads seem like natural content, tend to be less intrusive and people are more receptive to them. As it is similar to a normal ad, Nutra, E-commerce, and Crypto offer that needs Credit Card to submit work very well as the users are more likely to trust them.
Social Traffic: Paid or organic, this is one of the top traffic sources currently, in terms of volumes and quality. However, you need to be very careful with your practices: one bad move and you lose your account. For good. But as soon as you master it, you are good to go.
When you work with Social traffic, always have the user experience in mind. If your promotion strategy or the product you promote will negatively impact the user experience, you will have issues.
Email Traffic: As the name suggests, Email traffic is a source that comes from sending emails to an owned or bought database. Email is a direct and personalized way to reach your audience.  A well-targeted email campaign can not sell the product alone, still, push their impulsive instinct to make a purchase or submit their info. For example, a bad subject can make the users delete or ignore the email right away.
Search Traffic: Either paid or organic, this traffic comes from Search Engines. The quality is here on both since the users you get always come to you based on their research and what they are looking for. What makes the main difference is scalability. SEO takes time but if you pay for traffic, you can easily grow your traffic.
Pop Traffic: There are two types of Pop traffic: Pop-Up and Pop-Under. The major advantage of Pop traffic is the cost, it's very cheap. The disadvantage is that it's intrusive and people tend to consider it as spam.
Pop-up ads are the ones that are shown over the website the user is visiting. Pop-under ads appear behind the page that the user is. When working with this type of traffic, always consider using a prelander to engage the users. If you can't, choose easy flow offers.
Traffic Restrictions
When you're choosing a traffic source or an offer to promote, you need to be very careful about its restrictions in order not to be banned from it. Here you have some common restrictions on traffic sources:
Misleading or aggressive landing pages
Brand logos
Imitation of system updates
Use of celebrities names and pictures
These are some examples, there are a lot more and they are different for each source. Our advice is to read all the rules and restrictions before choosing how your campaign will be.
What can happen if you don't respect the rules and restrictions of the traffic source? The first time you can simply get a warning but they don't tend to be patient when the rules are not respected so don't take the risk.
Traffic Cost
The cost of the traffic is not the same for all the sources and within the same source, and this is a point that needs to be very clear before making a decision. The cost can be affected by:
Country of the offer you want to promote. Normally tier1 offers are more expensive than tier2 and tier3.
Type of traffic. For example, Push Notification's traffic has more quality compared to Pop traffic but is also more expensive
The amount of traffic you think is necessary to your purpose. If you want to promote a CPS offer, you need to spend more money
The type of connection you need to promote and have success with your offer. Wireless traffic is much cheaper than 3/4/5G.
Conclusion
As you've read, the whole process of choosing the right offer has many variables impacting it. From the traffic source to its restrictions as well as defining the perfect audience for you, it's a hard path that might need a huge effort from you, still, we guarantee you that it's worth it.
We usually say to our affiliates to never give up the first time. All the huge affiliates started from zero and learned from their mistakes. Do the same and become the next top affiliate in the industry.
Are you ready to join our great affiliate network?
Don't forget to subscribe to our newsletter for tips and more about the affiliate marketing universe.
Accelerate your Conversions, Increase your Revenue
with lemonads
---
You would like