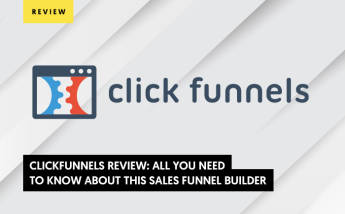 ClickFunnels Review: All You Need to Know About this Sales Funnel Builder
Clickfunnels Review- It's no secret that affiliates need to leverage every single tool at their disposal if they want to achieve success. While there are many essential pieces of software required to build a scalable affiliate campaign, funnel builders are one of the most effective yet overlooked options. ClickFunnels is one of the most comprehensive funnel builders out there because it provides everything affiliates need to create growth-driven campaigns, but many marketers overlook this tool because they are not aware of how powerful it actually is.
At lemonads, our team works closely with affiliates that produce a monumental volume of top-quality traffic, so we're aware of the process behind building growth-driven campaigns. Below, we'll share our ClickFunnel review, go over the platform's features, and explain why we believe it's one of the best tools to build scalable campaigns for affiliate marketing.
Introducing ClickFunnels
Before going over the concept behind ClickFunnels, it's important to understand the importance of sales funnels in affiliate marketing. In the affiliate context, the sales funnel is a representation of the journey that the buyers go through before converting, whether that means making a purchase or completing a form.
It's called a funnel because the visual representation of this technique is a conical-shaped diagram with a wider top that gradually narrows at the bottom. Prospects that enter the wider top of the funnel are more general, which means that conversions at the stage are rare. As the funnel narrows down, the number of potential conversions slowly decreases, but the conversion rates start increasing exponentially.
ClickFunnels is a platform designed to help users build sales funnels in order to promote, sell, and even ship products over the internet. This tool simplifies the entire process because it provides a comprehensive set of features designed to fulfill the core elements of an effective sales funnel.
We will discuss these in detail later in this article, but it's worth noting that some of the features of ClickFunnels include web hosting, landing page builders, email sequence creators, and a wide collection of additional abilities. In simple terms, the creators of ClickFunnels strived to and succeeded in creating a wholesome platform that revolves around growth and scalability.
Top Features Available on ClickFunnels
ClickFunnels is a dynamic platform that is suitable for companies in all industries and of all sizes. Almost every company can benefit from implementing funnels into their operations, whether it's for sales, marketing, or order delivery tracking.
Through ClickFunnels, business owners and marketers can create fully customized funnels from scratch or use one of the platform's templates as a base. The platform boasts of tested templates that can be tailored to your specific measures, saving you a huge amount of time in split testing and building landing pages from scratch. This, in turn, improves your efficiency and helps you generate more revenue without putting in more effort.
Let's take a look at some of the best features that the platform has to offer.
Comprehensive Sales and Marketing Funnel Creation
Sales funnels have become a popular technique because they can be used to promote products, webinars, marketing content, and for a collection of different purposes. The most impressive feature of ClickFunnels is that this funnel creation tool is powerful enough to create, track, and manage all types of flows.
The platform's robust architecture has been designed to also be flexible, so it can help users get sales, build their newsletters, increase webinar signups, and achieve other goals that improve branding and gradually increase revenue.
As part of the funnel creation process, ClickFunnels can help with:
Site Hosting
As with any form of digital content, the servers on which you host your landing pages and other parts of your funnels will impact the speed as well as the overall performance of your efforts. Instead of hosting all of your content with your main provider and ramping up your costs, ClickFunnels provides superb hosting services that are suitable for all types of funnels. Because it has software-as-a-service (SaaS) deployment, the platform is set up in a way that you don't have to worry about hosting landing pages or any part of your funnel.
Landing Page Creation
Landing pages are also an essential part of the success of your funnel because these pages directly impact conversion rates. However, knowing what elements your landing page needs is already complicated enough, let alone figuring out how to put it together.
Fortunately, ClickFunnels offers a great landing page creator that features fully customizable templates. Members can adjust everything, from the position of the main image to the type of form on the page and the fields it features. At the same time, you also device what happens to the leads once they are collected, whether they are sent to your database or enter an automated sequence.
Automatic Email Sequences and Full Integrations
Two of the most impressive features in ClickFunnels are its email sequence automation and full integration abilities.
Email remains one of the most effective forms of online marketing lead generation techniques. ClickFunnels can help you create a collection of automated sequences that are triggered by tailored events or after time periods that you can adjust depending on your audience.
Drag-and-Drop Creator
In the past, one of the biggest challenges that marketers and businesses faced was the need for technical knowledge to produce online content.
To address that issue and make things as simple as possible, ClickFunnels has developed a powerful drag-and-drop creator that you can use to build your entire funnel. Not only this, but the platform also has a rich collection of resources available to help you understand all the features at your disposal.
Drip Campaigns
The turnaround of your campaign will directly affect the structure you implement, but conversions may take a lot more time in some industries than in others. Through ClickFunnels, users can develop tailored drip campaigns designed to nurture leads over a prolonged period of time and help transform large amounts of prospects into leads without much effort.
Moreover, you can also use the drip campaign feature in more creative ways to take advantage of the traffic you already generated, like creating remarketing campaigns that follow a drip structure.
Custom Domains
Lead generation landing pages usually work best when they have custom, creative, and diverse URLs because this helps attract different customer groups while giving the content more credibility. ClickFunnels can help you find and implement custom domains for each one of your funnels or landing pages, increasing your chances of producing conversions with the content you're producing.
Editable Templates
We've mentioned this before, but it's important to highlight the fact that ClickFunnels has fully customizable templates for every single element of your funnel. From landing pages and emails to the sequence text and SMS alerts, you can always choose to either start building your materials from scratch or use the template that is closest to your vision.
At the same time, remember that the team behind ClickFunnels is constantly creating and testing new templates in order to give their members the best chances of succeeding.
Pre-Designed Funnels for Certain Industries
While this feature wasn't perfected at the time of writing, ClickFunnels actually features pre-designed funnels for certain industries. The reason why we say that it hasn't been perfect is that it is only available for certain verticals. With that in mind, the ClickFunnels team has pledged to add more pre-designed funnels for more industries and grow the list as much as their members need them to.
A/B Testing Options
Although a funnel creation platform is crucial, it doesn't mean that you'll get the best results right away. To counter this phenomenon, ClickFunnels allows extensive A/B testing, which allows users to figure out which variations provide the best results. Just remember that the split testing feature only allows you to test for two variations at a time, so create a strategy and stick to it in order to find the best version of your content.
Impressive Compatibility and Easy Deployment
ClickFunnels has a wide list of pre-existing integrations, so you can already connect it to leading platforms without any issues. At the same time, the platform is constantly adding new integrations and the company tends to be extremely flexible in this perspective. This is one of the reasons why ClickFunnels always encourages its members to contact the support team if they need help with the integration of a platform that isn't yet compatible.
World-Class Support
Now that we've touched on the support team, it's a good time to highlight the fact that ClickFunnels has a superb customer service team that strives to help clients every time. ClickFunnels support is available via email, over the phone, and through online chat. Furthermore, the platform also offers educational content and one-on-one support for clients that are having a longer learning curve.
Smart Shopping Cart Integrations
Let's start off this point by saying that ClickFunnels has a reliable shopping cart feature designed to be secure, fast, and functional. That said, the platform is also compatible with some of the top shopping cart and auto-reply tools in the market, which gives its users full flexibility in terms of how they want to run their campaigns.
Facebook Automation
Facebook has become an essential part of the performance of almost all healthy marketing campaigns. Lead generation through Facebook is a more extensive process, but ClickFunnels has a collection of specific features designed to automate marketing activities on this leading social network.
Ready to Start Using ClickFunnels? Find the Best Affiliate Programs at lemonads
There is no doubt that ClickFunnels is one of the top marketing automation and funnel creation platforms out there. We hope that our review above helps you understand the features available through this platform and how they can help you build better campaigns that are driven by growth.
If you are ready to build your next affiliate campaign, contact lemonads and find the best offers in your industry today.
Accelerate your Conversions, Increase your Revenue
with lemonads
---
You would like