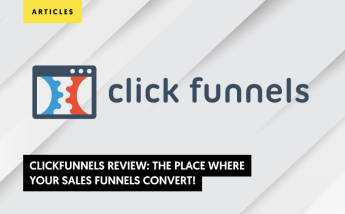 ClickFunnels Review 2022: The place where your sales funnels convert!
ClickFunnels Review 2022 is exactly what you would like to delve deeper into, especially if you've been trying to sell products or services online you probably already know that finding the perfect formula in converting your visitors into sales is pretty difficult to find.
This is why we seek in creating a well-designed sales funnel to get more profitable and how could we if not with ClickFunnels?
Before, let's quickly check what are sales funnels!
If you still don't have the idea of what a funnel is, well, look here below:
A sales funnel is a guided path that prospects move through in your sales process. It walks people from their first engagement with your brand through many steps that are intended to result in one or, hopefully, more conversions and sales.
Think of it as the plan that will simplify your online marketing, selling and delivering the products and services smoothly and helping you achieve the goals you're setting step by step.
Creating a sales funnel will help you provide more value than you would ever get from a traditional website as a business owner.
So, how can we create that well-designed sales funnel that will solve all our problems and dramatically increase our sales and provide more value to our customers?
Simple! As we previously mentioned, ClickFunnels!
ClickFunnels will help you easily build those strategic and well-designed sales funnels that you've been searching to create for your business, changing the way you run your business.
To not mention that ClickFunnels has one of the best affiliate programs out on the web.
Ready to delve deeper and see how ClickFunnels can change your business world? Let's start by overviewing the following topics:
ClickFunnels Review: Company
ClickFunnels Review: Features
ClickFunnels Review: Pros
ClickFunnels Review: Cons
ClickFunnels Review: Pricing Plans
ClickFunnels Review: Final Conclusions
ClickFunnels Review: Company
ClickFunnels Is A Website and Sales Funnel Builder For Entrepreneurs. That's right, ClickFunnels was created exactly to help entrepreneurs who don't know how to code and can easily build beautiful pages inside of a sales funnel, to grow their company online!
ClickFunnels was created back in 2014 by Russell Brunson and his team, turning ClickFunnels into a $100 million year business platform, crossing over 142,000 active members in October 2020.
Today, ClickFunnels is software for building sales funnels with many added features, so let's discover them all!
ClickFunnels Review: Features
With ClickFunnels, you have so many features it's impossible to ignore! you can use them to build Landing pages, Squeeze pages, Webinars, Membership sites, any type of sales funnel you can think of, complete with order bumps, upsells and downsells and so much more!
If deciding to sign with the highest-end ClickFunnels Platinum package, you'll even be able to start your affiliate program and replace your email service with Follow-Up Funnels!
You can get everything you need to market and sell online without having to hire expensive developers!
There are over 700 entrepreneurs that are succeeding and already have created winning sales funnels that have done over $1 million in sales by using ClickFunnels!
So, let's discover their full features lists here below:
WYSIWYG email editor
Funnel templates
Conversion optimization tools
Affiliate tracking & management
Email auto-responders
Communication management
Contact database
Conversion tracking
CRM and email autoresponder
Membership database management
Pre-built funnel templates
Email notifications
Email & email performance tracking
Insert graphical content
ActionScore lead scoring (RFMS)
Multi-channel communications
Multi-currency
Campaign promotion management
Referral tracking
Online page editor
Rules-based workflow
Sales management
SEO management
Social media integrations
Message editing tools
Third-party integrations
Visitor tracking
Dashboard for monitoring business KPIs
Interactive content
Contact list segmentation
Monitor web traffic
Campaign analysis
Conversion rate optimization
ERP integration
Drag & drop interface
Design landing pages
Mailing list management
A/B testing
API connectors
Email marketing
Landing page templates
Scheduled emails
Text messages
Web forms
WYSIWYG editor
User activity monitoring
Event-triggered email
Sales trend analysis
Delivery tracking
Click-through tracking
Direct mail management
Customer activity reporting
Website monitoring
Tags & keywords
Performance reports
Subscriber collection & management
Website management
ClickFunnels Review: Pros
As we've just previewed all their Features, the best ones are the biggest pros of ClickFunnels!
Speaking of which, the owner has identified 22 different types of funnels that he has used successfully in his own business giving out his formula for entrepreneurs to succeed as well!
The funnel types fall into 3 main categories: Lead Capture Funnels, Sales Page Funnels, and Event Funnels, and there are some other special funnels like Membership funnels that you can easily create as well.
Take a look here below!
ClickFunnels includes funnels like "Squeeze Page Funnel" which collects a visitor's email address and sends them to a Thank you page as they sign up, which could help you in saving time and not making anybody wait to risk completely forgetting about you.
Another pro is their 2-Step TripWire Funnel which sells a low ticket front-end product, up-selling them to your more expensive products by using the Order Form bumps and One Click upsells or Down-sells.
In addition, each funnel type has its own set of free templates and paid templates.
So even if you don't have any design skills, your funnel pages will all have a consistent, professional design look users just can't ignore.
Select a template.
Customize each page to fit your business.
Add your products and ensure all your email and payment integrations are set up.
Set a domain name for your new funnel.
Save your funnel.
As your sales funnel goes live, start sending traffic, and the trick is done!
ClickFunnels Review: Good Visual Drag & Drop Editor
As ClickFunnels lets you create your funnel and page templates, the pages in ClickFunnels not only will allow you to own them but they are laid out in columns so that you can easily and simply drag elements around and place them where you think they best fit within the design making the editor, very intuitive to use.
ClickFunnels Review: Text elements can be edited inline
That's right, and modifying any element's properties can be done through the fly-out sidebar in an organized and logical way, just like here below:
The important thing is that no coding is required. So you don't have to spend time learning HTML or CSS or any technical things like that.
ClickFunnels Review: Discover the Nice Selection of Page Elements!
Elements or widgets are essential as it gives you the flexibility to design the exact pages you want!
ClickFunnels gives you a wide range for you to use:
Basic elements include Headline, Image, Text, Button, Input forms, and Video widgets. These are the basic building blocks for any landing page you build in the software.
ClickFunnels also includes some advanced elements such as:
SMS Signup
Surveys
Pricing Tables
Progress Bars
Facebook Comments
FAQ Blocks
Countdown Timers
Custom HTML
Each element can easily be customized in the editor sidebar. With most elements, you can change common properties like:
Background colors,
Margins,
Fonts,
Alignment.
Then there are the element-specific properties like the image URL for the Image element or the Button text of your button.
ClickFunnels Affiliate program
ClickFunnels is one of the best, legitimate affiliate marketing programs that you can be a part of, but it's not quite as accessible to everyone.
You could try to apply as a basic ClickFunnels affiliate, letting you promote the front-end offers in the ClickFunnels ecosystem which includes DotCom Secrets, Expert Secrets, and the One Funnel Away Challenge.
Thanks to the ClickFunnels sticky cookie, you'll also earn commissions on any upsells that your referrals purchase as they go through their specific funnels as well.
ClickFunnels also has another great feature for affiliates called share funnels which Inside the Settings tab of any of your funnels, you can grab your "Sharing" Funnel URL.
The built-in included training "Funnel Flix" of ClickFunnels!
Want to level yourself up as a marketer? The Funnel Flix training that's available is a brilliant resource that everyone should take advantage of with an entire collection of ClickFunnels focused content, including topics as:
30 Days book videos
Affiliate Bootcamp
Funnel Builder Secrets
Product Secrets
Funnel University
But there are other great training modules as well including Ad Skills, which is a premium course for learning paid traffic strategies, and also Tony Robbins Private Collection.
Funnel Flix truly makes ClickFunnels a legitimate marketing training platform!
ClickFunnels Review: Cons
ClickFunnels could have some cons depending on how you see them.
Let's take, for example, ClickFunnels limits on funnels you can choose to create. ClickFunnels limits you to 20 funnels, 100 pages, and 20,000 visitors by applying to their cheapest plan, but these limitations may worry you if you are dealing with work on behalf of clients such as building them multiple customer funnels or promoting ClickFunnels as an affiliate by using their "share funnels" option.
The solution would be to upgrade to their Platinum plan for you to build unlimited funnels, which would cost a little more, but we'll check that in just a second.
ClickFunnels Review: Is it Difficult to Begin With?
As ClickFunnels interface is pretty well designed for the most part in their platform, it's not that easy to get around at the beginning, but once you've built a few funnels yourself, the whole process gets easier over time and this will help you improve achieving the goals you're setting also uptime.
Now, let's check their pricing plans and see which plan would suit you best.
ClickFunnels Review: Pricing Plans
ClickFunnels has their first plan at $97 a month which will allow you to get access to all the funnel creation tools, but you are limited to creating 20 funnels, 100 pages, and 20,000 visitors.
You won't get access to Follow-Up Funnels, their built-in email service provider, and their Backpack option, which allows you to create your affiliate program.
If you're interested in these options then, you'd need to upgrade or choose the ClickFunnels Platinum plan which has a cost of $297/mo and it includes all features with unlimited access to funnels, pages, and visitors.
The ClickFunnels Collective plan adds Live phone support, the Funnel Flix All Access Pass, and access to 4 live events a year for $1,497/mo.
Meanwhile, The OFA Platinum is $997, which gives you 6 months of ClickFunnels Platinum for free and access to the One Funnel Away Challenge with amazing bonuses, bringing the cost down to $166/mo.
ClickFunnels is finally coming up in offering annual plans, which still need to come out, but they're working on 12 months of ClickFunnels for the price of 10, including video support as well even though ClickFunnels already makes it easy to help you through their service with their free demo and a 14-day free trial without binding you in any way which lets you give the software a full test before you fully commit.
ClickFunnels Review: Final Conclusions
As we arrived at our conclusions, ClickFunnels is one of the most essential tools, especially if you own an affiliate marketing business, giving you amazing opportunities being one of the 1st picks of many businesses figures.
Take a look for yourself!
Of course, each platform can have flaws, but they are for sure a platform that takes good care of their users trying to update their service as best as they can.
ClickFunnels is for sure one of the go-to funnel builders' platforms out there on the web, helping you also grow email lists and close deals with your sales.
To not mention that ClickFunnels has one of the best editor experiences to make your life easier.
Want to take advantage of the ClickFunnels 14-day free trial to start growing your own business today? Don't hesitate!
Accelerate your Conversions, Increase your Revenue
with lemonads
---
You would like