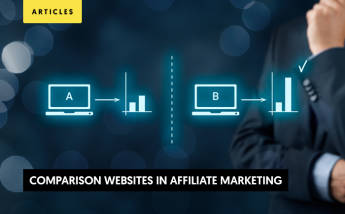 Comparison Websites for affiliate marketing
What is the first thing you do when you want to buy something you have no previous experience with? If you are like 90 % of the connected human beings, you go to your search engine of preference, (most probably Google) and you type what is the best X. Right? Must probably the search results page will give you at least 5 different comparison websites.
So what are these famous comparison websites and how can you build one for affiliate marketing? Let's get started right away.
What are comparison websites?
Comparison sites do exactly what their name implies. They compare prices and the qualities of goods and services from a range of companies. These sites can also be called price comparison websites. This allows people to make sure they get the best product for their needs and at a price that fits their budget.
According to a study made by Warwick economics, 85% of online shoppers use comparison websites to find the best deal before making the final choice for a particular product or seller.
Comparison websites are popular because they help consumers save time and money on their buying decision process. These sites are quick and easy solutions for comparing products or services in one place. Normally, the content includes PROS and CONS of diverse options accompanied by the price.
The million-dollar question is, how do comparison websites make money? Apparently, the consumer is not buying directly from them, right? Well, the answer is they make money by selling ad space and or with affiliate marketing, of course! But to better understand the process, let us explain in very few words what affiliate marketing is.
What is affiliate marketing?
In simple terms, affiliate marketing it's a form of performance advertising where companies work with independent marketers in order to generate web traffic, leads, or sales. Advertisers are only required to pay affiliates when they generate conversions, so this form of marketing is extremely low-risk for the companies advertising their products.
There are a few different types of affiliate marketing structures, but the most popular type includes four main stakeholders, which are the advertiser, the affiliate, the target audience, and the affiliate network.
The advertiser: The brand that sells its product or services. The advertiser creates an affiliate program to which the publishers can affiliate. These programs have rules like the commission rate and the cookie lifetime and provide some marketing material like banners and others.
The affiliate: Also called the publisher is the person who will create and promote content in order to earn a commission. The publisher doesn't take care of stock or logistics… only promotion.
The target audience: The final consumer. The one that buys the products.
The affiliate network: The structure where advertisers and publishers interested in a certain niche meet, get together, and make money. Affiliate networks like lemonads®, make the relationship between affiliate and advertiser smooth and easy. Networks take care of the payments and provide tracking tools so both advertisers and publishers can follow their performance, pay or cash out.
How do comparison websites make money?
Now that you know what affiliate marketing is we can dive into how it is used in comparison websites. As you might suspect by now, people behind comparison websites are savvy affiliate marketers. This doesn't necessarily mean that their content isn't objective. The best affiliate marketers are experts in their niches and are passionate about their work. This work includes research, trying new products, or compare the upgrades on certain models by themselves and be up to date with the latest trends.
So, how do they monetize all that work? Let's use the example of a random SERP site when I search for "the best coffee machine".
We will use as an example roastycoffee.com just because he was first to appear,
When you land of the webpage, the first thing that we saw (because we are geeks and are always searching for other geeks) is an affiliate disclaimer
If you watch closely Just under the article's title there is a small letter that notifies visitors of the presence of affiliate links.

"Just so you know, if you click on a product on RoastyCoffee.com and decide to buy it, we may earn a small commission."
This is a good practice to be transparent vis-a-vis the comparison website audience but is also a legal requirement imposed by the FTC. Learn everything about affiliate disclosures.
If we keep reading, we find a description of 5 items that are always containing an affiliate link.
When we click on any link, we are always redirected to the same place, Amazon.
As you can see, we are no longer on the price comparison site. The publisher/affiliate has done their part of the job. Take qualified leads to certain e-commerce.
Let's continue this precise example where roasty coffee is affiliate with Amazon Affiliate Program. The conditions for amazon associates are not the most attractive, however, the conversion rate is very high. Once a customer lands on Amazon, 24 hours cookie is waiting for them to convert. If this potential customer buys this or any other coffee maker or even other unrelated product within 24 hours, Roasty coffee will earn an affiliate commission. This commission is paid in full by Amazon and the customer is not paying any extra penny for this.
What are the best comparison websites?
While there are thousands of comparison sites in the US, we chose some examples of the ones that are doing great so you can go, watch and learn. Besides the ones we list here, Google shopping is a resource for instant comparison when users are looking for the best price on the same item.
In the image you can see, how by only searching "Nespresso machine" Google shopping lists some shops and models where users can very quickly find which e-commerce offers the best price. However, this listing gives us a quick product pricing comparison idea but not all the qualities at once.
TOP 10 - A famous comparison website
Top10.com is a comparison platform that offers users  10 of the best options across a wide variety of products and services. Top 10's mission is to make purchase decisions easier by helping readers choosing from the top options available.

Organic Monthly Traffic: 840,000+ visits
The number of Organic Keywords: 20.000+ Keywords
Monetizing strategy: Affiliate links
Source: Similar web
THEWIRECUTTER.COM
New York Times Co. Combines Wirecutter and Sweethome into a Single Site. Both comparison sites were bought by The New York Times and through them, the journal monetizes content with affiliate marketing. You can see we highlighted in the image the disclaimer of affiliate links presence. You can read our Case study on  How The New York Times' Wirecutter Drives Affiliate Revenues from Grocery Delivery to get a complete idea of how this publisher is leveraging affiliate marketing.
Organic Monthly Traffic: 4.5 + Million Hits
Number of Organic Keywords: 3.2 Million + Ranked Keywords
Top Ranking Content Topic: Wireless Routers
Top Ranking Content-Length: 10,181 Words
Monetizing strategy: Primarily Amazon Affiliates
Source: Ahrefs
GEARPATROL Comparison Website
Gear Patrol is a daily magazine for men that covers everything in gear, travel, adventure, design, food, and culture. The magazine, which was started as a side project, was first published in 2007 and has evolved into a resource and gathering place for men to discover new ideas, products, services, and places. You can see in the image that they disclaim the presence of affiliate links.
Organic Monthly Traffic: 668,000 + Hits
Number of Organic Keywords: 772,000 + Keywords
Top Ranking Content Topic: Office Chairs
Top Content-Length: 1,600 Words
Monetizing strategy: Amazon Affiliate program, Display Ads, Ad Space, and branded products
Source: Ahrefs
TOMSHARDWARE.COM
Organic Monthly Traffic: 11.6 Million + Hits
Number of Organic Keywords: 7.6 Million + Keywords
Top Ranking Content Topic: GPU Hierarchy
Top Content-Length: 1500 Words
Monetizing strategy: Display Ad Revenue & Amazon Associates
Source: Ahrefs
THESPRUCE.COM
The Spruce family of sites, including The Spruce Eats, The Spruce Pets and The Spruce Crafts, covering home decor, home repair, recipes, cooking techniques, pets, and crafts. The Spruce brand is one of the top 3 largest lifestyle properties online according to ComScore.
Organic Monthly Traffic: 42 + Million Hits
Number of Organic Keywords: 13.4 + Million Keywords
Top Ranking Content Topic: Oven Roasted Pork Chops
Top Content-Length: Under 1,000 Words
Description: But Highly Relevant Grid of Many Pork Chop Recipies
Monetizing strategy: Display Ads, Direct Ad Space Sales
Source: Ahrefs
NERDWALLET.COM
NerdWallet helps consumers learn about saving money, investing their money, mortgages, student loans, insurance, credit cards, and more with the aim of helping readers learn how to grow their money, discover financial products that fit their needs, and manage their money better. As you can see in the image, in the top left of their site they have an "advertiser disclosure". In this disclaimer, they openly tell their readers that they have affiliate partners and offer a complete list of these partners. While they objectively speak about these brands and the main objective isnt to promote products but to inform and educate their readers, they are being transparent on how they make money.
Organic Monthly Traffic: 11 Million + Hits
Number of Organic Keywords: 2.9 Million + Keywords
Top Ranking Content Topic: How Much House Can I Afford
Top Content-Length: 200 Words
Other content attributes: Interactive Calculator
Monetizing strategy: CPA/Leads
Source: Ahrefs
Tips to build successful comparison websites?
Define your Niche Market
The first thing you need to define is what is your niche. A niche is a specialized segment of the market for a particular kind of product or service. A comparison website that compares all kinds of products and services for all kinds of people is not realistic and somewhat unprofessional. A place where you compare banks and baby strollers (to use an extreme example) is not consistent. Unless you are creating this model in a country where there are no competitors… if that still exists.
People like to find that place where they get the most complete information for a certain thing. So we strongly suggest that you find that niche and that it is something you are passionate about.
If you don't have this passion for something you project as a niche, choose a niche with high demand and conversion rates products. Some examples can be insurance, loans, real estate, cosmetics, video games…
We made this article on how to find the best affiliate marketing niches right now that can be of interest.
Be honest
Disclaim how your site makes money. This is not only a good practice for transparency but an FTC law.
Offer information about whom your partners are.
Be accurate
The prices of each product are taken from reliable sources
The information is presented in a well-perceived form
Have in mind that people love to highlight in the comments when information is not accurate. We want to have as many positive comments as possible, right?
Be responsible
Protection of personal data and compliance with laws.
Description of how and what data is collected.
Include a private and simple rating system and reviews.
Make it Easy
Have the user experience in mind.
Provide information in a simple way
Pleasant and intuitive design
What are the best niches?
The best niche will always be the one you are in or know about. If you are biking passionate, it would make sense to build a comparison website for the people like you. You know what they might be looking for and what would be of interest to them.
A few of the most interesting niches right now are:
Dating- Companionship, and partnership are high-value items after the pandemic. People are keener to not being alone. Love dating or hooking up doesn't matter. People are ready to get out there and that makes dating affiliate programs a good opportunity in Affiliate Marketing right now. Platforms like Vibe, match.com amongst others, are proposing a new way to engage with their customers and rewarding their affiliates with very attractive commissions through their affiliate marketing programs.
Meal Kits- This is a huge trend right now. People being busy, looking for a healthier lifestyle, and tricks to make life's daily tasks easier are the fuel for dozens of emerging companies like Powermeals, Hellofresh, Diet-To-Go,  amongst others. From make-it-yourself recipes to heat and eat, the offer is amazing, fresh, and tempting.
VPN- VPNs enables users to send and receive data across shared or public networks as if their computing devices were directly connected to the private network.
The reason why this is an interesting service is that some websites are blocked for people who is outside of the country or area of interest to the publisher. This has restricted the area of information. Marketers that need to access data worldwide are constantly restricted by this, for example. Also, streaming platforms like Netflix or Amazon prime, display different films according to each country. VPNs are an interesting investment for geeks and "normal" people.
According to the Research and Markets study, the global market for virtual private network (VPN) solutions is projected to be worth at least US$50 billion within the next few years! This fact only makes the creation of a comparison website in the domain extremely interesting.
Consumer Lending- People are constantly needing to improve their life quality and consumer lending fintech is a fresh and easy way to achieve it. These Financial technology businesses are bit by bit stilling market share from banking traditional institutions. There is a lot of potential in this niche, as there are fintech emerging on a monthly basis and people like to find the best price alerts in one place.
How to promote comparison websites
Now that you know what is a comparison website, that you have the example of how the big guys are doing it, and that you know what to take into account to building yours, we can go to the "last step" how to promote your comparison website.
To promote your comparison website you can use these digital marketing strategies
Search Engine Optimization (SEO). By optimizing the content of your comparison website, making it readable both for your visitors and for Google's crawler. Use high-traffic keywords, titles, images with alt text, and all the good SEO practices.

Search Engine Marketing (SEM) is the most effective way to drive traffic. With the help of targeted keywords, you can immediately understand what the user is looking for and tune this ad's message.
In a nutshell, SEM allows you to place those ads on a search engine's results page when a user types a query. Advertisers bid for keywords for which they want their ads displayed. When a user types a particular search query, the advertisers who bid the highest for that keyword will get their ads displayed first.
A bid represents the amount of money you are willing to spend for a single click on a given keyword in Google Ads. Those bids will dictate where your ads show up in search results.
The first step to smart bidding is to write down the goals of your SEM campaign. After you've written down your SEM goal, you need to find out all the keywords that can help you to boost your ad performance. You also need to research the bid price of the keywords you selected for your ads so that you won't spend more than your budget. To get your keyword ideas and keyword bid price, you can use Google keyword planner in the Google Ads platform. With this tool, you can also discover some keywords people are using and that you were not aware of.
Armed with this data, you can select the right keywords for your ads. If your campaign budget is low, it is advisable to select keywords with medium competition. But if you have a big budget, you can pick a mix of keywords with low, medium, and high competition.
After you can get an estimate on how much your campaign will cost and which keywords will bring you more traffic.
Once you have your keywords and estimation, you need to choose your bidding strategy. By choosing right your bidding strategy, you will get the most out of your campaign budget. This also means you won't be losing money and you are more likely to achieve your SEM goals on time.
Learn everything about SEM.
Comparison Websites Conclusions
Comparison websites are used by 85% of online shoppers to make their buying decisions. The top comparison websites use ads and affiliate marketing to earn money. Affiliate marketing is a model in which advertisers pay publishers for driving qualified leads to their shopping websites.
If you have a passion you may be qualified to start your own comparison website. You know what people are passionate about the same thing you are thinking, what they need and what they'd love to discover. But if you don't have a passion that has this potential you can choose a niche that has a high rate of demand and a high rate of conversions. Be honest, accurate in the information you display, be responsible for the way you handle private information from your customers, and build your page is a very easy way. The more practical you are, the more they will come to check on your advice.
If you are interested in affiliate marketing we suggest you follow our marketing blog. We publish weekly new and trending information for affiliate marketers of all levels of experience.
Accelerate your Conversions, Increase your Revenue
with lemonads
---
You would like