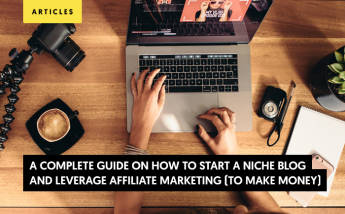 Complete Guide - How to Start a Niche Blog and Leverage Affiliate Marketing (to Make Money)
How to Start a Successful Niche Blog?
You are wondering how to start a successful niche blog? You came to the right place. The combination of ultra-fast internet connections and widespread adoption of power has completely changed the way businesses advertise their products and services. Today, companies rely on affiliate marketers to help them forge a strong bond with their potential customers.
That said, learning how to set up a niche blog that generates enough traffic and conversions to become an affiliate marketer is not always straightforward.
All industries and consumer groups are unique, so potential affiliates need to keep both of these in mind when developing a niche blog.
At lemonads, we've worked with some of the top bloggers in the world, many of which started their niche platform relatively recently. Our team understands the different steps that marketers need to take in order to set up a niche publication that allows for the earning of affiliate commissions.
Let's go over the definition of affiliate marketing and how this industry generates a profit. We'll also go over the steps to start your own niche blog as well as its benefits.
Affiliate Marketing Definition
Affiliate marketing is a type of digital advertising where companies hire third-party marketers known as affiliates to help them promote products and services.
Affiliates use a variety of different channels to promote content and encourage the target audiences to purchase these products or services from companies that are promoting their products, which are also known as the advertisers.
It's estimated that 4 out of 5 businesses around the world use some form of affiliate marketing, and for good reason. Furthermore, affiliate marketing is also performance-based, which means that advertisers only pay affiliates once these marketers have produced results.
Before getting started, remember to find the best affiliate programs, which contain all of the details and specific information you need to know about generating conversions for each advertiser.
How Affiliates Generate Revenue
Simply put, affiliates get paid a commission for each conversion they generate. A conversion can be defined as a specific action that advertisers want their audiences to take. This can include making a purchase, leaving contact information, or simply clicking on an ad.
Conversions are defined within each advertiser's affiliate program, which you can access either directly or via a secure affiliate network like lemonads.
Each advertiser's affiliate program includes details about what marketers need to do in order to generate conversions and how often these are paid out. Not only this, but the program will also tell you the potential payment channels that are compatible and whether the payout is a one-time event or a recurring commission.
Benefits of Starting an Affiliate Marketing Blog
Starting an affiliate blog takes a lot of time and effort, not to mention the fact that it may not produce results right away.
Driving traffic to a new site can be challenging. But, as long as you have a detailed strategy designed specifically for your industry, platform, and target audience, you should be able to make the right adjustments to boost the number of visitors to your site.
Moreover, there are many great benefits of starting an affiliate marketing blog. For many people, their affiliate blog works like their main source of income as well as their creative playground, which gives them the freedom to take on other challenges.
Additionally, some of the best benefits of affiliate marketing include:
Work on Something You Love
With 80% of businesses using affiliate marketing, there's no doubt that this approach is used across all industries. This gives bloggers the ability to specialize in virtually any field.
Instead of working on something you don't like, you can actually focus on a specialty that you love. And, the best part is that most leading advertisers develop great affiliate programs that are very profitable, so there's a strong chance you can generate enough revenue regardless of choice.
Having the ability to work on something you like will completely transform how you feel when you're working on your affiliate campaigns. For example, if you like fashion, you can start generating content discussing the different fashion trends, materials, or any other topic that you find interesting.
Limitless Potential
Affiliates are not limited by one type of marketing. These professionals have to learn how to combine a variety of channels to get the best results. This also means that they have unlimited potential in terms of the amount of business they can produce and, at the same time, how much revenue they make.
Modern affiliates can rely on pay-per-click campaigns, social media channels, and search engine optimization to drive traffic to their platforms. While PPC is slightly more limited, social media and search engines are great channels that can send hundreds of thousands of visitors per day to your platform, without requiring payment for each interaction.
Relatively Short Learning Curve
If you are new to affiliate marketing, you should take into consideration the fact that there's a learning curve. That said, if you choose a niche you're knowledgeable about, the learning curve is relatively short in terms of what you need to do to make money.
As long as your content is on point in terms of quality, you'll have an easy time learning how to drive traffic and figuring out how to transform visitors into conversions that pay.
With the above in mind, you also have to learn how to rank high on search engines and drive more traffic without having to pay for it, so make sure to invest time into figuring these things out early on.
How to Start a Niche Blog for Affiliate Marketing
Starting a niche blog requires a significant amount of work and dedication, but you need to take an organized approach in order to succeed.
Every blogger is different, so you need to develop an affiliate strategy designed around your particular strengths. But, there are also some general steps that the vast majority of affiliates need to take in order to be successful.
Pick a Niche
If you don't already have an idea of the niche or niches you want to specialize in, now it's time to pick a specialty.
Niches in affiliate marketing are a bit broader than in other forms of digital advertising, but the concept is the same. You need to find a specialty that's popular enough to generate a significant amount of traffic and revenue. Furthermore, you should also find a niche with a huge number of competitors because this will just make standing out a lot harder.
Select Your Tools
Now that you have an idea of what niches you'll develop content for, you can start selecting your tools. In this step, you need to figure out what tools you need, which ones you can pay for, and which ones you can get for free.
For example, you can get Google Analytics for free. But, for affiliate success you need a dedicated tracker with superior abilities, so you need to find a better fit.
Find the Best Affiliate Programs
Now that your platform is on its way, you need to find the best possible affiliate programs. Advertisers create affiliate programs that include all the details that affiliates need in order to generate relevant conversions. But, finding the best programs can be challenging, especially for bloggers who are just entering the affiliate world.
In these cases, you can partner with a reliable affiliate network like lemonads. Affiliate networks are platforms designed to help connect bloggers and other affiliates to the best affiliate programs. If you want to learn more about joining us and finding the best programs, contact lemonads today and we'll be glad to help.
Study the Audience(s)
After you have selected the programs you want to work with, you can see which type of users you need to target. You should research these audiences and learn as much as you can about these user groups because the better you know them, the easier it will be to generate ads that they find engaging.
Create Your Content
Whether you're creating videos, publishing infographics, or simply writing blog posts, now it's time to start developing your content. While the type of content has an impact on how well your blog performs, the quality of your materials is the most important element regardless of the format.
To be deemed as quality content, your materials should deliver practical value and provide information that has some sort of purpose, even if it's recreational.
Keep in mind that your content will link to the advertisers' landing pages, so you should create blogs and other materials that allow for a smooth transition. For instance, if you're participating in an affiliate program for a camping brand, you can write survival blogs that align with this activity.
Drive Traffic and Transform Visitors to Conversions
Lastly, you need to figure out what techniques you will use to drive traffic to your site. We've covered both search engine optimization and social media marketing briefly in this article because they both allow you to drive a huge amount of traffic without paying for each visitor.
That said, there are other channels that can help you do the same, but some of these do require a direct investment. These include Youtube channels, PPC ads, and purchase traffic. You should also make sure that you have elements on your site that help you to transform visitors into conversions.
What Types of Content Can You Publish?
Bloggers are known for writing, but a blog allows these platform owners to publish many different types of content. This is important because online users interact distinctly with different types of content.
The best way to figure out which format is the best is to test out a few alternatives, determine which ones perform best based on your results, and repeat the process until you have a set of sure-fire content formats.
Some of the types of content you may want to try include:
Listicles
Webinars
Banners
Product recommendations
Service directories
How-to guides
Unbiased product comparison
Case studies
White papers
Ebooks
Product reviews
Other types of downloadable content
Walkthrough videos
Infographics
Memes
Sports news
Want to Get Started? Find the Best Affiliate Programs at lemonads
Setting up a niche blog and joining an affiliate program may take time, but this process can help bloggers set up a platform that has huge earning potential. If you want to learn more about finding the best affiliate programs and setting up your platform, contact lemonads today.
Accelerate your Conversions, Increase your Revenue
with lemonads
---
You would like