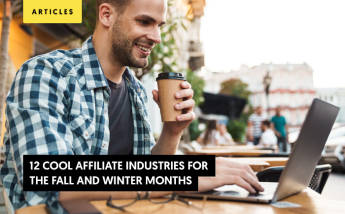 12+ Best Affiliate Industries for Late Fall and Winter Months
Affiliates Mediabuyers need to pay close attention to an array of variables when building and managing their campaigns. From the type of ad to the offer being promoted, you need to make dozens of key decisions before you even get started. For instance, you need to decide which industries you're going to target in your next, but choosing these verticals can represent a complex process in itself.
The business landscape has been anything but predictable in 2020, so knowing which industries to target isn't as straightforward as in recent years. That said, our team has been observing and tracking the performance of different verticals since the beginning of the global health crisis to predict which affiliate industries have the highest chance of delivering the best results during the fall and winter months.
Below, we'll go over 12 cool affiliate marketing industries that have the potential to produce stellar performance during the rest of the fall and winter seasons. In addition to the best affiliate industries for winter and fall, we'll also go over the effects of seasonality and provide a few simple tips to help you choose the right vertical depending on the time of year.
The Effects of Seasonality on Affiliate Marketing
All marketers are different, so the process of choosing the ideal industries will vary from person to person.
However, one of the constants that you always have to keep in mind is the time of year or season that the campaign will run during. This will help you decide which products to promote, what audiences to target, and how long your campaigns should run for, among other things.
Seasonality is the idea that some products are more popular than others during certain times of the year, which increases the likelihood of customers purchasing these goods. For example, selling sandals, sunscreen, and sunglasses during the summer months will likely result in higher sales due to seasonality. However, selling these products during the colder months will probably yield less impressive results.
Seasonality has a huge effect on affiliate marketing campaigns because it can literally decide whether an offer is popular or it attracts no attention whatsoever. Keep in mind that there are evergreen industries that perform well at any time of the year. But, knowing how consumers behave in regards to certain verticals during specific times of the year can help you choose more profitable offers and deliver the best content.
How to Find the Best Niches for Each Season
We'll go over our picks for the top winter and fall industries of this year and beyond, but our goal is also to help affiliates learn how to choose the best niches for any season. When trying to decide which verticals you should promote during a specific season, you should consider:
The location of your potential target audience and holidays specific to these regions
What the weather is like during these months (different regions have varying climates!)
Audience demographic information that can help you decide on the best approach, like age
For example, if you're thinking about promoting products during summer you should look at your publishing platforms or traffic sources, analyze the time of year as well as other variants, and decide which verticals have a higher chance of engaging your audience. As long as you choose an industry you're familiar with or take the time to learn about the vertical, you'll increase your chances of getting the highest ROI.
12 Cool Affiliates Industries for the Fall and Winter Months
Although inexperienced marketers don't pay attention to seasonality, knowing which products have the highest chance of performing well during the rest of fall and winter will increase your chances of success.
Let's take a look at 12 cool affiliate industries that have the awesome potential for your next fall and winter campaigns. For the sake of this article, we've listed similar industries as one, but you can pick and choose which one you specialize in depending on your preferences.
1. Fashion, Retail, and Other Ecommerce Categories
With physical stores around the globe operating at limited capacities, eCommerce has become one of the verticals for affiliates and the colder months will only drive better results for this industry. Fashion, retail, and other types of eCommerce businesses will likely experience a solid boost in performance, which translates to better offers and higher payouts for affiliates.
Remember, some e-commerce industries will inevitably experience supply chain issues at one point or another, so keep a close eye on the providers and any supply-level changes that affect their performance.
E-commerce Affiliate Programs Examples:
2. News and Entertainment
In addition to the global health crisis, political events in influential countries and other global events have emphasized the need for a reliable source of information in 2020. Consumers are now more receptive to the idea of supporting reliable journalists and paying for subscriptions, making the news vertical one of the hottest of this coming winter and fall months.
Likewise, limited sporting events, delayed film productions, and similar issues have also pushed consumers to turn to entertainment platforms like streaming services like Hulu Affiliate Program.
3. Health and Nutraceuticals
Health and nutraceuticals are actually an evergreen vertical, but the global pandemic has brought a significant amount of extra consumer attention to this industry.
The fall and winter months are known as the 'flu season' so many consumers are looking to minimize the chances of getting ill during this time. For this reason, the health and nutraceuticals industry is poised to be one of the biggest winners of the next few fall and winter seasons.
4. Sweepstakes
Companies that sell physical products usually plan new releases for the months when consumers will have the most time to use them. New video game consoles, laptops, and phones are often released close to the holiday season. And, these tend to be promoted through sweepstakes offers that consumers are more likely to take advantage of during the colder months.
5. Mobile Content and Functional Utilities
One of the most alarming trends in 2020 is the accelerated rise of cybercrime and low-quality mobile content. Fortunately, savvy consumers have taken the appropriate steps, which has increased the demand for quality mobile content as well as functional utility tools like norton antiviruses program and other platforms.
6. Cooking, Food, and Wine
A combination of limited capacity at dining establishments and a global economic recession has contributed to higher consumer interest in cooking, food, and wine. Luckily, there are hundreds if not thousands of well-known advertisers that sell cooking products, ingredients, food-related accessories, and fine wines.

Foods Affiliate Programs Examples:
7. Business and Marketing Tools
Online marketing is one of the verticals to have experienced a slight boost in performance since the beginning of the year because companies are trying to attract a digital following more than ever before. Likewise, entrepreneurs and owners are starting to invest more in their businesses to improve their bottom line. This, in turn, has made business as well as marketing tools two of the best products to promote this fall and winter.
8. Gambling
While the sports betting and casino industries have experienced a drop in performance, gambling platforms have maintained a steady pace. As a matter of fact, the gambling industry is poised to maintain its strong performance over fall and winter and consumers will be less inclined to go outdoors and will likely spend more time (and money!) on their mobile devices.
It's also worth noting that, even though it hasn't completely counteracted the effects of the global crisis, the sports betting vertical has surged over the last few months due to esports. Esports betting platforms allow consumers to wager on the outcome of competitive video games and have become extremely popular since the beginning of the year.
9. Green Products
In addition to health and wellness, another vertical that has grown in popularity with consumers is sustainable or green products, specifically winter goods produced from responsibly sourced or recycled materials.
Sustainable and green products have a neutral or positive impact on the environment. These appeal greatly to new generations and are starting to become one of the drivers for mainstream consumer behavior, especially during the winter months.
10. Gaming
Similar to entertainment and news, the gaming industry experienced a solid improvement in overall performance since the beginning of 2020. Plus, the growth in the industry has been steady throughout different categories, including cloud gaming, mobile games, console gaming, and even gaming furniture as well as accessories.
This trend, combined with the fact that consumers are less likely to spend time outside during the cold part of the year, will likely help this vertical grow even more in fall and winter.
11. Finance
Finance is another evergreen industry that usually experiences a significant performance boost in the fall and winter seasons. This can be attributed to more people looking for ways to generate revenue during these months, increased sales due to end of year holidays, and other events that occur consistently.
Remember, the finance industry also includes global stock markets as well as currency exchange markets, so it's a good idea to study data from previous years and see if there are any functional patterns.

Finance Affiliate Program Example: Credit Karma affiliate program
12. Education and E-Learning
Remote and electronic learning have constituted a major theme in education since the beginning of 2020 and that trend is set to continue throughout the rest of the year. For many consumers, fall and winter represent the ideal time to take a few courses and look into restarting their careers in the following months, making this vertical an ideal choice for affiliates.
Stay Tuned for More Information on Seasonal Trends
Choosing the best verticals for each season isn't always an easy process, especially considering the unique year that 2020 has been. However, the verticals above have shown promising signs of the potential to deliver stellar results in the fall and winter of 2020 and beyond.
If you want to find out more about the best verticals for each season or finding the best offers, contact lemonads today and our team will be glad to help.
Accelerate your Conversions, Increase your Revenue
with lemonads
---
You would like