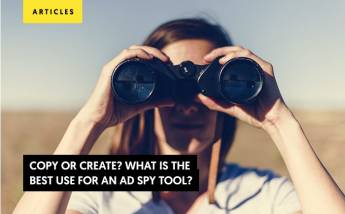 Copy or Create? What is the best use for an Ad Spy Tool?
The question of spy tools is a question that still divides, but mostly for ethical reasons rather than practical. Most debates mainly focus on the morality of copying rather than on what it brings or takes away from performance. Let's leave aside the ethical question (everyone has their own opinion) to focus on the usefulness of Spy Tools from a ROIst point of view.
Internal and external spytools, how do they work?
A  spy tool is a tool that allows to understand and measure the activity of your competitors in a specific field of activity. Some spy tools allow to study the activity of a competitor on all sources, on certain precise sources (native, SEM ...), or even in some cases on specific areas of his activity (communication on social networks ).
Spy tools can provide aggregated data (e.g. total estimated cost), qualitative data (ads, banners ...) and data mixing the two, which allows you to know precisely which banner of your competitor is most used, where and since when.
But as always, when you want to use your data you first have to ask yourself the conditions of their collection. In the specific case of spy tools, there are two main families. Those provided by the traffic sources themselves and those that will be called "external", which are therefore independent from the traffic source. Each of these large families will rely on very different data sources, but will also have an economic justification for their very different creator.
Internal spy tools are provided by the source itself. Take the example of Google which provides a report on the competition: "The report "Auction analysis" allows you to compare your performance to that of other advertisers participating in the same auctions as you. This data can help you make strategic decisions about your bidding and budget, as it tells you about your strengths, as well as the opportunities you may be missing. This way, you are likely to improve your performance." So overall, Google provides us, "kindly", with data to improve our performance.
Without going into the conspiracy theory, one can legitimately ask the question of the economic relevance of such a tool for Google. The answer is in the excerpt itself, we just need to decode what the word "performance" means here. Google's interest is crystal clear, by providing access to competitors data, it encourages you to outperform those competitors. To surpass it, there are only two possible choices: to be more qualitative in the eyes of Google and / or to spend more. So while allowing you to improve your own performance, Google builds your loyalty and encourages you to increase your spending, and at the same time improve the overall quality. Google, Google..
In addition to the economic interest, Google has an unrivaled advantage in this area: it has all of the data, with the guarantee that it is correct. It cannot therefore compete directly on this point.
If we must therefore summarize the internal spy tools, they are based on complete data and serve above all the interests of the source by allowing the dissemination of the most qualitative and profitable advertisers.
Concerning the external spy tools, the logic is a little different. Since they do not own this data, they must find a way to generate or recover it. Except in cases where the data is directly supplied by the source via APIs, external spy tools will proceed by sampling. Concretely, they will therefore create bots which will reproduce the browsing conditions of real customers (same internet service provider, same device, etc.) then compile this data and provide reports. This method has a major drawback: you do not control the conditions for generating this data, and therefore cannot know with certainty in which case you can generalize your learning or on the contrary be trapped by a data that is not or not very representative.
However, besides this inconvenience, the economic model of a spy tool allows you to gain independence. We pay a subscription to a spy tool because it is useful and practical. Therefore, unlike interns, it is in your interest to inform you as objectively as possible, and is therefore not subservient to the interests of the traffic source. Spy Tools like Adplexity, Adbeat, Spy Push are known to be trusted sources in the industry.
The case of external spytools is therefore interesting in that it makes it possible to gain independence from the source although it reduces the reliability of the data by proceeding by sampling.
A simple deductive approach already makes it possible to draw finer boundaries on these tools. They are not as simple or unequivocal as they seem at first sight. This must be taken into account if you want to use them correctly.
Spytools and customer journey.
Sampling can quickly lead to errors in data interpretation, especially for spy tools. We often associate too quickly a strong presence in a sample of landing pages or offers with real performance. We think that mathematically, if the campaign is widely distributed it performs well. So yes, this observation is interesting but not as mechanical as that. First, there are a number of questions to ask, starting with this: Is the goal of this campaign a performance goal or a branding goal?
Wide branding distribution supports conversion to offer, but in itself is not profitable. We can cite very massive campaigns such as certain campaigns of AliExpress in Europe which had the sole purpose of acquiring notoriety without direct profitability. On the other hand, they have built up a fleet of users, which can be activated and reactivated, which will lead to strong but more distant profitability.
With a goal of performance, and therefore of conversion, copying and redistribution is almost nonsense unless there is an undeniable competitive advantage (higher payout, much higher investment capacity, positive differentiation, etc.). In fact, copying necessarily leads to a limit in performance, in particular because we rarely have an infinite pool of new customers not exposed to this advertisement.

If the copy has no interest in performance, does this mean that spy tools are useless? No, on the contrary! Used well, they are very powerful and allow domination by market marketing. And so thanks to your creativity.
From the copy to the insight, a creative use of the spytools.
In the end, from a pure performance point of view you have to place the utility of spy tools elsewhere, to transfer their interest on your side.
If there are many biases on spy tools, they also have obvious virtues. First, the biases can be controlled using the data strictly.
We can for example give more weight to the recency of the data than to its volume. This helps to understand what are the emerging or most recent strategies, it also helps to move from copy to strategic study.
Indeed there is a difference between doing like the competitors and studying their strategies in order to make them work for you.
Let's be more concrete. You start on a vertical which is completely unknown to you. You have two basic choices: either take the exact same landing pages as the competitors and do like them, then say "this lp works". Or you can make sure to analyze the different landing pages and distinguish the potential performance factors, let us quote a small quick list:
Adopted angle
The tone used
Aggressive Marketing / Progressive Marketing
Warm colors, cool colors
Advertorial versus Pure sales page
We could multiply the factors at will, but by creating this reading grid you will identify deeper trends, and produce a mini advertising market study, even if this vertical is completely unknown to you.
Then you just need to sift through all of these hypotheses using Ab testing or multivariate testing to deeply understand the psychological forces behind your audience. This is what we mean when we talk about copy vs insight. By generating marketing knowledge, you will be constantly ahead. To conclude on performance and spy tools, what will count is less the tool than the use of it. If you go to a methodical approach based on the creation of hypothesis then on the affirmation or the invalidation of this one you will constantly have a more pointed marketing than those which made the choice of the massive copy. You will therefore need less business volume to create high profitability and will therefore be more competitive.
It must of course be linked to the development of receptive segments for these particular messages but we'll leave this subject for another post… ;)
Accelerate your Conversions, Increase your Revenue
with lemonads
---
You would like