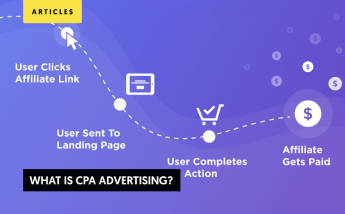 What is CPA Advertising?
A brief and complete document about CPA Advertising.
CPA advertising is yet another acronym fish in the marketing ocean, and we know that understanding every acronym's concept out there is quite a challenge.
We promise that after reading this article, you will completely understand those three letters and everything around them:
What Does CPA stand for, and what does it mean?
CPA stands for Cost Per Action. Sometimes you will find other "A" definitions like acquisition.
CPA is the cost measurement of a specific digital action. For example, a form submission, a sale, or a newsletter sign-up. By knowing what your CPA is, you know exactly how much did it cost you to gain that customer's desired action.
Cost Per Acquisition is a metric but it's also a performance pricing model. Let's focus on the pricing model.
Performance-Based Pricing Model
There are many forms of digital advertising media buy, but they're not all equally advantageous for advertisers.
Other models are expensive and increasingly inefficient, therefore, marketers are exploring and adopting new strategies that maximize their return on ad spend (ROAS).
With performance-based advertising, the advertiser pays only when there are measurable results. This model is not made for brand awareness nor consideration but for the bottom of the funnel (BOFU).
CPA advertising is one of the main ways that digital media companies charge advertisers for online advertising and one of the performance advertising models, where the price paid is the actual amount the advertiser pays when their ad leads to the desired action.
So basically, it means that using this pricing model, the advertiser it's paying only for results and not for the shy approach. That's why the Cost per Action price seems higher than a cost per thousand (CPM) or a cost per click (CPC).
Advantages of CPA vs.CPC and CPM you can read our article.
How does CPA Advertisement work?
Cost Per Action Advertising Examples
Here are some popular examples of CPA advertising:
Contact Form (CPL). Getting emails from potential customers is a constant quest for companies to increase the reach of their email marketing. Consumers are often attracted to discount coupons or other similar offers.
App installation (CPI) The action you are paying for is the installation of your app.
Purchase (CPS). Simply put, the action sought is a purchase or a subscription.
CPA Advertising Benefits
The main benefit of CPA advertising is that there is no cost until there are results, which maximizes the return on investment in a visible way.
CPA allows advertisers to control their costs to the maximum.
The advertiser can monitor multiple channels at the same time and in a simple way.
CPA Formula
The formula for the CPA is really simple. You just need to divide the total ad spent by the number of "actions".
Let's say you invested $200 in the campaign. Your action goal was to complete surveys and you got 20. In that case, you divide the $200/20 complete surveys. Your CPA is $10. It cost you 10 dollars to get each complete survey.
CPA Marketing Network
CPA Marketing networks are ad networks that generally use the Cost per action pricing model amongst other performance-based pricing models, that as we already mention is the most desirable model for advertisers as they pay only for the desired results.
For publishers, CPA ad networks offer an amazing opportunity to become affiliates and monetize their digital activity. In fact, CPA marketing makes publishers more money than any other form of traffic monetization out there.
CPA Advertising Examples
Contact Form (CPL). A contact form is a lead, which is a digital action. CPL stands for Cost per lead. Getting e-mails from potential customers is a constant quest for companies to increase the reach of their email marketing. Consumers are often attracted to discount coupons or other similar offers.
App installation (CPI) Installation is another digital action. CPI stands for Cost per Installation. The action you are paying for is the installation of your app, game, or other.
Purchase (CPS). A sale is another kind of digital action. CPS stands for cost per sale. Simply put, the action pursued is a purchase or a subscription.
Now that you know what the main CPA concept is and how it works, we can jump to affiliate marketing.
What is affiliate marketing?
Affiliate Marketing is an advertising model in which a company rewards third-party publishers to generate traffic or leads to the company's products and services.
CPA is also a pricing model for affiliate marketing.

Example:
Let's say that you have a blog and you add a link to your affiliate. If your reader clicks on your link and then purchases on this third-party website, you get a reward. How much is this reward worth? Whatever the commission for your referral was agreed on.
Performance Networks.
On one hand, the performance networks have a great base of advertisers who negotiate with them the cost they want to pay for each action reached successfully. And on the other hand,  a great base of publishers who have good traffic. Their mission is to merge both the publisher's and the advertiser's interests, making it a profitable business for both parties.
Whatever the desired action is, It doesn't matter if it's a purchase, a download, installation, or a contact form completion, the advertiser knows exactly how much a successful action will cost them, as they are the ones who set this price and the publishers know exactly how much they will get for the successful referral of their traffic.
Conclusion
CPA sure is a great way to play it safe for advertisers as they are paying only for results, but it's key to identify what model better adjusts to your campaign beforehand.
lemonads make it even better for you, by working on a fixed cost per action. You can simply assign a budget for the goal of that cost per action campaign and lemonads will connect you with great sources of traffic - publishers.
If you are still not certain that this model is the good one for you, we invite you to contact us. We will find the best options for your business to get qualified leads and conversions.
Accelerate your Conversions, Increase your Revenue
with lemonads
---
You would like