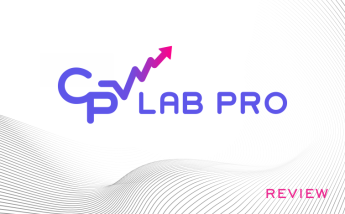 CPV Lab PRO Review: Track all of your marketing using just one tool
Even if you have experience in affiliate marketing or you just started, you know already that in marketing everything needs to be measured… if not, you are losing money.
But how does the measuring actually happen? Well, the easiest way to do this is to use a tracking tool or software that tracks all your marketing campaigns and has a built-in reporting feature. This way, all you need to do is set it up and let it track your campaigns. Check the reports and collect the money. That simple.
There are multiple options out there. Today's review is about such a tracking tool, CPV Lab Pro.
So what is CPV Lab Pro?
CPV Lab Pro is the professional version of CPV Lab software. It is a web-based, self-hosted, powerful, and very secure tracker that enables users to monitor any type of marketing campaign. You have control over the privacy of your data since the app runs on your own server.
It is also a very flexible tool, with features designed to make any affiliate marketer's life easier. You gain more time, get full security and control, and a very user-friendly interface that allows you to manage the entire database. It is all drag&drop with some checkboxes here and there. A very easy to interact with app.
Track, test and optimize all of your marketing – this is the CPV Lab Pro promise.
The screen shot below shows you how all of your marketing campaign stats could look like - all organized in one place:

Why a self-hosted tracker is worth considering vs. cloud-based
The best thing about a self-hosted tool is that you have full control on your data. For CPV Lab Pro you only pay once and get lifetime value. It works like this:
Get the Yearly Plan which is a one-time payment. If the platform doesn't meet your needs, you have a 30 days money back guarantee.
Get the Monthly Plan consisting of 12 monthly subscription payments -> you have 30 Days money-back guarantee
Sign up for 30 days risk free trial for CPV Lab PRO. If the platform doesn't meet your needs, you have nothing to lose ….it's a trial!
Test all the features you want (and there's plenty to choose from). No limitations or restrictions whatsoever. No server knowledge is needed.
If you enjoy it as much as we did, you have two options: pay $45/month for only 12 months or $497 as a one-time payment. Either way, you get lifetime access to the software.
You get exclusive deals from their hosting partners.
Tracker installation is included
Hot Tip: there's also the FREE version available, CPV Lab Starter, directly on their website.
You may think 'What about Support?' It's also covered. For a whole year you get full support. Afterwards, it is optional. We tested their support and it turns out it's very responsive and helpful.
What's different about CPV Lab tracker?
Well, several things.
First, unlike other trackers, CPV Lab PRO has rolled out features that let you test multiple variations of the same Landing Page, without having to make copies of the page. This baby is called MV Lab (Multivariate testing tool) and it can also work as a Landing Page Rotator Script which will send incoming visitors to pre-configured pages based on the shares defined.
This feature is extremely useful when your Traffic Source requires redirecting traffic directly to your landing page instead of the Campaign URL (tracking is done through the Direct Traffic code) but you still want to spread visitors across multiple landing pages. MV Lab goes beyond your traditional A/B split-testing because it allows endless variations of your Landing Page. This makes it easier to identify the variations that work, so your campaigns get full boost.
Cloaking links
Second, and speaking of cool features, have you heard of link cloaking but unsure what it is all about? It sounds like something complicated and not-for-everybody, but it actually is just what the name states: it cloaks the link.
In affiliate marketing, link cloaking is the process of disguising the affiliate link URL provided by an affiliate program in order to obfuscate your affiliate ID and make the link shorter.
Here's why you should use link cloaking:
You can replace a long offer URL (one that could contain many parameters) with a shorter and clean URL.
Hide the actual redirect link (to the offer or to the tracker) and provide a link from the same domain as your landing page.
One tracker for all of your marketing needs
Third, with CPV Lab Pro you can track and optimize any traffic source: PPC, Facebook Ads, media buys, CPV, and much more. Don't feel like counting the offers you want to track? No problem! With CPV Lab Pro and Expert, you can test unlimited keywords, creatives, pages, or offers, all in just one place.
The tracker does have a version that you can use for free: CPV Lab Starter. This version offers you a taste of what CPV Lab PRO can do.
CPV Lab team is always working on developing new features and functionalities. This is what you get with CPV Lab PRO:
CPV Lab is Self-Hosted & Secure. The tracker runs on your own server, it is a secure, web-based, self-hosted platform. This means no one will have access to your information.
Unlimited events tracked. Unlike other cloud-based trackers which charge extra money for a number of events, CPV Lab PRO offers unlimited events and data history retention, forever. All the data is safely located on your server and you can keep it for as long as you wish, in comparison with cloud-based trackers which only keep your data for 3-6 months.
CPV Lab is super easy to integrate. You don't need to be a programmer, because the setup is so simple that you can easily enjoy all functionalities and set up your first campaign in minutes. However, if you don't feel like doing this yourself, the support team can do it for you, no extra charge.
The platform is ready to track heavy traffic. It has customizable performance enhancements for High-Traffic Users, Responsive Stats Interface, and UltraFast Redirects during Peak Usage. Dedicated module with optimizations included for instances with heavy traffic.
With CPV Lab Pro you can track mobility with enterprise-class mobile data. With over 35 mobile data points you can track and optimize campaign performance by device, brands, OS, ISP/ Carrier. You have automatic weekly updates of the device detection database.
CPV Lab Pro offers automatic cookie and cookie-less tracking for continued cookie support, all while tracking visitors with cookies disabled. The best part? There is no extra-configuration needed to switch between a cookie & cookie-less tracking.
The screenshot below shows how CPV Lab PRO tracks all of your converting visitors:
All the versions offer tracking for unlimited clicks/events (the Free version also!) and with PRO and Expert you get 10 or 100 custom tracking domains. You can set up 6 different types of campaigns, making it a one-stop-shop for all of your tracking needs.
Direct link and landing pages campaigns help you rotate landing pages by offers and %. Split test direct linking VS landing pages.
Multiple paths campaign lets you run themed paths from page to offer set rotation by page, offer, and path.
Multiple options allow you to track multiple offers and links and rotate through pages and offer groups.
Landing page sequence campaign lets you create multi-page visitor sequences and track multiple actions and conversions per visitor.
Lead capture and opt-in campaigns allow you to split test multiple pages with just 1 form. You can track actions from confirmation pages.
And last but not least, E-mail follow-up lets you track and rotate landing pages and offers in your emails. You can assign a follow-up to a front end campaign.
Less spam with the bot traffic tracking and block
With CPV Lab PRO you can keep track of bots trying to steal traffic in your campaigns. You can redirect bot traffic away from your offers with the configurable options available in CPV Lab Pro.
Check out the screenshot below to see how CPV Lab Pro creates trends heatmaps based on the time and day of the week when most conversions happened:
CPV Lab PRO and lemonads Affiliate Network integration
As many of the trackers on the market, CPV Lab Pro comes with predefined Affiliate Networks in their catalog.
Of course that lemonads is on the list and also they have a specific article about how to use lemonads in CPV Lab Pro.
CPV Lab PRO and Google Ads Integration
You can send conversion details automatically to your Google Ads account, without having to provide Google Ads credentials. All your info is safe and secure.
Flexible and accessible pricing plan
Another thing that's cool about CPV Lab Pro tracking tool is that they have a very flexible and affordable pricing plan for a product that is very rich in features. You can pay for CPV Lab PRO for lifetime access or get a 12-month subscription.
If you are new to affiliate marketing, you can get a free forever version that has basic functionalities: CPV Lab Starter lets you set up 2 campaign types from the ones mentioned above to get you started in affiliate marketing.
CPV Lab Expert is for those who want to take tracking to the next level with multivariate testing. This plan also gets priority support, which to be honest comes in very handy when you don't have much time to waste.
CPV Lab Pro Pricing 2020. For those who are just window shopping, get the 30 days free trial and test the CPV Lab PRO full functionalities so you can make a risk-free decision.
Key Findings:
Since it's a self-hosted tracker, it actually saves money and gets you lifetime access
Security as a pain point is well addressed
Track & Optimize Everything - Unlimited clicks and actions tracking
Very friendly user interface, intuitive
Lightweight and quick usage, fast loading
Extremely responsive support
New FREE Starter Plan that you can use for how long you wish
2 internal databases for Mobile Devices + Computer Detection
100+ features and reports to choose from and helpful filters
50+ Traffic Sources directly from the built-in catalogue
Redirect Traffic to specific pages/offers/URLs based on visitor metrics. Combine multiple conditions for complex redirect rules.
Capture conversions & leads details
Flexible reporting, easy to configure with checkbox/drag&drop
Accurate tracking for any funnel, regardless of complexity
No limitations for email usage
Up to 100 tracking domains
Custom domain included in the Pro and Expert versions
Detailed and flexible reporting, very easy to understand
Useful optional tools available, like split testing landing pages, landing page protect, and landing page pixel tracking.
Data history – as long as you wish
GDPR & CCPA compliance
Accessible pricing plans; one time payment or subscription for 12 months only
Accelerate your Conversions, Increase your Revenue
with lemonads
---
You would like