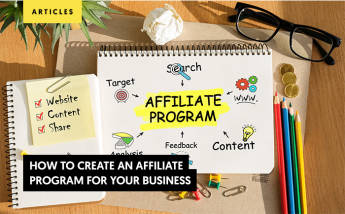 How to create an affiliate program for your business?
This article is specially made for business owners who want to start using affiliate marketing to grow their businesses. Do you relate to this profile? Then you are in the right place!
Keep reading and by the end of this article, you will know everything you need to create your affiliate marketing program.
Let's begin by understanding the basics!
What is Affiliate Marketing and how does it work?
Affiliate marketing is a type of performance-based marketing in which a business rewards affiliates for each visitor or customer brought by the affiliate's own marketing effort.
The advertiser (you) only pays publishers (your affiliates) for results. It is an absolute win-win formula. High-skilled publishers will promote your products and services with the goal of making lots of affiliate sales.
The performance marketing paying models can be based on cost per lead (CPL), Cost per Action CPA, Cost per Sale (CPS), Cost per install (CPI) amongst others. This means that you choose the type of conversion you are interested in and you pay your affiliates for getting those conversions and those conversions only. For example, if you are paying for a sale, and a prospect clicks but doesn't buy, you don't pay the publisher. The mission of the publisher is to bring qualified traffic to your website. This means that people get there but people who are interested in buying your products right away or in the near future. In exchange, you pay an affiliate commission.
The transactions are tracked through the affiliate link that allows both publisher and advertiser to access their performance in real-time.
Can Affiliate marketing help your business?
Affiliate marketing is a fantastic way to drive good traffic to your website and acquire new customers. By paying your affiliates interesting commissions, they will be working for you, creating content, and bringing qualified leads that you might not reach with other marketing strategies.
That's the importance of building a great affiliate program that is interesting enough for high-traffic publishers to be interested in. Do you trust in the quality of your product or service? Do you know that people need it? Do you have good stock and logistics in place? Then, affiliate marketing can be a great strategy for your business.
Are your competitors leveraging Affiliate Marketing?
It is a good practice to see what your competitors are doing. If they are using affiliate marketing, check out their programs. What are they offering? How? Learning from them is a good way to start seeing your own future in affiliate marketing. Do they have an in-house affiliate program or do they work with an affiliate network?
Are Affiliate Networks good partners?
Affiliate networks can definitely help with the success of your affiliate program. These networks are experts in connecting advertisers with the right publishers in various niches. They offer all the tools to monitor affiliate activity, making it easier both for you as an advertiser and for your affiliates. Affiliate networks like lemonads®, also take the responsibility of paying your affiliates promptly and correctly through diverse channels like Paypal, paxum, e-bank, or transfer.
How are publishers choosing their affiliate programs?
As we said before, the most important instance of your affiliate program is to make it interesting for publishers. They will be putting a lot of work into creating material that is interesting enough for their audience to click and buy. We suggest you see the publisher as your first client. How are you going to build your program is how you will sell them the idea of working with you.
These are the things publishers look for in the programs they affiliate to:
Brand recognition

Publishers prefer working with brands that already have a good history. If your brand is not there yet, you can start by doing your best to build:
Social Presence
One of the things publishers are likely to look at first is the advertiser's social media. Through your content, they can understand if your brand is relevant to their niche. Another point of interest is how strong your social following is and how active these followers are.
Testimonials
Publishers also evaluate testimonials and reviews. Does your brand generate any strong sentiment or engagement? The more testimonials, mentions, user-generated content (UGC) they find, the better. Testimonials and positive reviews are indicative of the product's quality and reputation.
Recurrent commissions

If it is a one-shot commission it should be a very high-value one. But if it's not, you should think about offering recurrent commissions. This makes it interesting for them to put all the work in place. Learn about affiliate commissions here.
Cookie lifetime

Some affiliate programs offer only a 24 hour cookie lifetime. This reduces the possibility that the publisher gets a commission. If the customer takes longer than 24 hours to decide whether or not to buy the product, your affiliate is not earning money out of your conversion. That's why they look for long-life affiliate program cookies. 30-day cookies and 45-day cookies are appreciated amongst the affiliates, but there are programs with 3 months, 6 months, and even lifetime cookies.
Marketing Material

Publishers love when the program includes marketing material like banners and images. This makes it simpler for them to work for you. No graphic design time is needed plus it follows your brand standards which make it nicer.
Basic training

Publishers also appreciate when the advertiser provides short and practical information about the product or service. By giving them complete yet brief information about your brand, you are making it easier for them to speak about you while also giving them some important insights on why your product is great.
Knowing how your competitors are leveraging affiliate marketing and how publishers choose the affiliate programs they affiliate with is a first step to shaping your affiliate program.
Set your objectives and Strategy
Setting your objectives is the basis of any business, you know that. By setting the objectives of your affiliate program, you will make it easier to know the affiliates you'd like to work with, the commission you can afford to pay them, and so on.
Some common objectives examples could be:
To increase the sales volume by 10% yearly
To increase the sales value by 5% monthly
To increase average order value by $10 by December 2022
...
Once objectives are defined, you need to set up the strategy that helps you achieve them.
Terms and conditions
This part of the strategy is made to describe exactly how affiliates can promote you, what they are getting in exchange, and how.
Fixing a commission

What is the paying model that best suits your business model?
Pay per Sale- Pay one flat commission for each sale your affiliates bring.
Pay per lead- Pay for valuable prospects that are interested in your product. This model is especially good for big decision purchases that take a longer time.
Pay per Install- Each time a user installs your app you pay your affiliate a flat commission.
Affiliate Programs Examples
It's important that you check out some of the best affiliate programs to get inspiration out of what companies are already doing. Here we listed some affiliate programs you can get some ideas from. All of them are for different products or services and you can see a full description we've made of each one of them.
Amazon Affiliate Program: Amazon has one of the most popular affiliate programs. It is a no-brainer go-to especially for bloggers or review sites because it allows them to monetize their content by taking the readers to the biggest marketplace right now. The variety of items Amazon offers, gives the customer a wide range of options, making a conversion viable, and in consequence an affiliate commission. Amazon's affiliate program can give you ideas of how they are working with affiliates to promote their e-commerce.
Diet to go Affiliate program: Diet to go is a meal kit delivery service company that provides customers fresh, delicious, low-calorie, nutritionally balanced meals to help them lose weight or simply support an already healthy weight and lifestyle. Working with some of the best chefs in the business and cooking in a USDA-certified kitchen, Diet-To-Go aims to provide the best tasting, healthiest, low-calorie meals possible. This program can give you an idea of how they are working with affiliates to promote a subscription-based service.
Norton Affiliate Program: Consumers continue to be impacted by cybercrime and identity theft. Norton is dedicated to monitoring evolving threats, trends, and data to protect and empower people to live their digital lives safely. They achieve this by improving their technology for computer security products nonstop for the last 4 decades. This affiliate program can give you ideas on how they are working with affiliates to promote a single product.
In house or partnering? Choose your Affiliate Network
Creating your own affiliate program starts with a choice between starting in-house, or using a network designed to help affiliate programs succeed.
If you have the time to fully manage an affiliate program, there's nothing wrong with building and managing your program from the ground up. You need to evaluate if your time is better spent managing this or in other emerging tasks and issues of your business. Most probably after this evaluation, you will define that managing your relationship with publishers is not your priority within the organization. That's where affiliate networks come in.
Some networks offer affiliate marketing systems that you can get started with for a fee. But the money, time, and headaches saved are worth it!
Plus, as your affiliate marketing program grows, you'll have a lot more moving pieces and people to manage. An affiliate network can expand with your program a little more easily than an in-house version!
Pros and cons of in-house affiliate programs
Pros:
You don't have to pay Intermediary fees and can pay more to your affiliates
Cons:
You are in charge of setting up, tracking affiliate sales, manage affiliate payments, providing marketing tools.
You have to build your own network of affiliates and take care of them yourself.
Pros and cons of affiliate networks
Pros:
Networks help you setting up your affiliate program according to your business model.
You can create an affiliate list more quickly allowing your business to expand faster.
You have access to all the tools you need for tracking.
The network manages tasks like paying commissions, and marketing.
Affiliate manager taking care of your account
Cons:
You have to pay a fee or fees to use the platform or a percentage of the commission stays within the network
Learn how should advertisers determine their affiliate payout in our dedicated article.
Conclusion
If you have a dedicated marketing department in your company, you can think about starting an affiliate program in-house, however, affiliate networks are a great partner to reach valuable customers through a list of the most talented publishers working exclusively with these networks.
If you own a small business offering a niche physical product or service, affiliate marketing is a great marketing strategy for your business. Partnering with a network just like lemonads® will make it very simple for you. No risk, just pay as you get qualified leads and sales.
Want to stake the next step to expanding your business and skyrocket your sales? Contact lemonads®
Accelerate your Conversions, Increase your Revenue
with lemonads
---
You would like