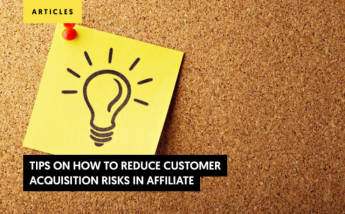 Tips On How to Reduce Customer Acquisition Risks in Affiliate Marketing
One of the many best things about affiliate marketing is that it can be tracked, monitored, and is suitable for conversion attribution. In other words, advertisers can see exactly where their advertising budget is being spent and the number of leads that are being generated as a result.
But, this doesn't mean that there aren't customer acquisition risks in affiliate marketing.
It's normal for businesses to look for ways to reduce customer acquisition costs, which is one of the reasons why affiliate marketing is so popular. However, many external variables can significantly increase the risk associated with generating leads through affiliate marketing, like user acquisitions fraud.
At lemonads, we've spent countless hours developing mechanisms to eradicate user acquisition risks like fraudulent interactions, so we're familiar with the nuances associated with this practice.
Below, we'll go over the affiliate marketing ecosystem and explain what customer acquisition risks are involved in this type of advertising. Additionally, we'll also provide tips to lower user acquisition risks and get the most from your affiliate program.
User Acquisition Fraud Affects the Entire Ecosystem
The most glaring issue with user acquisition fraud is that it costs the advertising industry billions of dollars, but its effects go way beyond the financial impact.
This deceitful practice usually involves unsuspecting users who only view the incident as a representation of the marketing industry. This can affect surveys, consumer trends, and other essential data that millions of marketers use to build their campaigns.
In simple terms, if fraud continues to be a problem, then consumers and companies will lose trust in the online marketing industry.
How to Reduce Customer Acquisition Fraud and Similar Risks
Modern customer acquisition strategies like affiliate marketing aim to generate leads most efficiently without compromising the quality of the prospects. That said, there are risks involved in developing an affiliate marketing customer acquisition program.
Fortunately, advertisers can take a few steps to help them reduce instances of ad fraud and other unwanted incidents.
These include:
Set Up an Analytics Tool for Proper Monitoring
The first step you should take is to research different ads fraud protection software providers and determine what your alternatives are. There is no magic formula to help you find the ideal fit, so you'll need to assess all of the different options and pick one based on the features you need as well as your budget.
Implement Device Fingerprinting Solutions
Along with an ads fraud detection tool, you should also implement a device fingerprinting solution into your platform. Device fingerprinting solutions allow you to identify used bases on the device they are connecting through, rather than cookies and other conventional means.
Develop a Scoring System and Evaluate Behavior
Between what you already know about your customers and the data collected through your website, you should have enough information to understand your audience. You should develop a scoring system that helps you assess whether the conversions you're getting are legitimate or not. Then, use this system to spot-check your conversions and ensure that you're only getting real users.
Partner with an Affiliate Network that Creates a Safe Ecosystem
Affiliate networks are platforms that connect trustworthy publishers with advertisers that want to work with reliable partners. You should only work with affiliate networks that protectively create a safe environment for both advertisers and publishers, like lemonads. We've developed a series of in-house mechanisms to help create a transparent ecosystem, so contact us today if you want to learn more.
Customer Acquisition Through Affiliate Marketing
Before going over the customer acquisitions risks in affiliate marketing, it's crucial to understand how the ecosystem works and which stakeholders participate. Some variations are depending on the industry and exact program structure, but the four main players in the affiliate landscape are advertisers, publishers, consumers, and affiliate networks.
Let's take a look at the roles that these stakeholders play.
Advertisers
Advertisers are the companies that are trying to promote their products and services through an affiliate program. In simple terms, these businesses form partnerships with affiliate marketers that focus on driving traffic, generating conversions, and sending these leads to the advertisers. Once advertisers get the leads, they pay commissions to the affiliate marketers and attempt to transform the prospects into sales.
Remember, advertisers are in full control of the affiliate program, so these companies decide what constitutes a conversion, the demographic requirements that publishers have to meet, and all other relevant aspects.
Publishers
A publisher is a type of affiliate marketer that develops web materials and distributes these through different channels. These affiliates can focus on one channel and work on a single platform. Or, they can own a variety of platforms and publish content through a collection of different channels like websites, social media profiles, and even messaging app groups.
Publishers can either sell their traffic to media buyers or participate in affiliate programs to monetize the visitors that browse their sites. Different publishers have access to distinct target audiences, which is the reason why these affiliates can help advertisers from many different industries.
Consumers
As you probably know already, consumers are the individuals that advertisers and publishers want to attract. Online consumers behave very differently from people in a store, but the good news is that affiliates specialize in engaging these users and developing content that influences their behavior.
Affiliate Networks
Lastly, affiliate networks are platforms that are responsible for connecting advertisers with the top publishers in a safe ecosystem. Reliable affiliate networks like lemonads help advertisers develop attractive affiliate programs, manage the relationship with publishers, and allow these companies to focus on converting leads into customers.
At lemonads, we partner with some of the leading publishers across a wide range of industries. Our goal is to create a safe and profitable ecosystem where advertisers can form long-term partnerships while knowing that there is little customer acquisition risk involved. To learn more about partnering with us, get in touch with our team and we'll be glad to help.
What Risks Are Involved with Affiliate Marketing Customer Acquisition?
Affiliate marketing is one of the most popular forms of advertising because it's performance-based, so it brings lower risk levels than most other promotional techniques. That said, ad fraud still constitutes a threat, so advertisers need to be aware of these risks and how they work to make the best decision.
Some of the most common types of ad fraud that can hinder your campaign include:
Domain Spoofing
When it comes to digital ads, the better the placement, the higher the price. So, when advertisers pay top dollar for a bid, they expect to get the best possible placement. While this is the case in a transparent environment, deceitful parties have developed a type of fraud that tricks advertisers into paying top dollar for bad placements and it's called domain spoofing.
There are many types of domain spoofing, but the main goal of all of these is to make advertisers feel like their ads are being displayed on leading publishing platforms. But these impressions, clicks, or conversions are coming from low-quality platforms.
Cookie Stuffing
In case you don't already know, cookies are simple text files that contain data about a user's browsing history. This basic system has many benefits, but cookies can also be "hijacked" or altered by fraudsters that want to change the information stored in the text file.
Cookie stuffing describes the process of hijacking a text file and editing the information found therein to get credit for an interaction that never really occurred.
Influencer Marketing Fraud
Working with influencers is a great way to bolster your affiliate marketing campaign. Unfortunately, deceitful influencers bolster their social media following and other statistics through bots to convince businesses to partner with them. When, in fact, these influencers have minimal reach with the advertisers' audiences.
Keep in mind that some fraudsters even create completely false profiles that are operated entirely by bots. Others even build duplicate profiles or websites of known influencers, so make sure that you are working with the real publisher beforehand.
Click Farms and Bots
As the name suggests, click farms are facilities where fraudsters focus on generating a large number of clicks and conversions. In most cases, click farms rely on human operators that employ anywhere between dozens to hundreds of devices each.
Click farms are extremely hard to detect through traditional means because the interactions usually look like they come from different devices and users. But, click fraud detection platforms usually identify them because of the shared IP address and erratic patterns.
Ad Impressions Fraud
Ad impression fraud can take a wide range of forms, but this deceitful practice focuses on charging advertisers for impressions that either never took place or appeared on a low-quality platform.
The most common type of ad impression fraud is ad stacking, where immoral publishers layer multiple ads on top of each other. These fraudsters then charge all of the advertisers, when only the ad that was layered on top was visible.
Lead Generation Fraud
In the early days of digital marketing, advertisers assumed that the only way to avoid ad fraud completely was to develop lead generation steps with conversion flows that had multiple steps. In theory, only real users would be able to complete the entire conversion flow, meaning that every lead collected would come from a real person.
However, fraudsters are always looking to develop new ways to take advantage of affiliate stakeholders. Nowadays, these deceitful parties have developed either bots or other mechanisms to help them overcome complex conversion flows. In some cases, they can even exchange opt-out lists and sell them as brand new lead databases, which hinders advertisers as well as consumers.
Ready to Set Up an Affiliate Program? Partner with lemonads Today!
User acquisition risks like ad fraud should be taken into consideration by all advertisers. Not only will this help you make better decisions in terms of your partnerships, but you can also take steps to protect your program against deceitful entities.
If you want to learn more about partnering with a reliable affiliate network that creates a safe ecosystem for you and your partners, contact lemonads today.
Accelerate your Conversions, Increase your Revenue
with lemonads
---
You would like