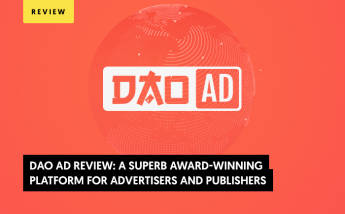 Dao Ad Review: A Superb Award-Winning Platform for Advertisers and Publishers
It doesn't matter if you're an established publisher or a media buyer that's just learning the ropes, the affiliate's journey is never-ending. In addition to keeping up with consumer trends, affiliate marketers also have to identify the networks that give them the best chances of success.
But, as you probably know already, there are hundreds of different ad networks to choose from -- but not all of these offer quality users or engaged visitors. Joining the wrong platform can lower your chances of success and prevent you from getting the most out of your quality traffic.
Likewise, finding the right partner can improve the performance of your campaign and monetize users as much as possible while still maintaining quality.
At lemonads, we understand the importance of signing up to the right network. We've put together a series of reviews to help affiliates choose the best network. And, for this edition, we're going to analyze an award-winning platform that has taken the spotlight since it was created: Dao Ad.
Introducing Dao Ad
In simple terms, Dao Ad is a robust ad network that allows affiliates of all types to develop effective campaigns using a variety of formats. It's a perfect choice for publishers and media buyers, plus it already has a base of loyal advertisers promoting their services on the platform.
Global Audience
Dao Ad works with publishers and advertisers in more than 170 countries, making it a global network that's perfect for websites in any language. You can create campaigns and monetize traffic from hundreds of different GEOs, plus you'll be able to work with any tier you like. Which, in turn, makes the platform a suitable alternative for affiliates of all levels and budgets.
1+ Billion Impressions Every Month
Dao Ad serves more than 1 billion impressions every single month, which is equivalent to showing more than 1.3 million ads per hour. Publishers and advertisers don't have to worry about traffic volume while media buyers can choose to develop campaigns of any magnitude and still get consistent results.
Potential Profits
According to Dao Ad, the average amount of money each partner makes is more than $600K per month. If this is accurate, the platform offers a great opportunity to monetize your traffic or create engaging campaigns that produce impressive results.
What Are the Benefits of Dao Ads?
Like other leading platforms, Dao Ad has a feature-packed that allows you to access it's set of impressive features. Some of the benefits and advantages of using Dao Ad include:
Ad Format Variety
We'll go over the details of each later, but it's worth noting that Dao Ad has developed a collection of time-tested ad formats. These include classic push notifications, in-page push (IPP) ads, and pop ads. In a nutshell, all three formats allow you to connect with your audience with disruption, so they have the potential to create great results. And, most importantly, they can complement each other, so they can be used at the same time.
Fair Monetization Schemes
The team behind Dao Ad has focused on creating a sustainable platform that offers a fair monetization scheme for all stakeholders. The platform claims to pay up to 90% or more in their monetization systems based on the revenue share model in place, which would make it one of the leaders in the market.
Suitable for Publishers and Media Buyers
Publishers manage one or more successful sites and can monetize their traffic and join one of the best new networks in the industry. Media buyers are also in a great position as Dao Ad offers more than 30 customizable landing pages that help collect push notifications. And, they also have access to a link for pop ads, which means that affiliates can make money without running their own platform.
Consistent High-Quality Traffic
In addition to the in-house landing pages and pop links, media buyers also have access to large volumes of consistently high-quality traffic. These affiliates can rely on Dao Ad to generate subscriptions from IPP, and regular push as well as generate pop conversions, regardless of how big their campaigns are.
Fast and User-Friendly Integrations
Ease of integration is always a point of concern for publishers, for Dao Ad has simplified the process as much as possible. The platform has an easy integration process, so it should only take a few minutes to implement the system on your site.
Payments Sent Within 24 Hours
The minimum withdrawal stands only at $10, but that's not the best part of the platform's payment system. Affiliates can request payment daily, which are sent the same day if it's early enough or by the very next day.
Extensive Tracking Features
Whether you're an advertiser, media buyer, or publisher, keeping track of the different statistics can give you an idea of your performance. Dao Ad has developed a robust in-house tracking mechanism that provides intricate statistics in real-time. Users can choose between a more basic model or a detailed analytics dashboard that gives them a deeper understanding of the results obtained so far.
Superb Customer Service Team
One of the best things that Dao Ad excels at is customer support. The platform is intuitive and easy to use, but the customer support team is available if you encounter a technical issue or simply need help at any point. Dao Ad's support team is available 24/7, plus there is additional help available for the top publishers on the network.
Ad Formats Available At Dao Ad
Instead of going for all possible formats, Dao Ad has played the finesse game. The ad network only offers three ad formats, which are classic push notifications, IPP ads, and pop ads.
Push Notifications
Push notifications need no introduction, but it's worth noting that this ad format continues to provide stellar numbers for affiliates around the world. By relying on a more personal connection, Dao Ad push notifications can help publishers generate money on a recurring basis while media buyers rack up conversions from purchased traffic.
In-Page Push Notifications
IPP notifications are very similar to push in the way they look and behave. However, they are a part of the website or app it's being displayed on, so users don't have to subscribe to see the content.
Pop Ads
Pop ads are among the oldest ad formats available, but like the great classics, it's maintained its quality throughout the years. The key to succeeding with pop ads is to figure out what your audience likes and not get discouraged by your initial results. Once you crack the code and learn how to use the space, these ads can perform as well as any other format.
Pros and Cons for Advertisers and Publishers
Publishers and advertisers are often seen as being on opposite sides, but they are actually part of a delicate ecosystem. No platform is perfect for every advertiser or all publishers, so you have to evaluate the different pros and cons of each platform to find the best fit.
As far as pros and cons for advertisers and publishers, Dao Ad does a great job of offering more benefits for both sides. Which, is one of the reasons it's established itself as a leader despite it being relatively new.
Advertisers
Advertisers are always looking to promote a product, service, or brand, but the ultimate goal is to increase profits. However, cybercrime is on the rise, so it's crucial to partner with a network that has a powerful security protocol in place. Dao Ad has taken a stance against fraud and implemented strict quality control that helps ensure its traffic consists of real users.
Additionally, the pros and cons of advertisers include:
Pros
Ultra-low budget requirements
Formats are known for having high conversion rates
Prices starting at 1,000 clicks for $0.1
Innovative IPP ads
More than 40 million push notification subscribers
Various ad formats to choose from
Cons
Lack of in-house anti-ad block solution
Publishers
Publishers that have managed to secure a consistent flow of loyal readers need to avoid compromising quality and customer experience. But, it's also important to find the best ways to monetize their platform to get the most out of their visitors.
Dao Ad has placed a lot of focus on user experience, so it has created a collection of ads that don't interfere with each other.
Here are some of the pros and cons publishers have to evaluate when working with Dao Ad.
Pros
Different traffic types available that have high conversion rates
Fast integration process
Extensive tracking features
Comprehensive support
High CPC rates and fair monetization schemes
Daily payments with low minimums
Also ideal for media buyers
Cons
Find Out More About the Leading Push Networks Today!
If you want to become a successful publisher, setting up a quality platform that gets a large number of regular visitors is only the first step. Choosing the best ad network will give you a higher chance of success and allow you to get the most from your visitors in a sustainable way.
Dao Ad has only been in the game for a little over a year, but the numbers it has amassed are impressive, to say the least. The platform has quickly established itself as one of the leading IPP, push notification, and pop ads networks thanks to its combination of quality and set of features available.
If you want to find out more about the best ad networks, stay tuned to our blogs or contact lemonads and our team will be glad to help you today.
Accelerate your Conversions, Increase your Revenue
with lemonads
---
You would like