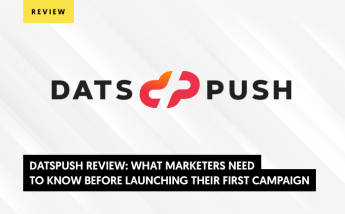 Datspush Review: What Marketers Need to Know Before Launching Their First Campaign
Datspush review- It's not very common for new players to establish themselves and start ruling the landscape in just a couple of years, but that's exactly what Datspush did. Known as one of the leading platforms for a variety of ad formats, this network was established in 2018  but it has quickly become a popular choice for affiliates around the world.
We all know that choosing the right ad network can make or break any affiliate campaign and Datspush seems like an obviously good choice. With this in mind, it's very important to study each and every network before committing, so you need to evaluate the different features available in this platform to determine if it's a good fit.
Fortunately, we've started a series of ad network reviews to help media buyers and other affiliates make the best choice.
In this edition, we'll go over our Datspush review, discuss some of the best features available on the platform, and tell you everything you need to know about this ad network.
Datspush: A Multi-Format Solution for Affiliates
Datspush is an ad network developed by the Leadbit team and it has established itself as one of the top platforms for affiliates around the world. Based in Cyprus, the platform specializes in a variety of different formats and provides high-quality traffic regardless of the volume of visitors received.
Furthermore, Datspush offers a huge collection of features that range from easy campaign creation to the ability to develop retargeting campaigns. The ad network also offers superb optimization features that allow you to adjust your campaigns through a quick and simple process.
What Ad Formats Does Datspush Support?
Unlike other networks that specialize in one main type of traffic, the team at Datspush has worked to establish a multi-format platform that's suitable for affiliates of all levels. The Cyprus-based network registers more than 6.5 billion impressions across all ads on a daily basis, which are displayed in more than 250 countries and regions around the globe.
At the time of writing, the ad formats supported on Datspush include:
Push Notifications
Push notifications are now a staple in the affiliate marketer's toolkit, and for good reason. This ad format allows affiliates to deliver ads in a friendly way, which allows them to build a deeper bond with the audience. Available for a variety of devices, push notifications are known for delivering great engagement and for being relatively simple to set up.
In-Page Push Notifications
In-page push notifications are a new format that works similarly to conventional pushes, but they are actually a part of the website the user is viewing. This offers two major benefits over conventional push notifications. For starters, users don't have to subscribe to receive in-page notifications. Secondly, these can be served on any operating system, including iOS and macOS devices -- which is a luxurious commodity for affiliates.
Pop-Under Ads
Pop Ads are among the oldest ad formats, but they have proven to be an effective choice for affiliates of all levels. Suitable for gaming, nutra, and other verticals that benefit from larger creatives, pop-unders help affiliates serve highly visual ads without having a negative impact on user experience or usability.
Native Ads
Like push notifications, native ads took the affiliate world by storm as soon as they were first introduced. This format uses innovative technology to embed your ads on the publisher's site, making them appear as if they are part of the page's native content.
Native ads are effective at drawing consumer attention because they are not aggressive. They are perfect for health and wellness offers as well as any other vertical that aims to inform potential customers before ushering them to the landing page.
Benefits of Working with Datspush
One of the biggest advantages of Datspush is that it offers a robust all-in-one platform that has everything affiliates need to succeed. From a variety of top-notch ad formats to a superb architecture that supports huge campaigns, marketers will only need a few supporting tools to get their campaigns off the ground.
Datspush also supports both desktop and mobile campaigns, and its simple campaign creation process means that affiliates can start developing ads in a matter of minutes.
Some of the main benefits of opting for this platform include:
Intuitive Interface
Learning a new interface is always tricky, especially if there are many different features to master. The team at Datspush has successfully developed a powerful network, which is elegantly draped by an intuitive interface that starts with its powerful dashboard.
As soon as Datspush members log in, they are sent to the dashboard page. This section contains a summary of all campaigns as well as the most important metrics. You can also see which individual campaigns are producing the most revenue and which ones need extensive work.
Around-the-Clock Support
Even when the user interface is slick, there is still a lot of room for errors when working with a new network.
Luckily, Datspush has prioritized customer experience, so the company has a superb customer service team that's available around the clock. The support department can help you answer basic questions, set up your campaign, and even explore new strategies that may benefit your campaigns.
Members can contact Datspush through Skype as well as email, plus they can also reach out to the ad network through a variety of social media channels.
Dedicated Account Manager
Although the network has a reliable support team, the first line of contact whenever a member has an issue is the dedicated account manager. Every media buyer, marketer, and agency that becomes a member of Datspush gets assigned an account manager that's responsible for ensuring success.
In some cases, the account manager may have to contact the technical support team or other departments within the ad network. However, the network has trained its managers to take the lead and keep you in the loop in order to reduce downtime and get your issue solved as quickly as possible.
Low Deposits and Reasonable Rates
Even though it doesn't have the lowest rates in the market, it's important to note that Datspush offers excellent traffic. With this in mind, the minimum deposit and average bid amount are reasonable, especially considering the potential for monetization that ads have on this platform.
The minimum deposit for Datspush at the time of writing is $50, which can be paid through different options. Additionally, the average bid amount across all ad formats is $0.0043, so you'll be able to run ads with a relatively small budget.
Superb Targeting
The targeting features on an ad network can help ensure that your ads are only shown to relevant audiences. Datspush members can toggle a huge variety of advanced targeting settings that allow them to narrow down their audiences and get the most out of their marketing spend.
Datspush allows targeting based on country, region, city, and other GEO variables. You can also choose to employ more advanced options and filter out traffic based on OS, screen resolution, browser, language, device type, and a variety of other choices.
Auto-Blacklist Features
The optimization process is essential for any campaign and this platform allows you to edit creatives as well as campaign settings to help improve the results you get. As part of the optimization features, Datspush members can create tailored blacklists and whitelists that help ensure legitimate conversions.
The auto-blacklist feature uses in-house technology to determine if the leads/interactions coming from a site seem legitimate. If the interactions seem suspicious, the system automatically adds the platform to the list and blocks any future attempts.
Real-Time Metrics Analysis
Monitoring your campaign metrics is important because it reveals how well your ads performed. Some affiliates have gone beyond the conventional applications of metrics and have started monitoring these in real-time in order to make quick changes that improve the performance of their ads.
Datspush updates metrics in real-time, registering and displaying interactions on the dashboards seconds after they occur. Affiliates can use this information to make improvements, see how the changes affect the campaign performance, and apply other advanced optimization techniques.
Tailored Solutions for Partners
Affiliates that want to transfer huge campaigns from other networks can inquire to Datspush's team to learn more about their tailored solutions. The company offers standard plans, but affiliates that need more features or higher traffic volumes can discuss their project to receive a custom package that includes everything they need.
Pros and Cons for Advertisers and Publishers
Datspush has become one of the leading ad networks because it provides a robust set of features for all stakeholders in the affiliate world. Below, we'll go over some of the pros and cons for Datspush for both publishers and advertisers.
Publishers
Publishers are looking to monetize traffic, but they also have to ensure that the offers being promoted are suitable for their audience. This will help publishing platforms ensure a good experience for customers and allow them to create a more sustainable marketing machine.
Pros
Intricate push notification design features
Easy implementation
Daily payouts
Safe and secure environment provided by Datspush
Multiple monetization options that can be used in unison
Cons
No live chat available to reach the support team
Advertisers
Advertisers (and media buyers working with their offers) also have access to superb features that help them develop campaigns with ultra-high conversion rates and engagement metrics. Here are the Datspush pros and cons for advertisers.
Pros
Dedicated personal account manager
Bids start as low as $0.001
Low minimum deposit requirements
Auto blacklisting features
Advanced targeting options and statistics updated in real-time
Cons
Support can take up to 24 hours to reply
Verticals that Perform Well on Datspush
Datspush has a global reach, supports multiple ad formats, and offers multiple ad formats, making it ideal for almost all niches. However, there's a collection of industries that tend to have better performance on this ad network
Some of the top-performing verticals on this platform include:
Betting and gambling
Finance
Dating
Stock exchange and other binary options
Health and wellness
Datspush Alternatives and Competitors
Learn More About the Most Reliable Ad Networks
Datspush is a powerful and complete ad network that offers a variety of great formats and a list of superb features. The platform has made a name for itself by developing a user-friendly interface that's powered by the network's robust architecture, resulting in a unique combination of elegance and functionality.
Whether you're a beginner affiliate that's still got much to learn or a seasoned vet looking to up his or her game, Datspush is one of the most interesting options available today.
If you want to learn more about Datspush and other awesome networks, follow our blog or get in touch with lemonads. Our team will be glad to help you today!
Accelerate your Conversions, Increase your Revenue
with lemonads
---
You would like