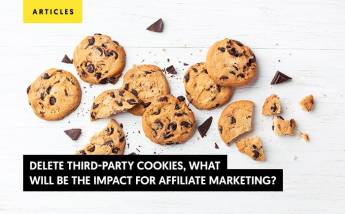 Delete third-party cookies: The impact for affiliate marketing
If you're running an affiliate program, you probably already know what browser cookies are. You already know what is a first-party and a third-party cookie. And you are probably aware, too, that the world of cookies is about to change drastically with the latest Google announcements about third-party cookies...
Since the American giant announced that it would deprecate third-party cookies within Chrome in a two year wingspan, we are all aware that tomorrow's affiliate world won't be the same - and this was even before the Coronavirus pandemic struck us all. This announcement created some real-panicked conversations within not only the affiliates but the whole internet community, around a cookie cataclysm that could destroy digital advertising and threaten the future of the open internet itself.
In realty, it has been nearly a year - august 2019 - since Google had already planned to make these changes. That's why the storm could be weathered - but the transition need to be anticipated. The changes are coming in in one year and a half, which gives time for people within the industry to adapt - and wait for the details to be defined. And to be ready for this big change, you need to have all information in hand. So let's start with the beginning.
The difference between first-party and third-party
First-party cookies are set by the website a user is browsing and are used to keep track of activity as they move from page to page. They enable vital website functionality like authentication, maintaining shopping carts, website preferences, and login information. Without first-party cookies, users would have to log in on every page and would not, for example, be able to put an item in the cart and keep shopping, and no information (like shipping and billing addresses) would be stored, since very few websites store this data on their own servers. In short, without first-party cookies, the website experience would be awful to impossible. Since they only track activity on the site which someone is intentionally visiting, they are not generally subject to the ire (and blocking) that third-party cookies receive.
Cookie-blocking technology and government regulations are focused mostly on third-party cookies because they are the ones that track user activity across the web. They are placed in the browser via tracking pixels or Javascript code. What riles online privacy advocates is that third-party cookies do not originate from a website that a user has proactively interacted with. Advertising networks like Google Adsense and others are usually the source of third-party cookies, which are used to track users across multiple websites and use that information to more precisely target them with ads. There is no implicit or explicit permission to do this, so it can easily be seen as an invasion of privacy.
However, a few months ago, Google announced that support for third-party cookies in its Chrome browser would be phased out "within two years",  stating that the objective is to create "a secure environment for personalization that also protects user privacy." Safari and Firefox did the same a couple years ago. While some marketers and agencies see an opportunity to rebuild the digital advertising ecosystem off of a more secure infrastructure, others are anxious about losing their foundational tracking mechanism.
For many years there has been concern over the ways these cookies track the way a visitor browses the web, and what sort of ads they see. One of the biggest talking points regarding the Internet right now is all around privacy, transparency and control over how individuals' data are used. Many ad-networks and marketing platforms rely on the use of 3rd party cookies to operate their businesses. By taking this kind of approach, Google aims to ease the concerns of these parties by looking into alternatives that can operate in a similar, but less intrusive way than the current system. Whilst it's not yet clear what these alternatives may be, many can look to this as a positive solution to help work within the new privacy-first web of the future.
What could be the impact on affiliate marketing?
Blocking third-party cookies increases user privacy and security but has created a problem for consumer tracking / ad serving firms, which often place ads that follow users around the Web. Affiliate marketers have been banking on cookies to collect data on consumers who search for their offerings online and on those who make purchases.
As part of an affiliate program, the advertiser would often work with a publisher to target a user on a website. When a user clicks on a targeted ad via the publisher website (which is supported by an affiliate link) and makes a direct purchase, the advertiser will receive the sale from where the purchase was made, with the publisher earning a commission from the advertiser.  When online publishers embed affiliate links into their reviews or other website content, those links typically redirect to an affiliate networks ad servers and drop third-party cookies in the process. If a browser blocks third-party tracking cookies, then the retailer loses the ability to attribute the sale to the publisher. As a result, publishers begin to lose out on affiliate marketing revenue.
What is the solution?
But is it all gloom and doom? Fortunately, not. While the purge of cookie tracking will bring change to the world of online advertising, it will bring about new and more innovative data sourcing methods. The affiliate marketing industry inevitably has to adapt, but luckily, they are well-positioned because ad content is usually customised to be more relevant to consumers' interests. This means affiliate advertisers can still reach a portion of internet users while considering replacements for third-party tracking. Likewise, publishers need to find new ways to recoup ad revenue.
While the cookie is slowly but surely disappearing, many advertisers are looking for ways to get their hands on data. It is now essential to create advertising experiences that add value to consumers' online experiences while protecting their privacy. Not an easy task, but there is a silver lining as many publishers and digital marketers are discovering and exploring new and innovative ways of collecting and using data.
At a time when we have never been more consumer-focused, changes that allow them a more personalised online experience in addition to protecting their privacy and data are inevitable. It is imperative that the affiliate marketing industry takes the appropriate steps to ensure all parties are kept happy, even if there are some challenges along the way.
Accelerate your Conversions, Increase your Revenue
with lemonads
---
You would like