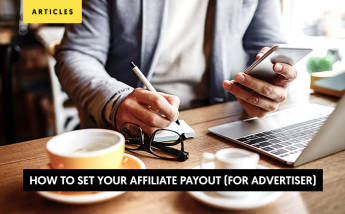 How Should Advertisers Determine Their Affiliate Payout?
The affiliate payout is one of the most important things you need to set when you create your affiliate program. Companies that want to grow their business are always looking for the most profitable ways to promote their solutions. Affiliate marketing is a great alternative for these businesses because it creates a strong bond with potential customers with the help of independent marketers. Not only this, but affiliate marketing is performance-based. This is because advertisers only have to pay for the leads or conversions that their affiliates generate.
That said, all advertisers that develop an affiliate program have to figure out how much they will pay for every lead or conversion. But, these businesses have to evaluate a wide range of variables that heavily influence their ideal commission rates.
At lemonads, we've helped countless advertisers implement large-scale affiliate marketing programs. Our team has extensive experience helping businesses calculate their affiliate payouts, so we're familiar with the different elements you need to keep in mind. In this article, we will define affiliate payouts and explain how to build a successful affiliate structure. We'll also provide tips on setting the affiliate payout for your program and calculating customer LTV.
What is Affiliate Payout?
For starters, let's take a moment to define affiliate payouts.
As the name suggests, the payout is the commission that you pay to affiliates for each lead or conversion generated. A conversion can be defined as any action you want your potential customers to take, including filling out a form, leaving contact information, or even completing a purchase.
Advertisers have full control of how the payout structure works, what amount they want to pay, and how often commissions are paid. But, remember that there are many industry indicators that will help you determine the ideal payout structure as well as the amount. If not, your affiliate program may now achieve the goals you set for it.
Why Does Your Business Need a Competitive Affiliate Payout?
Research suggests that more than 80% of companies across all industries use affiliate marketing, so it's safe to assume that competitors in your vertical have already established a program of their own. While there is a huge number of affiliates out there, working with the best marketers will exponentially increase your chances of success. But, the only way to attract the best affiliates is to develop an attractive program with a competitive payout.
Additionally, having a good payout structure will give you the ability to be more rigorous in terms of the conversions you want your affiliates to produce. For example, if your payouts are high enough, you can ask affiliates to only generate conversion from specific regions, demographics, devices, and other variables that help improve your chances of success.
Building a Sustainable Payout Structure
While the payout amount is crucial, you also have to ensure that the structure of your commission scheme is both scalable and sustainable.
The first step is to ensure that the conversions you ask for are valuable enough to be worth a payout. This is the reason why many businesses pay top dollar to affiliates to generate sales. Additionally, having a solid payout structure will help encourage affiliates as they will understand exactly what they need to do and when they will receive their commissions.
Remember that all businesses are different, so you need to create a tailored payout structure and choose a commission amount that works for your company.
With that in mind, let's take a look at some of the steps you need to take to create a sustainable payout structure.
Figure Out What You Can Realistically Offer
All business owners want to pay top dollar if it assures them the highest number of paying customers. Unfortunately, paying the highest commissions without testing the waters can deplete your budget before you're able to achieve any of your goals.
Instead, take the time to analyze the leads you're currently getting and figure out what percentage of these you'll actually close. At the same time, you should calculate the customer lifetime value (LTV) because this number will tell you how much money you'll actually make from the leads you close. Note that we'll go over the process of calculating LTV later in this article.
Analyze Competitor Commission Rates
One of the best ways to get a good idea of how much you should be paying affiliates is to analyze leading competitors. This requires a bit of technical knowledge, but you should be able to track down the leading advertisers' programs and determine what their commission base is.
Remember, you don't have to match or exceed the competitor's payout, but the closer you get to this number, the higher your chances of attracting reliable affiliates. Which, in turn, translates to higher-quality leads.
Implement Payout Tiers
Many advertisers choose to keep their affiliate program management in-house. Unfortunately, not all of these businesses are aware that they need to implement payout tiers based on the results they get from each type of lead.
In the vast majority of cases, companies provide more than one service or product and not all of these are the same prices. Therefore, the amount of money each sale generates will depend on the type of service that the lead is for. For this reason, you should pay commissions based on the amount of money the potential lead can generate.
Keep the Incentives and Bonuses in Mind
Advertisers often offer an incentive in their affiliate programs to help marketers attract a higher number of consumers. This incentive can come in the form of a discount, voucher, free item, and many other rewards.
As a general rule of thumb, the more valuable the incentive you provide, the easier it is to generate a conversion. If your program offers an incentive, then you should provide a lower commission. Likewise, if you'd like to stop offering an incentive and want new customers to pay full price, you can balance this by offering a higher commission to your affiliates.
Set Your Goals
Now that you know how much you'll be paying for each type of conversion, you can set tangible goals. You should figure out how many affiliates you need to attract and the ideal number of conversions that each one should generate every month to boost your profits to where you want them to be.
Measure Success and Adjust Accordingly
Once your program is live, you should start measuring the success of your efforts based on ROI and other intricate metrics. Keep in mind that you can adjust your program, so identify areas of improvement, make changes, and monitor these to see how they affect your bottom line.
How to Calculate Lifetime Value
As we mentioned briefly earlier in this article, lifetime value or LTV is a powerful metric that will help you determine how profitable each lead/customer truly is.
Your LTV calculations can vary depending on your industry and type of product. Recurring services usually include additional variables to account for the continuous nature of the payments. LTV for companies that set one-time purchases is a bit different, albeit it should still include a variable that defines how many purchases a customer makes on average.
The most basic formula to calculate LTV for recurring purchase businesses is:
Average Recurring Order Value x Billing Frequency x Average Retention Time = LTV
Companies that sell one-time purchases can calculate LTV by using this formula:
Average Order Value X Purchase Frequency X Average Customer Lifespan = LTV
Calculating LTV By Source and Subsource
If you want to calculate LTV from different sources, channels, or even affiliates, you can filter out the leads or conversions and apply the same formulas listed above to each individual source and subsource. This will help you figure out where most of your profits are coming from so that you can narrow down your program requirements accordingly.
Your formulas should look something like this:
Source LTV for recurring purchases:
Average Recurring Order Value Source A x Billing Frequency Source A x Average Retention Time Source A = LTV Source A
LTV for one-time transactions:
Average Order Value Source A X Purchase Frequency Source A X Average Customer Lifespan Source A = LTV Source A
In order to find the sub source LTV, apply the same formula listed above and substitute the source with the sub source you want to calculate for.
Creating Cohorts for Long-Term Monitoring
Advertisers can also create cohorts that allow them to see how their LTV evolves over time. Simply put, cohorts refer to a group of customers, leads, or similar subjects that share similar characteristics.
You can attach the fixed payout of each cohort to the CPA of its leads in order to keep the calculations organized. But, for your cohort analysis to be accurate, you'll have to check the market prices, make sure that the affiliate network traffic is exponential, and that affiliates in your industry choose programs based on the CPA as well as payout rates.
Again, your calculations will remain similar and look something like this:
Cohort LTV for recurring purchases:
Average Recurring Order Value Cohort A x Billing Frequency Cohort A x Average Retention Time Cohort A = LTV Cohort A
Cohort LTV for one-time transactions:
Average Order Value Cohort A X Purchase Frequency Cohort A X Average Customer Lifespan Cohort A = LTV Cohort A
Tips to Increasing Customer LTV
The key to having a profitable affiliate campaign that allows you to pay high commissions is to expand your customers' lifetime value. The only issue is that LTV is affected by a wide collection of immensely different variables. Rather than making a few tweaks, improving LTV requires an organization-wide change that improves the entire user experience.
Deliver Outstanding Customer Service
The very first step to improving LTV is to deliver outstanding customer service.  Unfortunately, many companies fall into the trap of proving low-quality goods and trying to make up for them with solid customer service. Instead, you should consider the quality of your solutions as an extension of the service you offer to your clients and make sure that your customers are satisfied with your company as a whole.
Map the Customer Journey
All of your customers won't require assistance at the same time, but at different points during their purchase journey. To know what type of assistance to provide, you should take the time to map the customer journey and figure out where most prospects struggle the most.
Personalize the User Experience
The user experience can be defined as the perception that clients have of your brand. A good customer experience means that clients are getting exactly what they need when they need it. But, every person is different, which means that you have to have different channels that cater to the distinct preferences of your audience members.
Ready to Launch a Profitable Affiliate Program? Get in Touch with lemonads Today
Defining your affiliate payouts can become an extensive process. But, the more time you spend figuring out the ideal commission rate and structure for your business, the higher the chances of achieving exponential growth through your affiliate program.
If you're ready to start your affiliate program, contact lemonads today and we'll be glad to help.
Accelerate your Conversions, Increase your Revenue
with lemonads
---
You would like