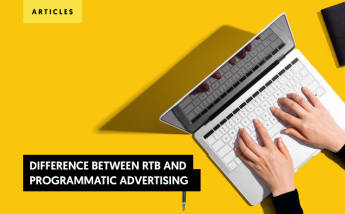 What's the Difference Between RTB and Programmatic Advertising?
For decades, marketers have been working relentlessly to get the ad placements that give clients the best results through a process called media buying. Even though digital marketing is completely different from traditional advertising, purchasing and selling the best ad spots remains one of the goals for success. With this in mind, marketing professionals can now choose from a variety of methods to help them find the best spots, including real-time bidding (RTB) and direct programmatic advertising.
Although direct programmatic advertising and RTB are closely related, these two media buying techniques have fundamental differences that set them apart from one another. Understanding these distinct characteristics will help you choose the best approach and get the most from your campaigns.
That said, even some of the most knowledgeable marketers out there still erroneously use these terms interchangeably. In order to clear up this obscure topic, we've put together an article discussing the similarities as well as differences between RTB and direct programmatic models.
How Are RTB and Programmatic Advertising Related?
Before going over the differences between these two types of digital media buying approaches, let's discuss the similarities between direct programmatic and RTB.
In the digital marketing context, programmatic advertising refers to the process of purchasing and selling ad spots through an automated system. This includes display ads, banners, video, and dozens of other formats, all of which are sold in a series of automatic steps. Instead of having to negotiate with a vendor in person, affiliates and other modern marketers now rely on this computer-powered operation, which takes place in a matter of seconds.
It's important to understand that there are different forms of programmatic advertising, so you need to find the format that works best for you before launching your campaign.
When most marketing professionals discuss programmatic advertising, they are referring to a specific subcategory known as direct programmatic advertising. Simply referred to as direct programmatic, this technique follows a similar approach to traditional media buying but the process has been optimized through dedicated supporting software.
RTB is another subcategory of programmatic advertising, but it follows a unique bidding protocol that makes it different from other models. Furthermore, RTB makes up about 90% of all programmatic ad buying in the US, so it's already one of the leading models being used today.
Even though they are technically part of the same approach, direct programmatic advertising and RTB have distinct characteristics that can either benefit or obstruct your campaign, so you need to learn the differences between the two in order to choose the best option.
The Difference Between RTB and Direct Programmatic Advertising
Programmatic advertising and RTB both take place in the blink of an eye and they require no human intervention during the process itself. But, this is about the only thing these two have in common.
Let's take a look at the definitions of RTB and programmatic as well as the differences between the two.
Defining Direct Programmatic Advertising
In conventional advertising, media buyers negotiate prices and payment schemes with providers before placing an ad. Direct programmatic advertising employs a similar technique because it involves one-to-one negotiations between the media buyers and the publishers who are selling the spots.
Depending on the publisher, advertisers will either be charged per 1000-impressions or receive a set price before the ads are displayed. This reduces flexibility a bit and may result in higher budget requirements, but advertisers opt for these models because they are favored by some of the top publishers in the world.
Advantages
Even though it's not perfect, direct programmatic marketing has a variety of great benefits that can result in better campaigns. The entire ad spot request and delivery process are automatically fulfilled and occur within seconds, not to mention the fact you can target a global audience depending on the platform your ads are running on.
Additionally, some benefits of direct programmatic media buying include:
Pre-Set Terms
Creating a predictable marketing machine can help you make better decisions and ensure that you don't go over your ideal budget. With direct programmatic marketing, advertisers reach an agreement prior to the launching of the ads, which gives them the ability to create predictable campaigns with a higher chance of success.
Publishers may not be able to sell all their inventory during these negotiations, but they are free to monetize the rest of their traffic using other methods.
Guaranteed Inventory Volume
Ensuring that you have a consistent source of quality traffic is one of the keys to affiliate marketing success. Direct programmatic advertising allows media buyers to negotiate deals and lock in large quantities of inventory in advance, so they will always receive the right number of visitors to their campaigns.
Diverse Traffic Quality (with Robust Targeting)
One of the biggest benefits of direct programmatic media buying is the variety of traffic quality that's available.
Affiliates and other marketing professionals can work with a large pool of different users in order to polish their skills and determine which segments find their content engaging. Additionally, this format also allows robust targeting in some cases, so your ads will only be served to users that meet specific criteria.
As part of your negotiations, you can also request premium traffic and only pay for visitors that have a higher chance of converting. But, this is only recommended to top marketers that understand how these users think and behave.
Setbacks
Despite the fact that direct programmatic offers a range of great benefits, there are also certain setbacks you need to keep in mind. In most cases, programmatic campaigns often work best when paired with relatively large budgets, so this media buying model is often best suited for bigger companies.
Other disadvantages include:
Lack of Control for Publishers
For affiliates that run their own platforms, selling inventory through programmatic means losing control over the ads that are shown on the publishing sites. Publishers can always implement whitelists and blacklists to prevent certain ads from showing, but they will have little say over the rest of the content advertised.
Inadequate Ad Matching
Issues related to human error are minimized using programmatic advertising, but there is still a small chance of serving ads to users that don't match the advertiser's requirements. There are some tools publishers can use to fix ad matching errors, but these need to be in place from the beginning to get the right results.
Real-Time Bidding (RTB) Explained
As we mentioned before, RTB is a type of programmatic media buying model, but it has its own set of unique rules, so to speak. In RTB, advertisers bid against each other in order to win placements being sold by publishers. The bidding can take into account different factors, but the whole process is completed in the time it takes a page to load.
Advantages
There are many advantages to choosing RTB because the bids occur in real-time. This ensures that all stakeholders get the most value for their money, instead of having to follow pre-set agreements. Up-and-coming marketers and publishers often prefer this model for this reason, because it doesn't compromise large chunks of their budget while still giving them the ability to generate a fair profit.
Not only this, but RTB also allows for the creation of more dynamic marketing campaigns. Thanks to the abundance of impression-level data, advertisers can test out different variables and make adjustments with extreme ease.
Additional benefits of RTB include:
Auction Model Prevents Media Overpayment
Instead of agreeing on a price beforehand, both advertisers pay a fair price for each impression while publishers can generate profits from unsold inventory. Media overpayment isn't beneficial to the marketing ecosystem, so RTB is the perfect way to maintain balance in the industry.
No Contact with Publishers (with Some Exceptions)
In the vast majority of cases, affiliates only have to work with a DSP or similar platform to run their entire campaigns. In other words, you won't have to worry about building and maintaining relationships with the best providers because ad networks usually take care of this.
As for publishers, it reduces the amount of work required because these professionals only have to work with a small number of networks rather than hundreds of different advertisers.
Premium Inventory Also Available
Platforms that feature RTB are allowed to sell any part of their inventory, but advertisers can also request premium traffic for their campaigns if they work with a private marketplace. Private marketplaces may be more limited in terms of reach, but at least you'll be able to filter out low-quality visitors and increase the chances of getting conversions.
Setbacks
RTB has earned a reputation for being an innovative form of programmatic media buying that has created a more sustainable marketing ecosystem. That said, there are also certain disadvantages that you should keep in mind before deciding if this is the right model for you. For example:
Targeting Limitations
The targeting limitations in RTB are not related to the tracking or monitoring technology itself. Modern consumers focus heavily on privacy and security. To some experts, the collection of information to produce better RTB campaigns may be seen as a breach, especially after the passing of the GDPR and similar laws. So, only platforms that collect information for legitimate purposes should opt for RTB.
Find Out More About Choosing the Best Form of Advertising
RTB and direct programmatic are two types of programmatic advertising, but they have fundamental differences you should keep in mind.
Learning the difference between RTB and direct programmatic media buying can save you a huge amount of time and hassle in the future, so we hope the article above has clarified the distinct characteristics of each model.
If you want to find out more about choosing the best media buying method, stay tuned or contact lemonads, our team will be glad to assist you!
Accelerate your Conversions, Increase your Revenue
with lemonads
---
You would like