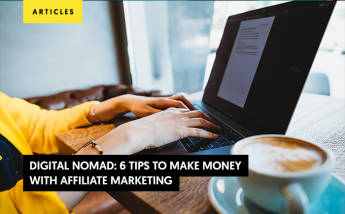 Digital nomad: 6 tips to make money with affiliate marketing
We have been noticing for the past few years an increasing number of digital nomads around the world, breaking the long established corporate office rules. The pandemic situation made it clear to the 9 to 5 office workers: it is possible to get work done remotely. That being said, a digital nomad sometimes find it difficult to acquire new clients and earn a regular income. It often results in working twice as much for a smaller financial compensation. We are giving you the keys to a successful passive income.
There are ways to earn extra money. In fact, we know some tricks to help you get an income without really doing anything. What we are going to talk about here is affiliate marketing. Follow these upcoming steps to make more money without doing anything. But first, let's make sure you know exactly what being an affiliate marketer is.
What is affiliate marketing?
Affiliate marketing is commonly referred to as earning a commission by promoting someone else's business. Which means every time someone is interested in that product you shared, you earn money. This is a third party marketing method, involving a publisher (the person promoting), an advertiser (the brand) and an affiliate network (the platform linking the publisher and the advertiser).
Affiliate marketing is then performance based and will only bring you a decent income if you put the work to it and generate traffic onto your platforms. You can either choose to be paid per sale (CPS), per action taken (CPA). If you think about your strategy well enough, this method could be very successful and as a digital nomad you wouldn't even have to do anything to make it work in the long run. Let's be clear here: you have to work hard on your affiliate strategy at the beginning, once everything is set you can pretty much lay on the beach and watch the magic happen. Ah, that digital nomad life… Let's have a look at what affiliate marketing is.
How would affiliate marketing work for a digital nomad?
Let's say you have been documenting your digital nomad life, the places you've been, your feedback, the highs, the lows… or you intend to do that in the future. You meet other digital nomads and build a network composed of other successful entrepreneurs. You connect with your community through social media such as Instagram, Pinterest or via your blog. These are the places you share your thoughts and ideas with the world. People have been following your journey, passively or actively, maybe because they think you are interesting, or by curiosity, passion… maybe also because they are also digital nomads or they want to become one. You have an audience that is genuinely interested in what you post.
Now the trick is to be subtle with affiliate marketing: you would not want to offend your community by promoting a random product with no link whatsoever to your lifestyle or your values. You don't know where to start? Keep reading. Here is our best advice to get started with affiliate marketing as a digital nomad.
Choose the right time
First of all, timing is about your community and the traffic you generate. Having a lot of followers is great as it could bring a lot of traffic on your affiliate links, but if they don't interact with you, there is no point in doing affiliate marketing and you will get poor results. We recommend you look at your engagement rates more than the number of followers you have.
Of course if you don't have any followers, don't bother subscribing to an affiliate program because you will end up being refused or if you lie, kicked out. It's better to work on building a small community first as part of the strategy, then going for an affiliate marketing program to make the most out of it. The big matter here is the more people engage with you, the most likely they will convert into a potential buyer. Keep this in mind: the right time is when you have a reasonable number of followers with good engagement rates.
1. Choose the right CPA network
When it comes to choosing the right CPA network for you as a digital nomad, it can be confusing. Some programs are only located in the US, in Europe… and that's not adapted to your nomad lifestyle. You're moving a lot and need an affiliate program that will be able to follow you and your needs. For instance, at lemonads we have partners all over the world that you can work with and have the ability to share different offers no matter where your digital nomad life brought you.
To make the right decision, we recommend you also have a look at the pricing, the rates and also how fast the affiliate networks pay you. Reading into those details will determine your whole affiliate marketing experience. The best affiliate program for digital nomads will be the one flexible enough to follow you everywhere you go.
2. Choose products that are adapted to your digital nomad life
We talked before about subtlety. Ideally, you want to promote a product that makes sense with everything you shared before on your social media and with your nomad lifestyle. Something that will seem natural. You can be promoting travel insurance, a backpack fitting your laptop & camera gear, an anti-virus and anti-malware software (to protect your laptop from the sketchy free Wi-Fi networks you can come across as a digital nomad… you know what I'm talking about) and the list goes on and on. There are a lot of possibilities. Try to think of what tools, objects or services you use in your daily life, and how you can promote it to your audience with affiliate marketing.
3. Share authentically
You don't sell a product. You sell emotions. Always be authentic with your audience and stay true to who you are. A product that suits your values will perform well because your audience trusts you. If you share quality content, with an educative purpose, it will have a bigger impact on the reader and it will be more likely that this reader becomes a customer after reading your reviews or blog post. Especially as a digital nomad you want to share the reality of this experience and what will make this lifestyle easier, or simply possible. You may be wondering where is the best place to share your affiliate marketing links and what performs better? Here's how you're going to do it.
5. Plan a strategy
The only thing you have to work on with affiliate marketing is the strategy. Like we said in the beginning, once this strategy is set, you don't have to work on it anymore, and it still brings you money indefinitely. In order for it to be successful, you have to think about a plan. Don't underestimate the power of SEO for affiliate marketing, it will generate traffic by bringing your website at a better ranking in the web researches.
Have a look at what people are searching for on Google, what they want to know about digital nomads and how to earn money while traveling. Knowing what people are looking for will allow you to adjust your SEO content and your offer. The more you know your crowd, the easiest it gets to trigger their curiosity.
Think of all the possible channels you can promote products on. It could be your travel blog, Pinterest pins, product reviews, banners in your website's sidebar, in your emails, newsletters, Instagram stories… there are infinite possibilities. Make sure to also have an efficient landing page. Just don't be lazy, don't throw links wherever you can hoping it will work. It needs to be well constructed and worked on. But don't worry, after that work is done, you can pretty much continue drinking cocktails on the beach in Bali.
6. Live your digital nomad life to the fullest
This strategy you worked hard on should lead to results pretty quickly. But on the other hand, also expect it to fail. And it's okay. Just work on building an audience and try again. As a digital nomad you may have a lot of different ways to create an income, but affiliate marketing should be considered as a side income in the first place. Live your digital nomad experience to the fullest, share it with your community and people will show a genuine interest. And who knows, if you master this technique well enough, you could live off of affiliate marketing without having to do anything else.
Conclusion
When you're starting with affiliations you can feel a little lost at first, we highly recommend you ask for support by contacting your affiliate marketing network team. If you're not too sure you can always get some advice from them see how you feel about it.
Affiliate marketing and being a digital nomad go hand in hand, as affiliate marketing works on its own and you can work on side projects while living anywhere in the world. Good timing with a good engaged following, good strategy and quality content are the 3 keys to make affiliate marketing work for you.
Accelerate your Conversions, Increase your Revenue
with lemonads
---
You would like