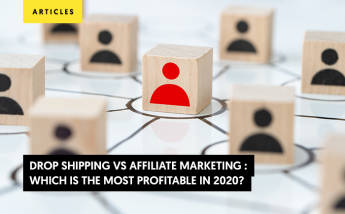 Drop Shipping vs Affiliate Marketing : Which is the Most Profitable in 2021?
Today, there are a few different ways you can make money selling products online. Even though not all these methods provide realistic results, drop shipping and affiliate marketing have earned excellent reputations because they are both sustainable business models. Although they are not the same, these two methods allow you to make significant profits as long as you build your business properly.
Below, we'll go over the definition of affiliate marketing and drop shipping, plus we'll also compare the two in order to find the most profitable alternative for the modern entrepreneur.
What is Drop Shipping?
In simple terms, drop shipping is a business model where you sell products online, but you don't need to pre-purchase the items sold or keep them in stock. In this type of ecommerce, drop shipping site owners process orders and send them directly to the manufacturer, who then ships the products directly to the customer.
Entrepreneurs that have drop shipping businesses work as intermediaries without having to buy any items in advance. Instead, dropshippers can market a wide variety of products, make their own promotions, and inform their providers when there's an order that needs to be sent out.
Pros and Cons of Drop Shipping
There are many pros and cons that come with drop shipping. However, it's important to note that each entrepreneur is different, so you have to compare the pros and cons of this model in order to determine if it's the right choice for you.
Drop Shipping Pros
People that want to become a drop shipper will find that there aren't many blockers to enter this vertical. You won't have to pay any subscriptions or join professional communities to start getting traffic. Simply launch your site, setup whatever marketing strategy you see fit, and test out the waters.
Some of the additional pros of drop shipping include:
Doesn't Require Storing or Shipping from Entrepreneurs
As we've mentioned previously, the biggest benefit for drop shippers is that they don't need to store or ship the products they sell.
In conventional ecommerce companies, entrepreneurs have to purchase inventory, find somewhere to store it, and set up an effective shipping system. Drop shippers, on the other hand, only have to focus on finding the best products and getting orders through their sites.
Product Price Can Be Changed
Because drop shippers control their online store, they can change the price of the products sold in order to increase profit margins. And, thanks to the technology available through intelligent advertising platforms, drop shippers can actually adjust prices based on location and other variants to generate more revenue based on the traffic they attract.
Gives Entrepreneurs More Independence
Entrepreneurs that run their own site can go beyond naming their own prices. As a matter of fact, you can create your own promotions, optimize your landing pages, and take control of numerous variants that affect the performance of your campaign. But, remember that this also means more maintenance!
Recurring Customers
If a drop shipping site is good, then consumers will likely return to make additional purchases later on. The same goes for referrals as people can share the name and address of the platform with their friends and family members, which can organically increase sales on your platform.
Control Offers and Promotions
One of the biggest benefits that drop shippers enjoy is the ability to develop their own promotions and offers. Instead of working with the manufacturers' deals, entrepreneurs that opt for drop shipping can create seasonal promotions and implement unique promotional structures in order to get the most out of their site.
Drop Shipping Cons
While drop shipping does come with many benefits, there are some setbacks entrepreneurs need to keep in mind. These include:
Includes Many Risks Associated with a Conventional Business
Although it's not exactly the same as a typical ecommerce platform, drop shippers should remember that they run many of the same risks as conventional businesses do. For instance, drop shippers need to develop a brand identity, manage their reputation, invest in their website, produce a full-stack marketing plan, and take care of all other areas besides shipping and stocking.
Entrepreneurs Need to Provide Customer Support
In addition to the above, drop shippers also need to deliver customer support and ensure that their customers are always happy. This can be extremely challenging as modern consumers expect to receive attention right away, regardless of the size of your platform.
Providers Need Payment Before Shipping the Products
Drop shipping companies don't have to store any products, but they can't send out orders until users make the respective payments, which is then transferred to the manufacturer or provider. This adds another step to the buyer's journey, giving people an opportunity to change their minds.
Entrepreneurs Have to Process Each Order
It's important to note that the order fulfillment, which is the process of submitting the order request with the right details for shipping, also falls upon drop shippers. There are many platforms that can automate this step, but this represents yet another investment you have to make.
Affiliate Marketing Explained
In the affiliate marketing business model, affiliates promote other people's products through their site and earn a set commission for each sale. Affiliate marketing is inherently simpler to understand and easier to develop as a profession because there are fewer risks involved, but you can still work with world-class companies and make a significant amount of money.
Advantages and Disadvantages of Affiliate Marketing
Despite the fact that it's easier to understand and implement, there are still advantages as well as disadvantages you should consider before becoming an affiliate.
Advantages of Affiliate Marketing
Some of the advantages of affiliate marketing include:
Affiliate Marketers Don't Handle Shipping or Inventory Monitoring
Similarly to drop shippers, affiliates don't have to worry about shipping, monitoring inventory, or even processing orders as all of these responsibilities lie with the advertising companies.
It's a Low-Risk Model
In addition to not having to stock, ship, or process any orders, affiliate marketing has much lower risk because you don't have to invest as many resources to develop successful campaigns.
Affiliates still have to maintain a website, but this can be an informative platform that redirects users to a variety of different options, so your livelihood will not only depend on the performance of one single platform.
Choose from Hundreds of Offers
Affiliates can choose to work with thousands of advertising companies and choose from countless offers.
Each offer is unique, so some are easy to convert while others require more work, but offer bigger payouts. Affiliates can choose to work with different offers based on their expertise and sharpen their skills with low-tier promotions before moving on to more profitable verticals.
Offers High Profit Margins without Additional Hassle
Every time there's a new product, trend, or seasonal promotion, affiliates can simply find a new promotion, adjust their creatives, and ensure their campaign is ready to go. Entrepreneurs that manage their own online store have to plan ahead of time, produce marketing plans, and assemble their strategy from the ground-up before increasing their profits.
Get Started with a Relatively Small Investment
Starting a review website or a similar platform is more affordable than ever before. Not only this, but thanks to the dozens of quality traffic sources you can choose from, being an affiliate has never been this accessible.
Advertisers Are Responsible for Customer Service
Affiliates don't interact with consumers at any point in the marketing and converting processes, which means that the advertising companies are responsible for providing customer care and other forms of support for consumers.
Disadvantages of Affiliate Marketing
Affiliate marketing has great advantages, but there are also disadvantages you should keep in mind before starting your campaign. For instance:
Commission Percentages Remains Static
Affiliates make a set amount of money per transaction, which is defined by the offer they choose. You can't change the price of the product or any other details, which gives you a lower level of control.
Affiliates Usually Only Score One Sale Per User
Generally speaking, affiliate sales are a one-off event. Except for remarketing campaigns, which are not always possible to carry out, affiliates should work on the assumption that they're trying to attract new customers every time.
Payments Are Not Immediate
Depending on the offer or program you choose, you may receive payouts for your affiliate campaign weekly, bi-weekly, or monthly. However, you won't have those funds available as soon as you generate them, so it's always best to start with a bigger budget than you expect to spend.
Which One is the Best?
Both affiliate marketing and drop shipping follow a similar structure, but they are fundamentally different in many ways. In most cases, affiliate marketing is the most profitable and easy to start option, which is one of the reasons it's becoming more and more popular.
With this in mind, everyone is different so make sure to evaluate your specific case and make the best decision based on your unique needs.
Learn More About the Different Business Models Available for Affiliates
Drop shipping and affiliate marketing are fundamentally different, so understanding the difference between the two will help you choose the best business model. While affiliate marketing does seem to be the most profitable, the tips above should help you choose the right one for your specific case.
To learn more, stay tuned or contact us today and we'll be glad to help.
Accelerate your Conversions, Increase your Revenue
with lemonads
---
You would like