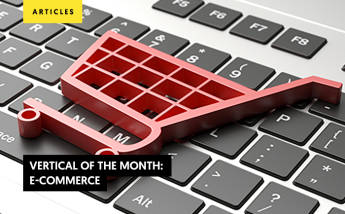 Vertical of the Month: e-Commerce
In this edition of Vertical of the Month, we explore e-Commerce, discuss how well the industry has fared in 2020, and go over a few tips on improving the performance of your e-Commerce campaigns.
The e-commerce industry is expected to generate more than 2.2 trillion US dollars in 2020 alone. By 2024, this number is projected to reach a staggering $3 trillion and user penetration is expected to be close to 60% at that point. All these statistics indicate that even after years the e-commerce industry is on the rise and is still far from being a completely mature vertical.
Part of the constant growth of e-Commerce is because this industry is driven by technology and consumer patterns. State-of-the-art devices, innovative materials, and new trends all influence consumer demand, and e-commerce allow people to acquire these popular goods safely and conveniently.
Let's take a look at the performance of e-commerce this year, how it's been affected by the global landscape and the trends that can help you create engaging campaigns.
How Has e-Commerce Performed in 2020?
Approximately 4 out of 5 people in the US have purchased through e-commerce websites, so there's no denying the popularity of these platforms. That said, there are also 12 to 24 million e-commerce sites in the world, so competition in this industry is fierce, to say the least.
With the above in mind, 2020 has been a different year for all industries and e-commerce is no exception. Since the beginning of the year, coronavirus has disrupted daily life for consumers around the world. Somewhat unpredictable patterns combined with widespread consumer fear and disruptions in the supply-demand chain have cast doubts over the e-commerce industry, but it has escaped relatively unscathed compared to other verticals.
e-Commerce Trends to Look Out For
It's no secret that technology directly fuels e-commerce. From new server technology to faster computers and ultra-powerful mobile devices, all of these advancements have contributed to the rising popularity of online shopping. Not only this, but the development of new payment formats, dynamic software, and consumer preferences are also shaping the e-commerce landscape.
Below, we'll go over some of the most important e-commerce trends for 2020 and beyond.
Chatbots, AI, and Real-Time Support
Although artificial intelligence (AI) was developed decades ago, recent advancements have promoted the widespread functional application of this technology. In other words, companies have started leveraging AI in multiple parts of their operation, including client-facing areas.
This, combined with the fact that consumers crave instant gratification, has resulted in the development of support and sales chatbots that assist in real-time. To stay competitive, e-commerce companies need to implement this tech and make sure every inquiry gets a response in real-time.
Drone Delivery is (Almost) Among Us!
The global pandemic caused by the new coronavirus has led to the development of innovative shipping methods, such as drone deliveries. In the United States, companies have already started to deliver prescription medication to the most vulnerable via drones and it's safe to assume that this trend will become mainstream as the technology evolves.
Advertisers that can set up drone delivery should explore and monitor how well they perform and marketers should use this as a major point whenever it's available.
Voice Search
It's projected that by 2022, 55% of all homes in the US will have a smart speaker. Even before the development of Alexa and other smart speakers, 48% of consumers were already conducting general web searches using voice commands. These statistics confirm what many marketers have suspected for a while, that voice commerce will eventually dominate the online shopping industry.
Optimizing products and ads for voice search is relatively simple. Marketers need to adjust their keyword research and take into consideration that voice queries usually have many different words, so long-tailed keywords are usually the best choice.
Alternate Fulfillment Options
One of the biggest challenges that e-commerce has faced in 2020 is the disruption of supply chains as well as limited fulfillment capacities. However, some advertisers have found new ways to target their local customers. Instead of opting for lengthy shipping times, consumers are opting for companies that offer in-store or specific location pickups.
While it may seem counterintuitive for e-commerce websites to offer physical pickup options, companies that have offered these services have been able to rake in additional business to help keep them afloat while the market levels out.
Progressive Web Apps
Progressive web apps (PWAs) are mobile websites that have the appearance and structure of a mobile app. Convincing consumers to download an app can be challenging, but it's much easier to direct them to a mobile site. PWAs combine the best of both worlds as users that access your site will have all the functionality and aesthetic elements that are usually only found in dedicated applications.
The key to successfully riding this trend is to work on developing a PWA for your e-commerce site. While the desktop is still the preferred channel for making online purchases, marketers, and advertisers that develop their PWAs early on can establish themselves as leaders before the competition and reap the benefits when the trend inevitably changes.
How to Build a Successful e-Commerce Campaign
Instead of completely halting their spending, most consumers are investing their money in different ways and buying through new channels. Purchasing products online is more convenient than ever before, but marketers have to understand how their audiences are behaving to craft effective ads campaigns.
Social commerce, which is the movement of shopping directly through social platforms, is gaining a lot of traction. Additionally, native advertising is also attracting a lot of attention as consumers have more time to read and research products before making a purchase. For these reasons, most successful e-commerce campaigns implement a combination of Facebook marketing and native ads.
Succeeding with Facebook Ads
Facebook has more than 2.6 billion active monthly users, making it the biggest social network on the planet. The platform allows advertisers to reach almost one-third of the global population through its ads network, which offers different types of formats and placements options.
To learn more about the subject of e-commerce on Facebook ads we advise you to read our article: Launch a profitable e-Commerce campaign on Facebook Ads?
To succeed with Facebook ads, remember to:
Stay Up-to-Date with the Trends
Social media networks are all about trending content and Facebook is no different. If you want to remain competitive and relevant, stay up-to-date with the latest trends that have caught consumer attention. Even if unrelated to your industry, these new tendencies can give you an idea of the content that your audience finds engaging, useful, and entertaining.
Build Retargeting Campaigns
Facebook users willingly provide a huge amount of information about themselves. If your audience is not responding to your ads, you shouldn't give up. Instead, dive deeper into your analytics and create remarketing campaigns based on the information collected in your first attempt. By ensuring that the audience sails smoothly through the buyer's journey, you can monetize traffic that you've already attempted to convert.
Leverage Video Content
Most consumers prefer to watch a video instead of reading content and this concept also applies to ads. Savvy marketers can create alluring, one-minute flicks that promote products and redirect users to the actual ad or directly to the offer page in case it's a video ad.
Using this two-prong approach has two main benefits. Consumers are more engaged when watching video content, so they will be more receptive to your ads. Furthermore, the video has the same effect as a pre-lander, so you'll only redirect users that have a certain degree of interest to your ad or offer page.
Crafting Effective Native Campaigns
Most affiliates are familiar with native ads, but only a small percentage of marketers know how to use this format successfully. There are many different steps you need to take, but the three main keys to success with native advertising are:
Consistently Deliver Valuable Content
Native ads appear like part of the publishing page's content, but your content needs to be on-point every time to keep the spell alive. If not, consumers will quickly realize that they are being sold something, which means that they will likely drop out of the funnel in its early stages.
Find an Image with a High Click Rate
The most important element of a native ad is the image being used. Make sure that it's relevant to the product and that it has a high click rate. There is no one-size-fits-all solution, so set up a few different tests or use a spy tool to find the images that produce the highest CTRs.
Pay Special Attention to Targeting
Targeting is crucial in any digital marketing campaign and it's especially important in native advertising. Start with wide settings to establish a performance baseline and tweak your settings in the following weeks until you get the results you want.
To conclude the vertical e-commerce is an important vertical in Affiliate Marketing, the most important is to find the e-commerce offer that best suits your content and your traffic source.
Accelerate your Conversions, Increase your Revenue
with lemonads
---
You would like