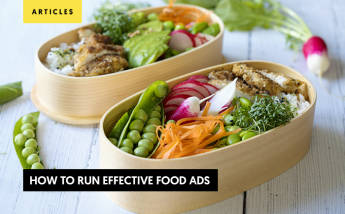 8 tips to run effective food ads
Do you want to run effective food ads? In this article, we will tell you how to make sure you are running effective food ads and how to optimize your food campaigns.
The food and beverage industry is the area where new brands and trends are constantly emerging and it's a niche where affiliates can find cool products to promote all the time.
According to Statista, Only in the US, the food and kindred industry spent 54 billion dollars in advertising in 2019.
Are all those marketing efforts seeing a correct ROAS? Probably not.
1. Trends Trends Trends

Being aware of what is trending is very important to engage with audiences in the digital world. Especially when speaking about the food industry. It's important that you know how people are feeling about nutrition and what are their inquiries when it comes to food. For example, we know that the trending diets right now are the ketogenic diet and the low-carb diets. If you are sure that the products you decide to promote are convenient for this lifestyle, you will have even more opportunities to convert with your ads.
But another tip about trends is to identify them beforehand so you can be ready for when people are looking for some answers. Such is the example of 5 de mayo. Cinco de Mayo (5th of May) is a Mexican celebration of the victory in Puebla's battle against the French forces. This is celebrated in some Mexican areas however, it has become in the united states a perfect excuse, for tequila, tacos, and all those Mexican foods almost everyone loves are a perfect excuse for gatherings and parties.
You can use Google trends to see what are the top queries in your geographic area.
In this example, we searched "food" in the last 30 days only in the United States through Google Web search.
Cinco de Mayo food is a great trend year after year. By gathering this information you can easily anticipate some seasonal trends and get ready to promote your food products with that strategy.
2. Know which platform is best for your food ads

You can have a fabulous food ad but you need to know where to display it to have better results. If you don't put the ad in front of the right audience, you are simply wasting time and money. Ad designs should not be the same for Facebook and Linkedin for example. Are you B2B or B2C? What is your audience? Where does this audience spend their social media time? Answering all those questions is very important for you before even creating your ads.
What platforms are good for B2C food marketing?
Google
You can use Google AdWords to rank above your competitors in Google search results with PPC marketing on Google Ads.
Learn everything in this special Google Ads article.
Facebook
Facebook was the pioneer offering social media marketing solutions and they remain an effective B2C social media marketing strategy. Facebook ads are an amazing tool for community engagement, customer support, and promotion.
Instagram
Instagram is a great channel for B2C marketers who believe (as they should) in visual marketing.
Youtube
Video content is one of the best ways to capture your audience's attention. Creative, fun while informative videos are something all B2C marketers should focus on. Production quality is important but originality is key to capture your audience's attention.
Tiktok
Tiktok is the right place to reach a younger audience. Your content should be as fresh and trendy as it gets. Trends don't last long but if you can nail it once, your brand will stand out with no doubt.
Learn everything in this special Tiktok Ads article.
Amazon Advertising
Amazon Advertising is a huge source of traffic that shouldn't be overlooked. Their Cost-per-click and cost-per-mille ad solutions can help you achieve your food ads goal. Amazon Advertising can help you drive sales, build your brand and engage shoppers on and off Amazon.
3. Landing Page optimization
Once you get your customers to click, you have to take them to a place where it seems natural to arrive. For example, if the ad was a chicken wings promotion, it doesn't make sense if they land on ice cream and dessert images or titles.
Landing Page Optimization is one of the most important things to help the effectiveness of food ads.
4. What's your brand's tone of voice & personality?

We like to use a simple exercise for this. Think of your brand as if it was a person. How would it be the first time you meet this person? Is it outspoken, authentic, and spontaneous? Is it shy, very well-spoken, and educated? How does it look? Is it young and colorful or a bit classic and monotone… How do you want to be perceived by your clients is very important before you even start planning a campaign for your food brand. Are you approaching them in a very formal way or in a casual form. What language will you use? Your ads are a way to show your audience the culture of the company. Yes, you might be offering a certain product on your ad, but you can though it expresses why your brand is different than the others, who are behind the scenes and so much more.
5. Storytelling

The way we tell a story can dramatically change the way our audience perceives us. Just think about the ways you prefer to receive information. What is more impactful for you? Is it a dramatic sentence or is it something that goes deeper than the words?
With our focus spans, today's Storytelling needs to be very visual and striking. You can create an amazing video ad but if it is not fascinating in the first 5 seconds, people will "skip it". You need to tell a compelling story but you need to be able to catch the user's attention in 5 seconds or less, and that is extremely challenging. Be aware of what advertisements catch your attention in those initial 5 seconds and more even, which ads took you to click and land on the business landing page.
6. Own it

Make it personal. That's the best way to tell a story. The example of Marley Spoon is quite unique. By telling that Martha Stewart is behind this meal kit delivery service business is a game-changer, who wouldn't want to cook like her?
She is a super start in the food industry and an undeniable lifestyle icon. Just by having her standing beside the box is a homerun. Yes, we know you don't have Martha in your team, but you sure have a story to tell. How did your business come to life? Who are the great people behind the screen? Let's say you are offering some gluten-free cookies. Why? How did you adopt a gluten-free lifestyle? Have you been diagnosed with celiac disease? What are the benefits you personally have experienced by eating your cookies? A good example of this is how successful influencer marketing is. The reason behind its success is that real people are telling a real story/experience with the product or service. The more you are able to tell your story the more likely your audience will click with your brand, otherwise, you are just another food company in the very crowded food industry.
7. Be Color Smart with your food ads
Visual storytelling is key for food advertisements. The main goal is to trigger your potential customer's appetite. Color influences consumers not only on the conscious level but also on the subconscious level.
Color and food pairings can be especially powerful by leveraging the emotional connection to taste.
Yellow and red are the best colors when stimulating the client's appetite visually. Both red and yellow are very effective and we can prove it by the way that the fast-food industry uses them.
Sophisticated restaurants would avoid red and yellow for those reasons, they just don't want to be confused as a fast-food franchise. Black and white would be the colors that help these places seem chic and modern. However white and black colors do not trigger the desire for food.
In ads, is recommended to use the colors that the advertised food tastes like. Let's use the example of strawberry ice cream. If the product is strawberry flavored, strong pinkish reds would trigger the brain to imagine the flavor of the product.
Green connotes eco-friendliness and healthy foods and recipes. The big problem is that used incorrectly, the green color can be unappetizing. However, ecology-friendly and healthy foods are today common and seen as a norm instead of an exception. There is no longer a need to use green to express the sustainable culture of a brand.
Blue and purple are cool tones and can be unappetizing if not done correctly. Cool tones don't stimulate the appetite as much therefore careful context and application must be considered.
Browns and earth tones are warm, appetizing, wholesome, natural. The earthy, organic look is overplayed in the specialty food sector. As with eco-friendliness, natural food products have transcended earth tone colors as consumers now see natural in so many products and no longer expect them to have the typical "earthy" look.
Bright colors connote fun but can also mean artificial. Be careful with flashy colors if you want to promote natural and healthy products.
8. Engage with your audience

It doesn't apply to every campaign for food advertisement but if you have the opportunity, invite your potential customers to make part of your journey! UGC user-generated content is a great marking strategy.
9. Lead the way to the next step with an appealing call to action (CTA)
What is the action you want your customer to take after seeing your ad? What do you want them to do next, and how do you express this?
Use CTA's call to action that takes them exactly where you want them to be next.
Do you want to encourage them to sign up for a newsletter or social media so they can learn more about your brand? Tell them, and maybe even offer something in exchange.
Food ads examples
HelloFresh
Hello Fresh is one of the top advertisers in the food industry these days. Here you have a Google ads and a Facebook ad example:
BurgerKing
During the pandemic, Burger King boosted this post on LinkedIn (a simple post on Twitter) that became viral within a couple of hours. When a brand changes its speech to set an example, the image of the company gains force. Timing, feelings, a nice copy, voilà!
Pizza Hut
This is a simple example o of a display ad with a direct CTA.
Five guys
This Five Guys Facebook and Instagram ads are very clever and sober. A short line, a teaser, and a call to action
"Exclusive behind-the-counter footage". Those fresh buns are quite a teaser, don't you think? No many words needed. Smart, short, boom!
Ketone
This is an example of how some pantry foods are being sponsored in Amazon Advertising. We were searching for Keto Bars. As you can see, the product on the left is not a keto bar, but this brand is sponsoring its products with keto-related keywords.
Conclusion
Food Ads have to be a trigger of hunger. Depending on the channel, the creativity and wording have to adapt to what the consumer is there for.
Be aware of trends, take care of colors, use your brain in the most sensorial way when creating food ads. Does it make you hungry? Are you loving the image the brand is projecting on your ad? If you are not feeling it, probably your potential customers won't. We all eat and we all like tasty-looking, empathic, and smart food ads. Then landing pages have to be cohesive to the ad. Remember, if people are craving the tasty hamburger on your ad, they need to land in the hamburger zone. If they land on your home page they will instantly lose interest.
Check out the best food affiliate programs special for foodie publishers.
Want more tips on how to make your ads efficient? Follow lemonads' blog today.
Accelerate your Conversions, Increase your Revenue
with lemonads
---
You would like