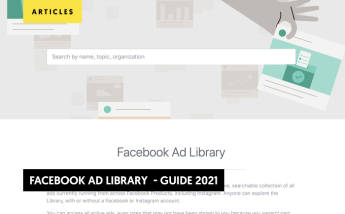 Facebook Ad Library Guide (Update 2022)
Facebook ads are one of the most effective marketing tactics. In this article we will explain what Facebook ads are, what can you advertise on Facebook and we will focus on what the Facebook ad library is, and how to leverage the tool for your future campaigns.
What are Facebook ads?
Facebook ads are paid content from businesses that are written in their voice and help reach the people in their target audience who have a Facebook account.
Facebook ads formats?
Facebook ads give businesses a competitive advantage when used correctly. With Facebook, you can reach your target audience in the 3 different stages of consumer acquisition: Awareness, Consideration, and Conversion.
Awareness
Exactly as it sounds, is bringing awareness to the company that is advertising. Is the stage where brands push content with the objective of getting potential customers to acknowledge the brand, products, or services.
Types of awareness ads:
Brand Awareness - Encourage potential customers to discover a brand.
Local Awareness - A brand interested in promoting a local business or a new location, for example.
Reach- Show ads to the maximum number of people possible.
Awareness Ads KPIs
Impressions - Number of times the ad was displayed.
Reach- Number of people who saw the ad. One person can see many times the same ad. So the impression number might be higher while Reach shows you exactly how many people were reached by it.
Consideration
In this stage, the potential customer is already aware of the existence of the brand. Consideration ads are designed to encourage the customer to go further and consider purchasing the proposed products or services over competitors.
Consideration ads should give information about the company, products, and services, and the call to action is usually LEARN MORE, SUBSCRIBE, or GET STARTED depending on the brand's goal.
Consideration ads KPIs
Clicks- The times a potential customer clicks on your ad
Traffic- The number of visitors the ad brought to your website
Lead Generation- A qualified interaction with the brand (set depending on the campaign goals)
Engagement- Interactions with the ad like comments, shares and likes.
Video ad Views - On video marketing ads, how many times the video is fully watched.
Messages - Direct interaction with the brand by message.
App Installs- In the case of applications, how many times they were installed.
Conversion
This is the final and obviously the most important stage for the business. The customer is already aware of the brand, they have considered it and now these ads have the objective of making them convert.
In conversion ads, the message should be focused on prices, discounts, or special offers that actually make the viewer finally click and buy. The Call to action (CTA) must be BOOK NOW, SIGN UP or BUY NOW.
Conversion ads KPIs
Conversions- view content, add to wishlist, initiate checkout, and purchase.
Sales - Number of finished purchases
How does Facebook decide what ads to show to each person?
Facebook has the interest to show every member ads that are of their interest. The better advertisers do with Facebook ads, the more they will use them.
When marketers design an advertising campaign, they can target very precise segments according to their interests, location, age, gender, and more. Other things Facebook takes into account is your activity on Facebook (and all the Facebook products) such as liking a Page or clicking on certain ads.
What kind of products or services can't be advertised on Facebook?
Tobacco-related products.
Weapons and Explosives including BB guns and paintball guns.
Derogatory personal, political, and religious content.
Spy and surveillance equipment
Counterfeit goods
Fake documents
Adult Products and services
Penny auctions
Alcohol
Body parts
... If you want to check the full list of forbidden products check Facebook ads policies.
Are social issues, elections, or political ads allowed on Facebook?
Yes. Also, to increase transparency ads about social issues, elections, or politics that have appeared on Facebook on or after 22 May 2018, will also appear in the Ad Library. Facebook considers ads to be about social issues, elections or politics if:
The ads are made by (or on behalf of) a candidate running for public office, a political figure, a political party, or advocate for the outcome of an election to public office.
They're about any election, referendum, or ballot initiative, including "go out and vote" or election campaigns.
The ad talks about social issues in the location where the ad is placed.
What is Facebook Ad Library?
In 2018 Facebook launched the "Ad library" tool. The goal was to provide page transparency in political campaigns running on IG and FB.
In 2019, Facebook opened access to all currently running campaigns and gave everybody the possibility to look through all the ads. That means you can watch ads for any business that has used Facebook paid ads.
Facebook ad Library It's a library where you can search for your competitor ads that are running and are currently active across Facebook products. In the case of ads related to politics or elections, even if the ads are no longer active you can still find them and analyze them (they are stored for 7 years). The information you can find includes, who funded the specific ads, the money spent, the reach amongst different demographics, and more.
You can view and use the Ad Library at https://www.facebook.com/ads/library.
What Ads can you find in the Facebook ad Library?
Any ad that is currently running in any of facebook's products even if you didn't see it yet. The ads appear on the Facebook ad library 24 hours after their first impression.
How to Use Facebook Ad Library?
Before you start, if you use AdBlock, turn it off, otherwise, you won't be able to find your competitors in the search bar.
You don't need to be connected to your Facebook account to use the Facebook ads library.
It's better if you choose "All" when you select a country. This way you can see where the ads are being displayed and you can understand better the targeting strategy your competitor is using.
4. Select the ad Category. If you are not searching for issues, elections, or political ads you just choose All ads.
5. Type the exact fan page name. We will use, for example, Chanel. (No particular interest, it's just because we know they are currently sponsoring a lot of content and that helps our exercise).
Tip: If the bar doesn't let you type in, try to copy-paste the fan page name.
6. You get a full list of the currently running ads this brand is paying for. As we chose All countries, you can see what the brand is sponsoring worldwide.
If you want to see what they are doing locally you just need to change the country in the menu or type in the local fan page.
Also, you can filter by platform and choose a specific date for the impressions.
7. You can see at the bottom of every ad the button See Ad Details. Once you choose the ad you are interested in, you click on the "See Ad Details" button.
8. Once you click on the See ad details button, you can check the versions of the ads and the impressions it got separately
On the menu (...) on the top right you see 2 options: Report ad or Copy ad link. 📷
The next step possible is to save the ads of your interest in your own gallery. There is where the "copy ad link" comes in handy. If you want to learn how to save competitors' ads, read our article getspyder review for a step-by-step guide on how to do it for free.
Conclusion
Of all social networks, Facebook ads are undeniably one of the strongest tactics for marketers to reach and convert potential customers. By giving a public view of the ads that are currently being displayed by all the sponsoring brands, ads transparency vis-a-vis the Facebook public increased.
This tool is of great service for marketers. You can see the full information of a competitor's campaign, the variations of art and copy that worked best for them, and use all that as inspiration when you build your own campaigns by using free tools like getspyder. Check out other Facebook ads spy tools that might interest you.
We hope you enjoyed this article on the Facebook ads library. If you want to be notified of the latest news in the affiliate marketing industry, don't forget to subscribe to lemonads' blog today.
Accelerate your Conversions, Increase your Revenue
with lemonads
---
You would like