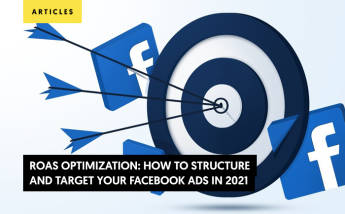 ROAS Optimization: How to Structure and Target Your Facebook Ads in 2022 (Tips inside)

There are many major differences between running a traditional advertising campaign and launching social media ads. Besides the fact that the medium is different, social media ads also require an additional step that's impossible to perform in traditional advertising -- the campaign optimization process. But, rather than making adjustments for the sake of it, you need to focus on return-on-ad-spend (ROAS) optimization to get the most from Facebook and other platforms.
Facebook has billions of active monthly users, making it the most popular social media network on the planet. However, this also means that it's the first platform that affiliates and other marketers turn to when trying to establish a connection with their audiences.
At lemonads, we work with leading affiliates that generate a significant part of their revenue through Facebook ads. Our team is aware that ROAS optimization can have a superb effect on the performance of any campaign and we've seen affiliates make key adjustments that exponentially boost revenue. Below, we'll go over a few ROAS optimization tips, including the best campaign structure as well as targeting settings for 2021.
What Is Return-on-Ad-Spend?
Before delving any further, let's take a look at the definition of return-on-ad-spend. In simple terms, ROAS is a metric that allows you to see how much money you make for each dollar you invest in advertising. In almost all cases, this metric is the same as return-on-investment or ROI. Affiliates can measure the ROAS of their entire efforts, but this metric starts revealing more information when used at a more granular level, such as campaign or ad group.
The formula for ROAS may be expressed in different ways, but the most common is the total conversion revenue divided by the total cost. To calculate the value for specific Facebook ad groups or campaigns, simply place the conversion value and cost of the respective variable to get the right results.
Needless to say, every affiliate finds herself in unique circumstances. Therefore, there is no golden standard for ROAS that can be applied in all instances. To determine if your Facebook ad campaign has a good ROAS, you need to examine your specific scenario, research competitor ROI, and compare your results to the industry standard.
How to Determine If You Have a Good Ads Campaign Structure
A campaign's ROAS is influenced by a variety of variables. However, many affiliates are not aware that the structure of their Facebook ads will directly impact their profitability metrics.
Affiliates that have experience with other PPC platforms may feel the need to develop numerous campaigns with narrow audiences in order to test multiple options at once. That said, Facebook ads tend to perform better when marketers develop a smaller number of campaigns and work with broader audience settings. Facebook's algorithm is incredibly accurate, especially given the amount of information users proactive provide about themselves.
If you're not sure where to start, we suggest creating different campaigns based on the goals you want to achieve and building a variant for each country or region. For example, if you want to run a retargeting campaign in all of North America, break it up into one for the US and another one for Canada.
In addition to the above, having engaging, high-quality creatives is a must in Facebook advertising. The fact that users are not usually searching for goods and services combined with the tailored content found in your audience's newsfeed means that your ads will actually stand out if they aren't up to scratch.
Before You Get Started…
In Google Ads and other PPC platforms, creating a smaller number of campaigns may be regarded as cutting corners. But, in Facebook Ads, dividing campaigns by country, region, and goal actually makes more sense because there aren't as many searches or variables to deal with as with search engines.
Not only this, but the targeting settings in Facebook Ads are so comprehensive that they allow you to create multiple ad groups that cover the different audiences you have to target without requiring individual campaigns.
Some of the reasons why creating fewer campaigns are beneficial include:
Costs Usually Vary By Country
In other PPC platforms, ad costs within the same country can vary tremendously. But, in Facebook Ads, these variations are less pronounced, so it makes sense to create entire campaigns for one single country or region. If you choose to run one campaign for multiple countries, Facebook's algorithm may decide to spend most of your budget on the most affordable option, rather than give you the best ROAS.
Easier Reporting
Analyzing multiple reports can be time-consuming, especially if these are within the same region. Instead, you can target a larger audience and simply breakdown the data you collect in a way that provides valuable insights. If you take the time to slice the data you collect properly, it'll be easier to identify the products that have a clean market fit.
More Organized Campaign Budgeting and Content Creation
Needless to say, creating content and developing budgets for multiple campaigns can take a lot of time, which ultimately results in higher advertising costs. Fewer campaigns mean less content and less planning, relieving pressure and allowing you to focus on other areas that boost your profitability.
Understanding Facebook Campaign Structures
Earlier in this article, we mentioned that Facebook Ads campaigns can have different goals. Now, in this section we'll explore the four main reasons why advertisers develop a Facebook Ads campaign. Sure, the goal is to make more money, but campaigns can achieve this objective in different ways based on the angle affiliates want to take.
Despite the fact that some marketers may set out to achieve other goals, the main objectives of a Facebook Ads campaign can be:
1. Attract More Prospects - 60% of Your Budget
The main goal of any affiliate campaign is to attract a higher number of prospects. In most cases, this type of campaign should take up at least 60% of a marketer's budget, but this number can be as high as 90% depending on the affiliate.
Prospecting campaigns usually feature only two ad sets. But, each ad set can contain as many as 5 different ad variables, so you can run tests and figure out which one gives you the best results. These campaigns tend to be broad because marketers use them to generate traffic and encourage users to complete an action after the first interaction.
2. Remarket Offers to Interested Users - 20% of Your Budget
Remarketing your ads to certain audiences can be extremely profitable, but the average affiliate should not use more than 20% of the budget for these campaigns. According to our observations, affiliates that work with three ad groups for remarketing campaigns tend to perform best, with just two or three ad variations within each set.
3. Build Brand Reputation - 10% of Your Budget
Not all affiliates opt for running brand reputation campaigns, especially if they are working with well-known advertisers. But, in some cases your monetization campaigns won't work because the product or advertiser is too obscure. In these cases, a solid brand building campaign may help you iron out any wrinkles, but remember not to dedicate more than 10% of your budget at best.
Similar to prospecting campaigns, your best bet is to stick to a couple of ad sets and develop at least five advert options to test out in each group.
4. Re-Engage Inactive Prospects - 10% of Your Budget
Similar to remarketing campaigns, re-engagement ads aim to rekindle user interest with a fresh take on the offer being promoted. Like brand reputation, don't invest more than 10% of your budget before you start seeing results, and remember to create multiple (3+) ad groups before with at least 3 creatives per set.
Optimizing Your Targeting Settings for Better ROAS
Once you have reviewed your campaign structure, it's time to optimize ROAS through targeting. Remember, Facebook collects a huge amount of information with users' consent and you can leverage this data to your advantage to implement better targeting settings.
In order to optimize ROAS and narrow down the user groups that get to see your ads, remember to:
Start with General Demographics
The first thing you need to do when setting up a Facebook Ads campaign is to choose where it will run. Rather than narrowing down the users right from the start, run your ads targeting a general demographic and see what segments provide the best results.
Affiliates in some industries can skip this step, but always start off with basic targeting if you're promoting an offer that's suitable for a large demographic.
Narrow Down Audiences By Interest
One of the best things about Facebook is that users actively share their interests with the platform. Affiliates can leverage this and actually narrow down the audience members that see these ads based on what they like. But, keep in mind that you have to have a deep understanding of your audience for this to work.
Be Customer-Centric
Many affiliates and advertisers in general make the mistake of being product-centric in their ads. Modern consumers can recognize advertising in a fraction of a second, so you need to get creative with your content and develop customer-centric materials that don't trigger any negative emotions.
Target Users By Income Level
Seasoned affiliates can usually determine which audience segments will be interested in an offer just by analyzing the product. Take note of the demographic that's most likely to be interested and establish its general income level to use as a targeting setting.
Verify that Your Ads Are Ethical
It may seem a bit out of place, but the quality and overall ethical value of your ads will affect the ROAS of your current and all future campaigns. Remember, just because Facebook cleared an ad it doesn't mean that consumers will consider it ethical. You should take the time to analyze your content and figure out if there are creatives within your campaign that need to be adjusted.
Look at Anniversaries and Other Life Events
Consumers love to celebrate anniversaries, birthdays, and other life events by making a purchase. You can narrow down your settings so that only users that are close to one of these life events see your content.
Ready to Get Started? Find the Best CPA Offers at lemonads
At lemonads, we know that a good ROAS translates to profitable, successful campaigns. We hope that the article above allows you to structure your Facebook Ads campaign and implement the right targeting to get your content noticed.
To learn more about finding the best affiliates programs for Facebook Ads, contact us today and our team will be glad to help.
Accelerate your Conversions, Increase your Revenue
with lemonads
---
You would like