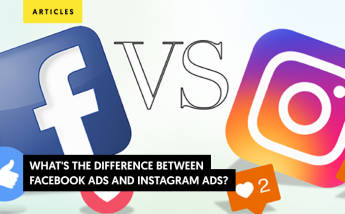 What's the Difference Between Facebook Ads and Instagram Ads?
Do you have a limited advertising budget for your social media? Mother and dominant player of all social media networks and weight over 2 billion users, Facebook. So there is a lot of chance that your customers are hanging out on the platform. On the other hand, you have its counterpart who weight over 800 million users, Instagram.
So which one is better? Which one is the best for your business? What's the difference between Facebook ads or Instagram ads? There are different advantages to run a campaign on both platforms. Running a campaign on Facebook ads or Instagram ads won't give you the same result. Know that every niche is different, every audience is different and ultimately your test and result are going to be different than others.
Here we are talking about the advertising part of these platforms, the paid part, and not about organic and personal content.
Ease of Use - Which One Is Easier To Create Ads for
Both Instagram ads and Facebook ads use the exact same advertising manager, the Facebook Ads manager. This means if you're able to go out there and create an ad campaign for Facebook while you're able to do the exact same thing for Instagram just by clicking another box. Having a single location makes it really easy as a marketer to create different campaigns with different goals. As well as managing and analyzing your insight, it can be easily done directly on Facebook Ads manager.
Reach - Which One Will Give You Access To More People
Here, it's pretty straight forward. Facebook has over two billion users and Instagram over 800 million users. Facebook's demographics cover the widest audience on any platform of social media. If you are just looking at masses of people in general, obviously the edge here is going to Facebook. Facebook is going to be the winner if you need to reach more people. On the other hand, the demographics of Instagram are way younger. So it depends on which type of audience you are trying to reach. If you just started as a social media marketer the easiest way is Instagram ads as it is simplified.
It is important to take a good hard look at your ideal customer avatar. Who is that person that you are trying to serve? Who's that perfect client? If your client is over the age of 35, maybe focus on Facebook ads and if they are under 35 maybe go more for Instagram ads. You want to make sure that whatever content you're creating and you're putting out, looks like it belongs and looks like it wasn't just jammed in out of place onto a platform. Like that really looks like it just doesn't fit in.
Engagement - How They're Going To engage With The Content
Here, it's where Instagram starts to pull ahead as people are ten times more likely to engage with content and specifically branded advertising content on Instagram than they are with Facebook. The winner here is Instagram.
If you are offering anything b2b, you are likely to see more Facebook weighted conversion volume metrics. On the other hand, if you are advertising something very b2c, very visual. For example in the food industry or apparel, you have a better time to be more Instagram focused.
The conversion cost is roughly equal nowadays whether on Instagram ads or on  Facebook ads. Instagram is likely to overtake Facebook but probably not significantly in 2020. It will probably take a few more years. For now and for the immediate future, advertise on both, Don't ignore either Facebook or Instagram advertising.
Video Ads
Both Facebook and Instagram do have relatively robust video advertising options available. Especially with the new introduction of IGTV over on Instagram. That said, Instagram videos are limited together 60 seconds or 15  seconds depending on what format you choose. With Facebook, your videos can go significantly longer which means in this case the winner is going to go to Facebook.
This is especially true because with Facebook and the fact that you've got those longer option videos available you're able to create different audiences based on the percentage of the video they watch. This gives you more options for custom audiences and looks like audiences. The winner of video ads goes to Facebook. If you don't know if a video or image will work best, make a split test but testing both videos and pictures. Use the same caption and the same description for the ads and then test them on Facebook and on Instagram. See which one affects these potential customers the most. It will help you understand which ads lead most people to go on your website store and which one also leads to most people to actually buy something.
You rather have a high conversion rate than have a bunch of visitors on my store with nobody buying anything. A lot of people talk about that videos are the best way to go because if you get people to watch them you're captivating their attention and you are spending time with that customer and it helps continue that relationship. That will help them to click on your website link and maybe buy your product but actually the same thing can happen with pictures.
Image Ads
This one is a pretty easy win for Instagram. After all, the platform was pretty much-designed specifically for pictures. If you've got a brand or a business that's visually appealing or the benefits can be portrayed through the use of a picture, Instagram is obviously going to be a pretty easy choice. Have some Instagram friendly creative options.
If the product does not have an appealing function, it doesn't necessarily have a use but it's something that people would still buy and be interested in because it has a certain effect that appeals to the customer but doesn't have a particular use that you can actually provide in a video. In that case, stick to an image. If your product has an appealing function you have a better time to use a video because you want to convey that certain message of what this product can do for you and how it affects you.
If you are on Facebook you can target people that are most likely to watch a certain amount of video time. On Instagram, if your page posts mostly pictures and the people that are following you are used to seeing pictures from you they will differentiate a normal post to an advertising post if it's a video post.
Boosted post vs Facebook ads
Boosted posts are not the answer ninety-nine per cent of the time. The reason is, it is way more limited, restricted and not as efficient or effective and it is just the wrong thing to do when it comes to Facebook. A boosted post is basically taking a post that you have on your Facebook page timeline and paying money for more people to see it.
The difference comes to automatic placement, where your ads show. When you do boost posts you don't have the option to choose the placement of your ads.
Cool Factor
As great as Facebook is and as valuable a marketing tool it is for any brand or business, there are not too many people that would go around calling it cool. Instagram, on the other hand, is cool and therefore it's easily going to win this one.
Future of Facebook and Facebook As An Advertising Tool
Facebook as a platform at some point is basically going to die. It's been quite a lot of studies on this and one of the conclusions that have been drawn is that people do not join social media platforms that their parents are already on. The people who joined Facebook were at school and the vast majority of Facebook users were either at school. The kids today that are turning 12 or 13 years old, it is probably the sort of age and most people get into social media, their parents are on Facebook and have been for probably over a decade.
They don't want what they're doing to be posted on a platform where their parents can see it.  So they are not going to join Facebook. The demographic is just going to get older and older as time goes on. If you don't have those new people coming in at lower age ranges, eventually it is going to die. But that is going to take a very long time. If people are aging out of the platform that's a process that is going to take decades. It will probably be faster than that because social media tends to be faster about anything else.
At some point, Facebook's going to start becoming a lot less valuable to advertisers but it isn't going to happen for at least a decade
Conclusion
After looking at things like ease of use, reach, engagement, video ads, image ads, and of course cool factors we have an Instagram as a winner. This by no means as an excuse to shut down all of your Facebook ads and put all your eggs in the Instagram ads basket.
As Mark Zuckerberg said: "We believe Facebook and Instagram are different experiences and complement each other." My advice is to use both. Facebook ads and Instagram ads. Mostly because it's not that hard but also because it's just the smart thing to do.
Accelerate your Conversions, Increase your Revenue
with lemonads
---
You would like