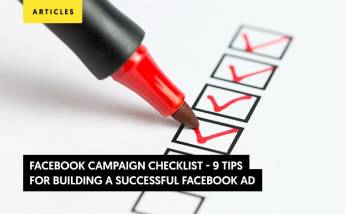 9 Tips for Building a Successful Facebook Ads
Facebook has around 2.5 billion monthly active users and each one of them clicks on 11 ads per month. Many marketers agree that this statistic alone is enough to justify the use of Facebook ads for an affiliate campaign. However, there are also 90 million small companies that use this social media platform for marketing purposes - so crafting ads that capture your audience's attention is challenging at best.
Just like with other types of campaigns, optimizing your Facebook ads is the best way to improve their performance and increase your profit margins. With this in mind, there are dozens of setting options and hundreds of variations you can test, so you need to find a winning combination without sacrificing a huge part of your budget.
This is the reason why we've put together a 9-tip checklist to help you optimize Facebook ads for traffic, leads, and sales.
Without further ado, let's jump in!
Are Facebook Ads Effective?
Despite the fact that the social media giant has been involved in controversial headliners during the last two years, the number of global users saw an 8% increase by the end of December 2019. In addition, research suggests that almost 87% of marketers will use Facebook as part of their advertising plan in 2020, proving that the popularity and reach of the platform remain intact.
Here's where it gets interesting. More than 50% of users have 10 to 20+ categories listed in their ad preferences. These choices give Facebook the ability to create an accurate depiction of its users' interests, resulting in superior ad delivery.
Furthermore, a recent survey found that 26% of users that click on ads report making a purchase, showcasing Facebook's potential for producing sales and leads at a high volume.
How to Optimize Your Facebook Ads for Traffic and Conversions
It's important to note that all affiliate campaigns are different. There's no silver bullet solution that guarantees success. That said, we've put together a general guide to help you make sure you're not leaving any crucial element unchecked.
1. Review or Define Your Objectives
If you're not currently running any campaigns, your first steps will be to define your campaign objectives. Affiliates that already have live campaigns need to step back and review the goals they set before starting.
Lead generation and sales are a good starting point, but you need to be as specific as you can. Create long-term goals and short-term milestones that allow you to evaluate progress and make adjustments at different points of the duration of your campaign.
2. Identify the Best Testing Mechanism
Like all other digital advertising campaigns, Facebook ads need to be tested if you want to determine which versions work best. The problem is that the default interface gets very confusing once you start running multiple ads.
For this step, you may want to find a testing mechanism that works for you. Some marketers design several simple campaigns and bypass the need for a testing platform. Others choose to look for freemium or paid testing tools that provide super advanced features.
Whichever option you choose, just make sure you have the ability to test all the variations that appear in your ads.
3. Pick the Right Moment for Your Conversion Tracker
Facebook's pixel tracking is formidable, so you don't need another tracking mechanism. But, you have to know how to use the pixel feature properly in order to get the most out of it.
First off, you need to analyze the purchase funnel and select the right place for the pixel, which will mark the moment that a successful conversion is completed. In most sales or leads campaigns, it will be the thank you page for either the order or the form submittal.
If you are not getting enough leads or sales, you can choose a moment that is more frequent in your campaign. For instance, users visit the "proceed to check-out" page more often than they click on the "complete purchase" button, so you can use the former as the pixel moment and once you have enough conversions switch to the later.
4. Redefine the Target Area
While basic, this step is crucial for the success of your efforts. Carefully analyze and select the areas you are targeting. Based on your observations, start filtering out areas that are not performing well and keep the locations that are doing well. Facebook allows targeting by country, city, and other granular areas, so be as specific as you can without going too narrow.
5. Choose Placement and Budget Options
As any seasoned marketer knows, choosing automatic placements and automatic bidding options may result in slightly lower profits. If you've got a few campaigns under the belt and you know what works with your audience, you should limit underperforming placements and review the advanced budget options available for your campaign.
6. Improve Your Creatives
The creative elements used in your ads are the heart and soul of your campaign. Facebook users are constantly bombarded with political memes, videos of cute animals doing entertaining stuff, and other attractive content, so you need to develop eye-catching creatives that trigger a response in your target audience.
The four basic steps for creating attractive Facebook ad content are:
- Select the Right Format
You can choose from 8 Facebook ad formats and the best one will depend on the industry you're promoting as well as other variables. Once you've identified the best candidates, start looking for the images and content you will feature.
- Develop Eye-Catching Creatives
Creating alluring ads is an art form. Users have developed severe ad blindness, so you have to find a base image that stirs emotion, choose a color scheme that catches attention, and put them together in a cohesive way. Just make sure you are allowed to use the images that will be featured on your ad and try to steer clear from creatives that look like stock photos.
- Revise the Ad Copy
Different formats have distinct character limits, but the key is to keep it simple and use short, concise language. A study by MarketingProfs showed that Facebook posts with 40 characters or less have 86% higher engagement than longer updates, so make sure you pick your wording carefully.
- Work on the Call-to-Action
The final piece of the puzzle, a CTA tells your audience what to do after engaging with your ad. Keep in mind that hard sales tactics rarely work on social media. Instead, you can use phrases like "take the next step today" or "start taking advantage of XYZ now" in order to guide users to the end of your funnel without setting off any alarms.
7. Focus on Continuity
Users that interact with your ads can experience frustration for a number of reasons, but continuity may be the most aggravating issue. Your audience expects to see continuity across your ad and the landing page it leads to. If your ad promised a specific freebie or discount, then the landing page should reinforce this statement and use similar wording in order to feel legitimate.
8. Designate Segmentation
Facebook allows you to segment your audience and target different groups based on their interest, life events, and other variants. Look at the offer and the industry in order to decide what segments will yield the best results.

As a general rule of thumb, it's much better to keep your segments broad and identify the best performers. Narrow segmentation will only show your ads to a limited number of people and implementing it too early may increase your costs without producing the results you're looking for.
9. Transform Analytics Into Something Useful
The awesome thing about Facebook is that users provide huge amounts of information willingly, which you can use in a wide variety of ways. Once you collect enough information about the users that interact with your ad, you should take some time to thoroughly review the numbers and find ways to turn this data into actionable knowledge.
Needless to say, this process is unique from one campaign to another. The key is to identify user patterns that result in positive interactions and determine what factors are causing the trend. You may also use this information to find elements that affect your campaign negatively and learn how to avoid these pitfalls.
One of the best ways to use analytics information to your advantage is to look at your campaign scheduling and identify the times that your ads produce the best results. You can then create a few test ads and run them at strategic times in order to determine what the best option is.
Understanding Facebook's Optimization Options
During your setup or optimization, you will notice that Facebook has ad delivery optimization options available. These basically tell Facebook what actions you want it to take in order to help you achieve your goals.
The most commonly chosen optimization options include, but are not limited to:
Conversions - Aims to produce conversions such as lead generation or sales, tends to be the most costly option
Link clicks - Optimizes delivery to attract users that are more likely to click on your ads, more affordable than optimizing for conversions
Impressions - Optimizing for impressions means that your ads will be shown as often as possible, it's also among the most affordable optimization options but yields low conversion rates
Reach - Focuses on increasing the reach of your ad, also an affordable option but it has low conversion rates
Learn More About Optimizing Your Ads Campaigns
There are different approaches you can take to Facebook marketing. The platform allows you to humanize the brand you're marketing, which is great for brand awareness. However, you can also create sales and lead generation campaigns that produce stellar numbers, as long as you take the right steps.
To learn more about Facebook ads and other affiliate marketing tools, stay tuned or contact lemonads and we'll be happy to help.

Accelerate your Conversions, Increase your Revenue
with lemonads
---
You would like