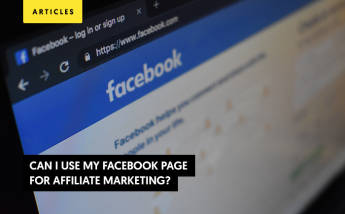 Can I use my Facebook page for Affiliate Marketing?
We use our Facebook page for affiliate marketing so, why shouldn't you? Affiliate marketing is allowed on Facebook as long as you're doing it right!
Ready to discover with us what you need to know and do, to get your Facebook page running with affiliate marketing?
Well, let's get that knowledge you need and get started!
Our article will cover, all the following steps, to get your Facebook page for affiliate marketing started beginning with:
How to become an affiliate marketer;
Facebook Groups for Affiliate marketing;
Facebook page SEO for Affiliate marketing;
Top 5 steps to apply to your Affiliate marketing on Facebook to earn big money!
1. How to become an affiliate marketer
Simple!
As an affiliate marketer, your strategy would be to first, choose that niche you love, which consists of a theme or topic you're very passionate about, and then start to create a Facebook page!
At that point, you'll have to promote all relevant products on your Facebook page through affiliate marketing!
Facebook does allow you to do Affiliate Marketing, but that doesn't mean you can spam everybody with your affiliate links in your Facebook ads, otherwise, Facebook will ban you by taking off your Facebook page in no time.
So, let's get the basics here to get you started with your Facebook page for affiliate marketing!
A Facebook page allows you to create an authentic appearance on their social networking platform, and get that chance to reach many people if you do your SEO work and affiliate marketing wisely.
To do so, as a page owner, you'll have access to many insights such as page likes and views, post reach, engagement, track followers, and video statistics you must check to know which moves you should take next.
Let's say you love cooking and create amazing, unique dishes with a personal touch. This is already giving you the idea of which topic you should be talking about and which products you could be promoting or which services there are that are related to cooking with step-by-step videos with recipes related to that video in a blog post, etc.
You could also think of promoting deals and discounts for cooking classes!
Affiliate marketing is how you are doing it right with your loved niche!
The key to success would be relevant and high-quality content to go along with your Facebook Ads.
You'll need to earn your audience's trust by giving them useful insights and fully answering their queries and as you do so, you'll see in no time how many will be following you as their preferred brand.
So, what do you need to know to become an affiliate marketer?
Here, we'll focus on the seven steps to launch your own profitable affiliate marketing business quickly and easily promoting what you love:
1. Choose a niche and start creating your Facebook page for affiliate marketing!
2. Know how to create engaging ads with pictures, videos, great content with insights and you don't want to forget to insert your CTA (call to action emoji or button) pointing out your link or by clicking the CTA button by entering directly to the landing page you want to drive your audience too!
3. Choose the right Affiliate Network that fits your needs and choose wisely in Which Affiliate Program make money on Facebook Ads
4. Research and pick the right Affiliate Products you think are relative to your niche Facebook page.
For example, if your niche would be cooking, where you are giving out many insights on recipes, step-by-step videos on how to make a dish, then promote a product you found useful making that same dish!
5. Consider buying the Products before promoting them
(as we made the example of a Facebook page with a niche like cooking, you would be promoting products you found useful in making cooking easy and smart with your related insights within your Facebook Ads's content)!
As we said, promoting a product you've used and on which you can give out the pros and cons, would help your user in making that decision in buying the product or not. Of course, you would like your audience to purchase that product through your Facebook page for your affiliate marketing to work and gain your percentage, but always make sure you are selling something worth selling to gain your audience's trust and keep them engaged by your page!
You'll have to be that someone they want to rely on and not get fooled!
6. Consider having a landing page where you can drive your audience to.
It's not a must and you're going to put more effort into creating a landing page, but it will give you that professional look and it will turn your passion into profit in no time with a well-structured page!
There are many tools with easy platforms to create your landing page!
Check some of our favorites here below:
Your landing page could contain old recipes you've posted on your Facebook page, videos, courses for more difficult recipes making paying classes, products for your Facebook affiliate marketing, and so on!

Learn more:  create a successful landing page and best Landing Page Builder

7. Utilize Social Media Marketing to get as much traffic as possible!
As we all know, everyone is on Social media and you could reach higher traffic by promoting those products to the niche that you love!
Facebook and YouTube are a must for creating those excellent Facebook Ads!
And, you do want to have Instagram together with your Facebook Page for Affiliate Marketing too!
Driving your audience from these platforms to your products with Affiliate marketing is the goal you need to set!
2. Facebook Groups for Affiliate marketing

As we said before, to use Facebook Groups for affiliate marketing in 2020, you should:
Select a niche;
Choose an offer;
Design your website or landing page;
Set up relevant tracking tools;
Start your group and promote content;
Make relevant offers;
Build those relationships with engagement and trust!
As we overviewed, after creating your niche, choose all the offers you find relevant!
With affiliate marketing, you will be making that extra income online by letting people know about what your business/products offer and how they can solve people's problems.
But to make affiliate marketing successful for you, conversion is important!
This is why you must engage your audience actively for them to be interested, which will lead them into purchasing those products you are promoting through your affiliate links.
The potential in earning big is huge as long as you are following all the affiliate marketing strategies.
Tracking is one of those strategies you want to follow to understand the growth of your affiliate marketing and analyze the statistics, to keep your income big and without risking wasting your money! Remember, you're investing with your Facebook Ads, tools, platforms, and landing pages, so use your money wisely.
Leverage your affiliate marketing by tracking with the following software platforms and see which fits you best!
Ready to get into Facebook page SEO for Affiliate marketing?
Let's start and get our last tip to get started with your Facebook page for Affiliate Marketing!
3. Facebook page SEO for Affiliate marketing
To get those affiliate marketers to plan to use Facebook as their primary platform for marketing, SEO will be the key that will affect your results.
Go for a single, carefully selected, long-tail keyword, and since Google puts great emphasis on the first word in your Page title, place it accordingly.
On your Facebook page, when you will target your audience and target your lookalike audiences, you will also need to use the right keywords and content strategies to reach that audience to view your posts or pages!
So, let's get started, otherwise, with no views, there will be no affiliate marketing sales!
Keywords and rankings are as important as general SEO marketing when you are posting content on Facebook since your content will show up in relevant searches through other search engines like Google!
When you focus on promoting a very specific product on your Facebook page with an affiliate link, whoever is searching for that product on Google, Google itself could lead that someone to your page!
Facebook is already helping you by hosting your content, but you still need to focus on SEO to win your marketing strategy to strike that earning you've set to achieve.
Facebook has a suite of tools that can help you by directing you to whom you need to target and where to reach them and see your growth.
Ready to get those 5 steps to apply to your Facebook page for Affiliate marketing and earn BIG? Let's go!

4. Top 5 steps to apply to your Affiliate marketing on Facebook to earn big money!
Now that you know what rules you need to follow to create your page with a niche and which product you should focus on, let's see what makes your Facebook page with affiliate links in your Facebook Ads, engaging and get that traffic going!
There are several ways to use these links effectively that can earn more attention from your audience than simply placing a link on your Facebook page with a few words about the product.
The one thing you should never do is place random links with no content or pictures!
So, let's get this right!
Make Image Galleries
Images have a much higher reach on Facebook than text posts.
Most people, when they start scrolling through their feeds, are far more attracted by eye-catching photos than if they would be by content posts.
You can create an image gallery by posting appealing photos of the product you want to promote in one post, along with a great description of the product followed by your affiliate link.
And remember, if you post frequently only links with no engaging content videos, you could risk losing followers who don't like to see so many promotional posts. Be sure you catch their attention with products, news, tips, anything that refers to your niche to benefit a higher reach and consistency of your Facebook followers!
Create Video Reviews or Step-by-step if it's about crafting products or cooking recipes, etc. and Link Products You've Used!
The more your Ads are of different types on your Facebook page, the better it will be to achieve engagement and more followers!
It will help you with drawing a bigger audience if your ads have not only images but also some video content. Videos are a good way to engage your audience and you can create tutorials focused on the products you want to promote with your affiliate links.
Within the content of your Facebook Ad, you can place your affiliate links to the different products you've used or talked about in your video, especially if you are doing a tutorial.
One great thing to do, to drive a lookalike audience to your video, is by leaving a comment in other people's videos on other Facebook pages like "Uh, neat! I've done it too, but with different products I loved", which may help your post reach traffic and engagement by driving that audience to your Facebook page and watching your videos where they might click on your affiliate links.
Promote Your Business Posts on Your Personal Page
After you create posts with affiliate links on your Facebook page, you should start remembering to share them on your profile.
Your friends and family will usually help you get more engagement out of your posts, which directly affects your post reach, by commenting, liking, or sharing them with their friends reaching higher traffic.
You can also encourage your friends and family to help your business by sharing your Facebook posts weekly.
Link to Your Blog Content on Facebook
If you are also doing content blogging, you could promote those blog posts that include affiliate links on your Facebook page and profile, making it catchy and engaging so that you can gain a higher post reach.
Give out insights on what your blog post is about, how it can help people, and some of the helpful products that you'll talk about in your article which you find brilliant and a must to have (always products related to your niche).
Make A Facebook Group for Links and Conversation
Facebook groups can sometimes receive more engagement than pages regarding the topic you are talking about, "your affiliate niche".
Although it's important for your business to have a Facebook page, you can create a group for additional engagement from followers who are investing with your business.
Imagine, for example, that your niche is about graphic design or UX/UI tools... a community could help those who have questions or are just beginning to use some tools that others are already experts with and could give helpful advice.
Groups are perfect for having conversations with your followers. It could make it easier for you to promote products with your affiliate links to those who may have an interest in them.

To go further, we advise you to read the article concerning the best spytools for Facebook ads
With your expertise, carry out conversations and help others learn the why and how to use those products you are promoting!
You are ready to go and use your Facebook page for Affiliate marketing!
Accelerate your Conversions, Increase your Revenue
with lemonads
---
You would like