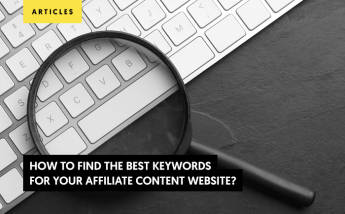 How to Find the Best Keywords for Your Affiliate Content Website?
Finding the best keywords is essential for your campaigns. The concept of starting a successful affiliate marketing website is pretty easy to understand, but this doesn't make the process any less difficult. In addition to finding a specialty that suits your skillset, you also need to conduct affiliate marketing keyword research to supplement other parts of your promotion efforts. However, choosing the right terms isn't always easy, especially if you don't have much experience.
At lemonads, we work with thousands of affiliates from different parts of the world, so we've seen first-hand how the right keywords can boost the performance of good content. But, we also know that there are dozens of platforms and techniques you can opt for to conduct your affiliate marketing keyword research. There is no silver-bullet solution either, so affiliates need to learn the basics of finding the right terms and develop a custom approach for each specific case.
Below, we've put together an article explaining the importance of keyword research for affiliates. Plus, we'll also discuss tips on finding the best affiliate marketing keywords that will help you develop better content later on.
Why is Keyword Research Important?
Before going any further, let's go over the reasons why affiliate keyword research is important. The main goal of an affiliate website is to attract users and present the most relevant offers to each person that visits the site. So, keywords work as the fuel that powers your online marketing efforts because they allow you to connect with audience members that are actively looking for your type of content.
In simple terms, keyword research is important because it:
Drives Organic Traffic
Search engines like Google process billions of searches every single day. These platforms have the power to drive virtually unlimited amounts of traffic to your sites. But, the only way to tap into their potential is to implement the right affiliate marketing keywords.
By choosing terms that have large search volumes, affiliates can drive a significant amount of organic traffic to their sites. The best part is that this is the most cost-effective way to send engaged users to your pages as you don't have to pay for each lead generated. That said, you have to implement a solid strategy to help you get the top search engine rankings to achieve the best possible results.
Helps Affiliate Website Connect with Users Performing Relevant Searches
Taking the time to find keywords for your website is important because these are the terms that your audience members use when performing searches. By taking the time and identifying the terms that correlate the most to the niche you cover, you'll be able to connect with users who are conducting searches that are relevant to your content.
With the above in mind, make sure that the content on your site is related to the keyword being targeted. Some unethical site owners tend to overload their pages with keywords that are not relevant to boost traffic and exposure, but this tends to result in lower Google rankings after a while.
Ensures a Consistent Approach Throughout All Channels
It's normal for affiliates to complement their content monetization process by running campaigns on other platforms promoting the same offers. The affiliate keyword research you perform for your content can also be repurposed and used in other areas of your monetization scheme, including ad campaigns and email marketing sequences.
This is important because users tend to reach a consistent approach. If you keep your approach organized and implement the same keywords, you increase your chances of success across the board. Which, in turn, can increase revenue without requiring a bigger investment.
How to Choose the Best Keywords for Your Affiliate Content Website
Now that we've covered the importance of choosing the right keywords, let's go over the steps to find the best terms for your affiliate content. To find keywords for your website, you need to learn as much as you can about your audience. After all, the objective is to bring more visitors to your site, so the best way to do so is to know how they are searching for you on Google.
Remember, there is no exact formula for identifying the best affiliate keywords for your site. You have to evaluate your unique situation and determine what additional measures you need to take to find the best terms.
Let's take a look at some of the general steps you need to take to perform keyword research for your pages from scratch.
Determine the Exact Niche
You should perform keyword research for each page on your site. Because of this, you should find the specific niche for each piece of content and make sure that the keyword group is closely related to this topic.
For instance, you may have an affiliate site about cooking, but you can feature recipes, cookware reviews, and top chef profiles, among other niches. So, you should clearly define the main idea you want to target before you begin your research.
Learn Which Statistics Need to Be Monitored
It's easy to get carried away by the array of statistics available when conducting keyword research. When analyzing keywords, affiliates will be able to see the monthly search volume, how much traffic is generated by each term, and how difficult it is to rank for them, among metrics.
Instead of focusing on getting the terms with the highest search volumes right away, look at your niche and website. If you specialize in a specific industry, like sustainable designer dog collars, you may be better off targeting low-volume keywords that drive fewer visitors but tend to produce a higher number of conversions.
Choose the Best Keyword Research Platform
There may be some up-and-coming options, but at the time of writing this article, there were no ultra-reliable affiliate marketing keyword research tools available. However, traditional affiliates that run their own platforms can rely on conventional keyword research tools designed for search engine optimization (SEO) purposes.
There are dozens if not hundreds of keyword research tools available, so choosing the best platform isn't always easy. Based on our observations, the ideal platforms are well-known tools developed by reliable companies, for instance:
Google Keyword Planner
Google is the most popular search engine in the world and the company has developed the Keyword Planner, which allows users to analyze the terms used to conduct queries on the platform. This tool is available for free, but it was designed for Google Ads campaigns and offers relatively basic features when compared to some third-party alternatives.
With the above in mind, using the Google Keyword Planner is a great way to find the best affiliate marketing keywords on a budget or simply cross-check the results you get with other tools.
KWFinder
KWFinder is a well-established tool that allows users to perform keyword research at a relatively low price. Powered by Mangools, a reliable developer of SEO tools, KWFinder has the ability to uncover different types of keywords and unveil the terms that the top competitors are using in their content.
Mangools SEO tools like KWFinder are known for being affordable and delivering awesome results, but this platform is still relatively basic for affiliates that love analyzing large data sets.
SEMrush
SEMrush is an advanced keyword research tool designed for SEO, so it's perfect for affiliates that want to increase the number of visitors to their sites. This platform allows affiliates to see the number of searches, top competitors, approximate PPC cost, historical keyword data, and other details that provide a holistic view of each term.
The only downfall to SEMrush is its relatively high price tag and it's also worth mentioning that some affiliates have to learn how to maneuver the interface before they feel comfortable, so using this platform may very well require a transition period.
AHREFS
AHREFS is in the same league as SEMrush in terms of quality, reliability, pricing, and complexity. In addition to research by keywords, affiliates can also analyze competitor sites and create keyword groups based on the leading platform's best content. Then, the affiliates conducting research can develop content with their findings and compete with the leaders right off the bat.
Identify Short and Long-Tail Keywords
When finding keywords for your website, it's easy to get carried away and focus on general terms that drive more traffic. However, this doesn't always result in high volumes of relevant visitors, which can result in inflated vanity metrics that don't showcase the real performance of your platform.
The solution is to target both short and long-tail keywords. Short-tail keywords are general terms that consist of one or two words. These should be included in your content, but they don't necessarily have to be the main type of keyword you target.
Long-tail keywords give search engines a bit more context because they are specific terms that consist of two or more words. As a general rule of thumb, these usually have lower search volumes, but users that perform these queries are more engaged and tend to produce higher conversion rates.
Keep Intent in Mind When Choosing Keywords
Every single user has a certain intent in mind when searching. There are many subcategories, but these can usually be divided into commercial or informational intent. You need to figure out which intent works best for your affiliate content and ensure that the keywords you choose adequately match the terms you choose for each page.
Analyze Competitors
Affiliates should use tools like SEMrush, AHREFS, or similar alternatives to conduct competitor research and target the keywords that are generating the best results for the leading sites. However, remember to maintain relevance and context in mind. This means that if a keyword produces great results for competitors, but it doesn't align with your content, you should avoid targeting it because you'll likely find another solid choice that is closer to your usual niches.
Learn More About Building the Best Affiliate Marketing Website
Building an awesome affiliate marketing site requires a solid approach to design, site development, and content, which includes a solid keyword research effort. To learn more about the different steps you need to take to establish a solid affiliate site, stay tuned to our blog.
Ready to start monetizing your site? Contact lemonads today and our team will be glad to discuss your project.
Accelerate your Conversions, Increase your Revenue
with lemonads
---
You would like