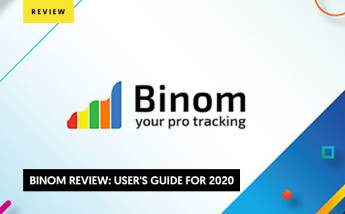 Finding the Ideal Tracker for Your Campaigns: Binom Review
Finding the right tracker for your marketing campaign is becoming more challenging every year. This is not due to a shortage of options -- on the other hand, there are so many trackers available that finding the best all-around tool is more difficult than ever before.
With the above in mind, Binom is a tracking tool that has been drawing a significant amount of attention in the past few years. At lemonads, we've seen hundreds of affiliates and other marketers use Binom to improve the performance of their campaigns.
So, we've decided it's time to test it out and give this tracker its own review.
What is Binom?
Before going any further, it's important to understand a bit about how Binom works. Unlike cloud-based platforms, Binom is a self-hosted tracker that allows you to monitor every single aspect of your campaigns. It's powered by a robust structure and includes a wide array of features, which are presented through an intuitive, user-friendly interface.
Although it was launched in 2017, this tool is already a favorite among media buyers and other marketers. Which makes a lot of sense because it was developed by a team of successful affiliates looking to fill the gaps that products in the market had at the time. This resulted in an ultra-powerful tool designed for marketers by marketers, which, after due consideration, left us impressed to say the least.
Binom Overview and Notable Features
When it comes to tracking software, the three key elements that affiliates want is efficiency, convenience, and accuracy. Binom checks all three boxes through a multitude of features.
In the pure tracking essence, Binom does a phenomenal job. Marketers can choose from 30 different click parameters that include location, internet service provider (ISP), connection type, user uniqueness, bot filters, and other options. The tracker also allows you to work without redirects, brings improved postback capacities, and imports click costs directly from the traffic source.
Affiliates can create unlimited additional domains, update the conversion status of your traffic, and transfer conversions back to the source.
In addition, some of the most interesting features for lemonads users include:
Integrated Landing Pages
Binom offers integrated landing pages, which means that you can upload the lander to your trackers so that they're located on the same server. This removes an additional redirect as Binom loads the landing page directly, improving tracking performance and loading time simultaneously.
Lander Protection and Free SSL Certificates
Lander protection provides a certain degree of security for landing pages. This feature prevents anyone with a direct link to your lander from accessing the page, so all users must come via your ads. Binom also offers another type of protection in the form of free SSL certificates, which are considered a requirement for modern online marketing.
Estimated Approval Rate
The estimated approval rate feature on Binom can help you make projections in order to keep track of your performance easily. Through this feature, you can set the expected approach rate for each lead, plus you can also set projections for profit and ROI. This is especially helpful when running campaigns that have longer funnels, like cash on delivery campaigns.
Domain Checks for Google Blocking
Affiliates have long experienced issues with Google blocking their domains. The good news is that Binom integrates Google's Safe Browsing API, which means that you can manually check how your domains are doing. The process is relatively simple and it tells you whether there's a problem, which campaigns are being affected, and how to fix it.
Exit Point Tracking
Depending on the industry and other variants, affiliates can sometimes have more than one CTA in their landing pages. Although the result is the same for all of them, knowing which ones are having better performance can help you build better campaigns. Exit point tracking is a feature that tells you which CTA link users are clicking on, so you can test a similar setup with other ads.
Live Monitoring
While it's not an official "live monitoring" feature, Binom does provide a lot of up-to-date information for affiliates that are addicted to the refresh button. It may take some learning, but once all the columns make sense, marketers will be able to track statistics like the number of clicks, lead, and profits generated in the last 60 minutes.
Instant Click Processing
There's no denying the importance of speed in online marketing. Consumers are not willing to wait for your page, so every millisecond counts. Even when doing run-of-the-mill tasks, having a fast tracker can save you a significant amount of time on a daily basis. Binom is known as one of the fastest trackers in the market because it processes clicks in 5 milliseconds or less, regardless of factors like traffic volume.
Lightning-Fast Reports
Affiliates and other marketers may need to generate dozens or even hundreds of reports every day. The creators of Binom put a lot of emphasis on this area and the result has been a tracking tool that provides deep analytic reports in a matter of seconds. With just a few clicks, members can generate detailed reports that include the usual metrics as well as more obscure statistics that give greater insights.
Zero Losses Guarantee
Ensuring the accuracy of your tracker is essential for proper optimization. Unfortunately, not all trackers have the capacity to register all clicks, especially for large-volume campaigns.
Binom boasts of a zero losses guarantee, which means that every single click that is sent to the tracker will be quickly registered and made available for analysis.
Reliable Storage
Some trackers still rely on traditional click storage methods, but these approaches are susceptible to server emergency reboots. Binom utilized transactional engines to store clicks as soon as they're collected, so the performance data of your campaign remains safe even when there's a system malfunction.
Group Categorization
Succeeding as a marketer with a chaotic approach is almost impossible, but keeping track of dozens of campaigns is challenging. In Binom, you can divide your efforts by campaigns, landers, and offers by category, which allows you to be more structured during your setup and optimization stages.
Notes and Comments
The notes and comments features allow you to leave notifications inside of the tracker, so you can keep these observations in mind when you optimize your campaign.
Offers and Landing Page Storage
Uploading landers and creating offers every time you want to launch a campaign is tedious. Binom cuts out a huge amount of work by allowing you to store offers and landing pages right on the tracker. Once uploaded and created, all you have to do is access your database in order to use saved landers and offers whenever you're ready to use them.
Additional Users
Affiliates looking for collaboration-friendly tools will also be happy to know that Binom allows the unlimited creation of additional users. You can also set different limits and restrictions, so your team will strictly see the information that's relevant to their work.
Traffic Distribution
Marketers can also determine how they want to distribute traffic directly on Binom. You can use different paths to test out landing pages and direct links, set different distribution parameters, view the information on the reports, and set smart rotation to optimize conversions.
Grouped Statistics
Binom provides 26 different metrics to help monitor the performance of your campaigns. However, the most impressive part is that it allows marketers to combine all 26 without any restriction, so you can study your campaign from different angles and setup filters that enhance the optimization process.
Easy Whitelists and Blacklists Filtering
Creating whitelists and blacklists is a crucial part of any campaign. Binom aims to simplify the creation process, so marketers can toggle between different filtering settings in a few clicks.
Pricing and Support
As most seasoned affiliates know, finding a quality tracker with a sound cost structure and a reasonable price tag is not that easy. Binom is a breath of fresh air in this sense. The company offers a single subscription tier that you can obtain through a monthly or yearly subscription. It's worth noting that marketers opting for the yearly subscription receive a sizable discount, so it's worth the investment if you have the money.
Binom also delivers some of the best support in the industry. Its world-class team is available via Skype, email, or live chat and it can provide hands-on assistance with issues like tracker installation server setup, and other common issues.
Tips to Succeed with Binom Tracker
There's no doubt that Binom is a powerful tracker. Even though its interface is relatively simple, it's important to note that it brings a number of advanced features that you need to get used to before using them at their max potential. You may want to take the time and explore some of Binom's advanced capacities, such as:
Custom columns
Events
Multivariable testing
Trends charts
Importing/exporting from Voluum and other platforms
Learn More About the Best Analytic Marketing Tools
Having the right marketing analytics tool will help you assess the competition's efforts and your own performance. Binom is a superb tracker that left us impressed thanks to its arsenal of useful and functional features designed to simplify the campaign management process.
If you want to learn more about the best tools for affiliates, media buyers, and digital marketers in general, stay tuned to our blog or contact us today and we'll be glad to help.
Accelerate your Conversions, Increase your Revenue
with lemonads
---
You would like