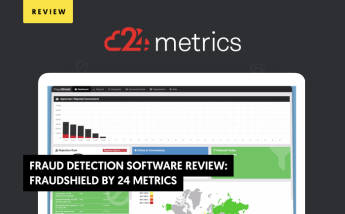 Fraud Detection Software Review: FraudShield by 24 Metrics
Building and launching a successful campaign around your Affiliate Program takes a lot of hard work and creativity, but you also have to emphasize security in every step. Click spamming, domain spoofing, and other forms of digital fraud have plagued the internet almost since day one, draining a large portion of advertisers' budgets without producing anything in return.
While digital marketing is relatively new, fraudsters and other unethical parties have focused on finding ways to swindle businesses and marketers out of their advertising dollars with deceitful tactics.
For this reason, advertisers, marketers, and even ad networks need to take the right steps to protect their traffic and eliminate deceptive players from the entire ecosystem.
To help fight fraudsters that negatively affect the whole industry, we've put together a series of fraud detection tool reviews that help you choose the best tools to safeguard your campaign or network as a whole.
For the first post of this series, we'll review FraudShield by 24Metrics, tell you how this anti-fraud platform can benefit your campaigns, and give you tips on using this solution to nip deceitful ad interactions from the bud.
A Quick Overview of Fraud in Advertising
Last year, it's estimated that ad fraud cost advertisers close to $42 billion on a global scale. If left unchecked, deceitful interactions and ad fraud as a whole may result in an annual loss of $100 billion by 2023, severely crippling the digital advertising industry.
Fraudulent interactions are almost as old as internet marketing, but this issue has gone largely undetected until the last few years. After reports confirmed that more than 50% of internet traffic is generated by bots, advertisers, ad networks, and other stakeholders have started focusing heavily on fraud prevention and detection.
With this in mind, the internet is still used by more than half of the global population, so it's still a great option when it comes to marketing your services and products. The key is to work with partners that emphasize security while taking the necessary steps to prioritize fraud detection and prevention in your own campaign.
Introducing FraudShield by 24Metrics
24Metrics is a company that provides fraud detection and protection solutions for the affiliate marketing industry. Launched back in 2013, FraudShield is 24Metrics' most powerful creation and it's widely viewed as one of the best anti-fraud tools you can use in your campaign.
Designed and built by marketers for fellow marketers, FraudShield offers a customizable interface that provides clear and transparent data for the betterment of your campaign. Integration-friendly, easy to implement, and ultra-granular, FraudShield can help detect individual instances of fraud as well as fraudulent patterns, resulting in significant savings for advertisers.
Features and Benefits of FraudShield
FraudShield's headquarters are located in Germany and its product is the perfect example of German innovation. In addition to offering a robust fraud detection platform, 24Metrics has a superb support team that assists customers when they need it most, listens to feedback, and takes steps to improve every client's individual experience.
Some of the most important features found in FraudShield include:
Robust Fraud Detection
The most important feature of FraudShield is its robust fraud monitoring and detection capacities. This fraud monitoring platform employs a multi-layer analysis mechanism that can help identify a variety of different fraud types and block malicious postbacks, all in real-time.
Not only this, but the platform is also compliant with 100% of the measures and requirements set in the GDPR laws implemented in 2018.
This means that the company does not store your traffic's personal data or IP addresses, plus the required information that's stored for functional purposes is automatically removed after 6 months.
Moreover, FraudShield can detect common types of fraud, such as:
Click Spam
Click spam is the process of generating a large volume of deceitful clicks to overwhelm the security measures put in place by the ads network. The goal is for a portion of these to go undetected, thus draining the campaign's budget.
VPN and Proxy Traffic
There are many CPA offers that only provide payments for traffic from certain regions, so advertisers usually toggle the targeting settings to filter out users from unwanted areas. Through VPNs and proxy connections, fraudsters have developed ways to sell low-quality traffic that appears to come from the US, UK, and other top-tier countries.
Duplicate IPs
When running a CPI campaign, affiliates may see multiple installs that come from the same IP. Known as duplicate IP, this form of traffic manipulation is extremely popular because fraudsters can generate a large number of installs in a short period of time.
Even though more than one device may be using the same network, chances are that each user will see a specific set of ads tailored to his or her browsing experience. This is the reason why duplicate IPs are known as a tell-tale sign of fraud.
Wrong-App Versioning
Another common form of mobile ad fraud is wrong-app versioning. In many cases, advertisers only pay for installs of a certain app version. Deceitful parties can produce fraudulent installs from the app's earlier version and make it seem like a new install, taking credit for the conversion without actually providing value.
Incentivized Traffic
Incentivized traffic is much less valuable than users who have not received any incentive to see an ad, which is the reason why advertisers usually prefer to avoid visitors that have been offered a reward.
FraudShield analyzes a huge huge collection of variables to help determine if the traffic on your campaign is incentivized and block any postbacks that are sent as a result.
Conversion Reporting
FraudShield's conversion reporting feature has also made it an extremely popular choice among media buyers, advertisers, CPA networks, and ad networks alike. Users can generate detailed reports about their conversions to analyze data patterns and draw conclusions based on the results.
The platform's reporting feature gives clear reasoning behind each conversion rejection, allowing your marketing team or the publishers on your network to avoid them in the future. Plus, FraudShield users can also view additional parameters like ClickIDs and SubIDs and export them in CSV format or through an API depending on how the data is being used.
Filtering Capacities
One of the most notable features found in FraudShield is its customizable filter. The filtering settings can help break down data by affiliate, offer, or advertiser, depending on who the user is. Furthermore, you can also put offers into specific groups and set specific filters that allow you to see duplicate IPs, click spam, and other types of fraud.
Dedicated 2-Way API
FraudShield offers a dedicated 2-way API that developers can use to implement the platform's fraud monitoring features into different environments.
Among other things, the API allows users to retrieve fraud reports in JSON format, produce detailed briefs for individual conversions, and automate an almost infinite number of processes.
Dynamic Postback
Dynamic postbacks can help affiliates and publishers ensure that all conversions are legitimate and credited properly. This feature lets users set specific filtration settings so that postbacks are only fired once these criteria are met.
Like other features on FraudShield, dynamic postbacks are fully customizable depending on the partners, affiliates, products, or other parameters.
Multi-Tiered System that Allows Maximum Flexibility
Unlike other fraud monitoring platforms that provide a one-size-fits-all solution, FraudShield has developed a multi-tiered pricing system suitable for all advertisers, media buyers, and networks.
FraudShield users can opt for one of four pricing options, which are called the Professional package, Enterprise, Dedicated, and Custom plans.
All of FraudShield's services include basic capabilities like duplicate user detection, IP-pattern detection, fingerprint analysis, country filter, and other filtration features. Not only this, but you'll also have access to reporting as well as integration features such as dashboard overview, conversion reporting, mobile app tracking, and extensive integration features.
Some of the variable features you get in the different plans include:
Protect 50k+ Conversions every month
This fraud monitoring platform by 24Metrics can process as many as 50,000 conversions on the lowest-tiered plan. Networks and large-scale advertisers can also opt for the Dedicated plan which allows up to 400,000 conversions or get unlimited access with the custom plan.
Easy 1-Click Integration
1-click integration is available in all the plans, so implementing FraudShield into your network or campaigns should be a breeze. Users that opt for the Enterprise plans and above will have access to a dedicated account manager that can also help with integrations as well as other parts of the setup and operation processes.
Multi-User Support
FraudShield provides multi-user support starting with the Enterprise plan, which is ideal for large media buyers, networks, and similar users. And, your team will also have access to two hours of web training materials, so they can hit the ground running as soon as you deploy FraudShield.
Support Via Email and Phone
All FraudShield users have access to the platform's superb support team via email. The support team at FraudShield is extremely responsive and they can help troubleshoot errors, address billing issues, and provide solutions to other setbacks.
Users in the Enterprise, Dedicated, and Custom tiers can also contact the support team via phone for more urgent matters.
FraudShield alternatives and competitors
Find Out More About the Best Fraud Detection Tools
Digital ads fraud has cost advertisers, publishers, and ads networks billions of dollars, so many stakeholders are starting to take matters into their own hands.
Since its launch, FraudShield has proven to be a great tool that helps monitor and detect fraudulent activity in a wide variety of settings. The platform can help detect different types of ad fraud including deceitful clicks, installs, conversions, and activity in programmatic platforms.
Ideal for ad networks, affiliate networks, advertisers, media buyers, and other stakeholders, FraudShield has a well-earned reputation as one of the best fraud monitoring and identification platforms available today.
To find out more about the best ad fraud detection tools today, follow our blog or contact us today and we'll be glad to help.
Accelerate your Conversions, Increase your Revenue
with lemonads
---
You would like