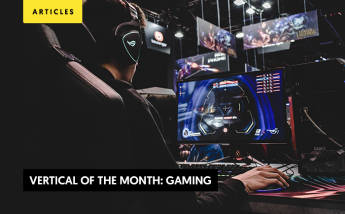 Vertical of the month: Gaming
Every month, our editorial team shines a light on a new industry to help lemonads users understand the different verticals and what they need to succeed in each one. For the first issue of Vertical of the Month, we're covering the gaming industry!
Research-backed projections suggest that the global gaming industry could generate more than 173 billion US dollars by 2025. Although video games became commercially available just a few decades ago, they have become a global phenomenon and part of human culture as a whole. In addition to dedicated consoles, games are now available through smartphones, tablets, computers, and other devices, so they have penetrated almost every aspect of modern life.
Today, there are close to 2.6 billion people around the world playing video games every day. But, this vertical has been a favorite for affiliates since the early 2000s, so succeeding in this competitive space is challenging at best.
Having a deep understanding of video game culture, current consumer trends, and the devices used can help you build a stellar affiliate gaming campaign. Below, we'll discuss the current state of the video game industry and give you tips to make the most out of gaming affiliate programs.
The Performance of the Gaming Vertical in 2020
Even before the emergence of recent trends, the projections for the performance of the gaming industry were stellar. By the end of 2020, many predicted that games across all platforms would generate more than $124 billion. Since then, new projections see a year-to-year growth of up to 12%, putting the revenue for 2020 at almost $139 billion.
There are different factors that are boosting the industry's yearly growth rate. The anticipated release of gaming consoles like the PS5, which is meant to hit shelves by the 2020 holidays, has sparked consumer interest. Not only this, but millions of gamers are looking forward to new titles and reboots being rolled out on these consoles.
In addition to the above, the unfortunate global health crisis has forced hundreds of countries to declare a state of emergency and impose nation-wide lockdowns. Gamers and consumers as a whole have more leisure time, so many are turning to their favorite devices in search for hours of entertainment.
Trends to Watch
The video game industry is directly influenced by technological advancements, so this vertical is always evolving. Game developers have specialized in implementing emerging technology to improve gameplay, graphics, and convenience with the purpose of further engaging consumers. This, in turn, has cultivated a loyal base of followers who have high quality expectations, but are always waiting eagerly for the next big trend.
Here's our take on the next big trends affiliates in the gaming industry need to look out for:
Mobile Gaming
In the US alone, there are more than 138 million mobile gamers. The development and widespread adoption of ultra-powerful mobile devices have allowed for the creation of all types of mobile games. Consumers can choose games from different categories that include sports, arcade, strategy, simulation, puzzles, games of chance, and even fantasy games with multiple complex levels and full-blown universes.
VR Games
Virtual reality (VR) technology is already commercially available and gaming companies are already riding this new-age wave. VR headsets and similar accessories are revolutionizing the way games are developed. And, the technology behind VR devices is slowly becoming more available, so affiliates and other stakeholders should pay close attention to this trend.
Besides emerging VR CPA offers, you also need to consider how this trend will affect consumer behavior. And, it's never too early to think about VR traffic, which would require interactive ads and other creative elements that can be used for this specific type of traffic.
New Consoles Releases
As we've mentioned briefly in this article, many gamers are anticipating the release of new consoles this year. In addition to the release of the PS5, new rollouts include the Atari VCS, Amico by Intellivision, and the Xbox Series X.
Microsoft's Xbox Series X and Playstation's PS5 are already household names. But, the release of new competing consoles suggests that not all consumer demands are being met and that the entire industry is undergoing a major golden age.
Affiliates that get on this trend early enough can be among the first to figure out how consumers react, which will allow the development of better campaigns.
New Game Titles and Reboots
One of the best aspects of the gaming industry is that popular games are released every year, whether there is a new console coming out or not. 2020 is no exception as many gamers are waiting for the release of titles and reboots like Cyberpunk 2077, Halo Infinite, Metroid Prime 4, Final Fantasy VII, and Resident Evil 3.
Each one of these titles gives the industry a small scale-boost, so learning how to read the patterns can result in more profitable ads.
Fantasy and e-Sports
Pretty much all major sports leagues have been brought to a halt due to the global pandemic. While this has affected industries like sports betting, gamers have focused instead on e-sports and fantasy sites that focus on this new gaming module. Large advertisers are starting to pour a significant amount of money into this industry, which is also sparking interest in e-sports fantasy, e-sports betting, and other supporting verticals.
Functional and Ultra-Powerful Consoles
When they were first developed, the only purpose consoles had was to play games. Since then, new models have included features like the ability to browse the web, play DVD movies, and store digital files. Rather than simply acquiring a gaming platform, consumers are expecting to be able to perform other actions or have additional features in their new console.
Developers are now including additional features like video streaming from different providers, the ability to connect with VR devices, and other abilities as part of the deal. From a marketer's perspective, this trend should guide your ads in the right direction and give you insights as to what consumers are interested in at the moment.
What You Need to Know to Build a Successful Gaming Campaign
The gaming industry is no stranger to the world of affiliate marketing. But, despite the fact it's a mature vertical, developers have found creative ways to keep their audiences engaged. Furthermore, new markets are being targeted with the development of every platform, so savvy marketers that learn to adapt will be able to craft campaigns with unlimited potential.
As with everything else, a good gaming campaign requires a sound strategy, a decent budget, and frequent optimization. Additionally, you should also develop a plan to beat the competition, choose the best offer, and learn about new trends.
Competition is Fierce
While competition is fierce in the gaming world, up-and-coming affiliates can actually learn from their adversaries. Affiliates that consistently produce successful gaming campaigns know what they are doing. The best thing you can do is learn from the marketers that have already mastered the vertical by using an ad spy tool and analyzing their campaigns.
Gaming Requires Constant Learning
No one is born a gamer, just like no one is born an affiliate marketer. If you want to successfully market gaming CPA offers, put time aside to learn about the culture behind gaming, the companies that influence the industry most, and the games that attract the most attention.
Good Offers are Becoming Less Common
The gaming vertical offers a great chance to make money, but it's also worth noting that good offers are becoming less common. You can definitely still find great offers with good payouts and reasonable requirements. But, you should examine every option carefully and ensure a good fit before you start investing any resources.
Gaming Campaign Optimization Tips
As with other types of digital marketing, campaign optimization is a crucial part of your success as an affiliate. The golden rule is to always wait until you have enough data before making any adjustments. This exact number will vary, so you need to figure out how much traffic and how many conversions you need to rack up before optimizing your campaign.
When optimizing your gaming ads, remember to focus on:
Location Targeting
The CPA offer will likely limit the areas where you can run your ads. That said, you should further narrow down the target locations during the optimization process. Look at the countries and cities that are producing the best results and focus most of your resources on these areas, while allocating a small portion to further testing.
Ad Size and Creativity
Ad formats that allow big creatives are great for gaming campaigns. That said, you should review your ads to ensure that the creatives are the right size. Also, review how well they are engaging and conduct split tests to see which creative elements are worth keeping and which ones need to change.
Landing Pages
If the offer allows you to edit the landing pages or use pre-landers, make sure that these are improved during the optimization process. There are many elements you can test, including color schemes, form fields, and CTAs, but make sure you conduct enough tests to track the effect of each variant separately.
Stay Tuned for Next Month's Vertical!
Conquering the gaming vertical poses a challenge even for the most experienced affiliates. We hope that our affiliate industry review gives you an idea of what you need to succeed and inspires you to create better ads.
Interested in reading more about affiliate verticals? Stay tuned for next month's issue or contact our team and we'll be glad to help.
Accelerate your Conversions, Increase your Revenue
with lemonads
---
You would like