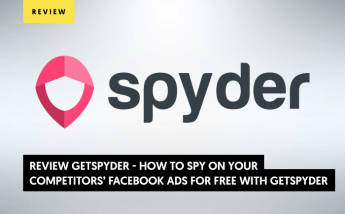 Review GetSpyder - How to Spy On Your Competitors' Facebook Ads for Free?
Why should you spy on your competitors?
Getspyder Review- Spying on your competitors is a thing to do. Be sure, that if they think you are a competitor, they will come and do the same thing. Is what we call competence performance analysis and it's exactly learning what the competition is doing.
Before starting a Facebook advertising campaign, a good practice is to check up on what your competitors are doing and how they are doing it. What keywords, call to action they are employing, and also what creatives have the best social response. Is kind of learning from your peer's experiences. This gives you a huge advantage in the departing point and a very sharp idea of what people like and whatnot.
The better news is that you can do it for free. Of course, there are paid services for this but you don't need to incur that expense.
What is GetSpyder?
GetSpyder or Spyder is a tool that helps you spy on your competitor's Facebook ads for free with the help of the Facebook ad library. With getspyder, you can store your competitor's Facebook ads in your sharable gallery and use it for inspiration for your future campaigns even if the ads are no longer running and in consequence no longer available in the Facebook ad library.
Let's imagine you loved how a brand designed a campaign but you are not launching anything similar soon. You can create your library for inspiration with getspyder.
Step by step to save Ads on Getspyder?
If we start from the last step of our Facebook ad library guide, you have already spotted the ads you are interested in and you are ready to save them here is where getspyder gets handy. With this free tool, you can save the ads you are interested in.
The first step is to sign up on getspyder.com You just need to provide your email and you are in.
As you still have the Facebook ad library opened with the ad of your interest, copy the link that is in the (...) menu on the top right corner as shown on the Chanel example.
Now that you have your spyder ad library, you simply have to paste the ad link and click save. Notice that the URL must start with https://www.facebook.com/ads/library/…
Once you click save, getspyder brings and saves the ad to your library.
If you click on Details you can see the image and copy of the ad you liked. This gives you an idea of the keywords the brand is using, the tone of voice, and the key information the company decided to pay and sponsor.
Get Spyder Review:
The first thing we loved about getspyder is that
Is a one-field signup
IT'S FREE
It's super simple to use. Once you have your favorite ads spotted on the Facebook ad library, you just have to copy-paste the ad link on their browser and that's it.
You can create a library of ads that even if they are no longer available on the Facebook ad library, you can keep forever for further inspiration.
All the ads are kept in Spyder's cloud so you don't even have to waste your storage capacity.
What's missing?
You can keep the art and copy however there is no data about the campaign that comes along to getspyder.com when saving an ad.
Getspyder Features
When you store your favorite ads on Spyder, you can:
- Share generated links with colleagues.
- Download the ads with 1 click
- Your images and videos are stored in Spyder's cloud which saves you time searching for files.
- Spyder will soon provide a chrome extension that will save you time using a browser add-on.
Other Free Facebook Ads Spy Tools
Getspyder has some good competitors. Some of them are free and some others are paid. For the free ones, we can mention:
Check out our 8 Best Facebook Ads Spy Tools selection for this year.
Getspyder Benefits
The benefit of adding this tool to your box is that you can build your gallery of inspiration ads for free and without using your own memory space. You can share the ads even if they are no longer running and you have as many copies and visual ideas as you collect in time.
Conclusion
Getspyder is a great tool to add to your marketer's toolbox. It's free and as simple to use as it gets. You can build your ad gallery saving thousands of competitors or inspirational brands ads, which can help you build your ad campaigns stronger and better.
You can maybe spot an ad in the Facebook feed or a Facebook page. Simply copy-paste the ad link directly to your spyder browser. You can also use the Facebook ad library to see all the current ads the brand you are spying is sponsoring.
Even if the ads are removed from Facebook, when you keep them in your spyder library you can retrieve them anytime.
Subscribe to lemonads' blog to get the latest news and tools in the market.
Accelerate your Conversions, Increase your Revenue
with lemonads
---
You would like