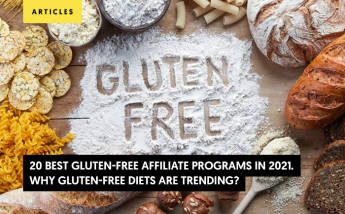 20 Best Gluten-Free Affiliate Programs in 2021. Why gluten-free diets are trending?
Gluten-Free affiliate programs can be very interesting to promote if you are in the health and wellness niche, the fitness niche, or the weight loss niche. In this article, we will explain to you what gluten is, the reason for the gluten-free diet buzz and what are the best affiliate programs for gluten-free lifestyles.
One of the best improvements in our life is the capacity to detect the foods that makes us feel sick. It's very fashionable nowadays to eat gluten-free. But what is behind this trend?
Let's begin by pointing out that there is an actual disease related to gluten and that is celiac disease.
What is Celiac Disease?
According to Mayo Clinic, Celiac disease, sometimes called celiac sprue or gluten-sensitive enteropathy, is an immune reaction to eating gluten. When celiac patients eat gluten, it triggers an immune response in their small intestine. Over time, this reaction damages the small intestine's lining and prevents it from absorbing some nutrients (malabsorption). The intestinal damage often causes diarrhea, fatigue, weight loss, bloating and anemia, and can lead to serious complications.
Celiacs need to restrict their diet and eliminate gluten intake to avoid these uncomfortable symptoms and protect themselves from the disease to get worse in time.
But what is this famous Gluten?
What is Gluten?
The Celiac disease foundation defines Gluten as the general name for the proteins found in wheat (wheat berries, durum, emmer, semolina, spelt, farina, farro, graham, KAMUT® Khorasan wheat, and einkorn), rye, barley, and triticale – a cross between wheat and rye. Gluten helps foods maintain their shape, acting as a glue that holds food together.
What foods contain Gluten?
Most breads, crackers, and wraps contain gluten. Some of them are white bread, whole wheat bread, potato bread, rye bread, sourdough bread, wheat crackers, whole wheat wraps, flour tortillas, flatbread, or bagels.
Other foods that contain gluten are sauces and condiments like Soy sauce, barbecue sauce, industrial salad dressings and marinades, cream sauces, spice blends, gravy mixes, malt vinegar, and ketchup.
Most baked goods containing flour: cakes, cookies, pastries, pretzels, doughnuts, muffins, pancakes, and waffles. Pasta made from wheat flour like spaghetti, noodles or dumplings.
In processed foods, it can be even more difficult to spot gluten. Some things you won't even imagine, like industrial chocolate milk, premade coffee drinks, beers, and cocktail mixers contain gluten.
Even some prescriptions and over-the-counter medications contain wheat gluten as a binding agent.
The only way to know for sure if something contains or not Gluten is to read the ingredient list and check to see which grains are used in each particular preparation.
Why is the Gluten-Free diet so attractive to non-celiacs?
There are some debates on the benefits of a gluten-free diet for non-celiacs. However, Some clinical studies have looked at the benefits of the diet among people who do not have celiac disease or who have non-celiac gluten sensitivity. More research is needed to determine the accuracy of the following claims about the diet's results:
Improves Energy levels
Eliminates Bloating
Reduces joint pain
Reduces headache frequency
Helps with depression
Reduces other food allergies
Improves bone and skin health
Reduces hair loss
Why are gluten-free affiliate programs interesting?
People are frequently searching for ways to make their life easier, that's a fact. Now imagine that you have to check the composition of every single product you are about to eat to check if it's gluten-free or not. It has to be exhausting!
According to Statista the global market for gluten-free food is expected to expand considerably between 2021 and 2025, from 6.1 billion U.S. dollars to 8.3 billion U.S. It's a good moment to start promoting these affiliate programs on your social media, website, or blog, especially if you are in the health and wellness, fitness, or weight loss niche.
Are you creating content for gluten-free lifestylers and never heard of affiliate marketing before? Check out our complete guide What Is Affiliate Marketing for beginners.
Which are the best gluten-free Affiliate programs?
1. Hungryroot
Description: Hungryroot is an online grocery service that delivers modern, healthy food with recipe and meal planning support. For gluten-free products and plans, users can select their dietary preferences during the sign-up survey and update these preferences anytime in the customer's food profile once subscribed. With an active subscription, the user can also set how often they'd like to receive each grocery item.
Commission Rate: $15 per lead (CPL)
Cookie: 14 days
2. Wolo Snacks
Description: Protein WanderBars- High fiber & protein, low sugar, soy & gluten free protein bars packed with antioxidants to keep you healthy when you're on the go.
Commission Rate: 8% (Revshare)
Cookie: 30 days
3. Miracle Noodle
Description: Miracle Noodle makes a wide variety of delicious, gluten-free noodles and rice that you can use to satiate your cravings without caving in. These are the perfect alternative noodles for people with celiac disease, gluten intolerance or those who simply want to control carbohydrate consumption.
Commission Rate: 10%
Cookie: lifetime
4. Good To-Go Affiliate Program

Description: All Good To-Go food products are lab tested and certified gluten-free. Food kits, kits to travel a weekend worry-free, entrees, breakfast lunch and dinner options.
Commission Rate: Up to 7%
Cookie: 30 days
5. Amazing Grass
Description: Amazing Grass offers raw organic super-foods and  thoughtfully craft their greens with the highest quality, plant-based ingredients in partnership with like-minded farmers from around the world.
Commission Rate: 5%
Cookie: 30 days
6. Bee Free
Description: BeeFree is dedicated to making gluten-free, grain-free treats that put a smile on your face and a giggle in your tummy.  We believe in using only the finest ingredients - that means no preservatives and no artificial ingredients.
Commission Rate: 10%
Cookie: 30 days
7. Bread SRSLY
Description: Bread SRSLY uses gluten-free grains, clean ingredients, and wild fermentation to make the most nutrient-dense, easy-to-digest breads.
Commission Rate: 10%
8. Good Dee's
Description: Good Dee's mixes are gluten free, soy free, sugar free, grain free, low carb, and no nut based ingredients.
Commission Rate: 7%
Cookie: 30 days
9. ZEGO
Description: ZEGO creates nutritious and delicious food that fits most special diets and advocates for the consumers' right to know what is in their food.
All ZEGO products are certified and tested Gluten-Free.
Commission Rate: 15%
Cookie: 90 days
10. For the Gourmet gluten-free affiliate programs

Description: For the Gourmet offers products for professional chefs since 2002. They have a large catalog of gluten-free products that include: Gluten-free baked goods, gluten-free cereals, gluten-free cookies and crackers, gluten-free flour mixes, noodles, pasta, pizza crusts, and snacks.
Commission Rate: 10%
Cookie: 30 days
11. The Gluten-Free Mall
Description: The Gluten-Free Mall is your one-stop destination for gluten-free grocery shopping online. We've made it easy and convenient to find products that meet the needs of your family's gluten-free lifestyle. From bread and pasta to snacks and meals - you'll find everything you need to keep your pantry and fridge stocked! Shop our featured selection of quality guaranteed gluten-free foods
Commission Rate: 7%
Cookie: 30 days
12. GreenChef
Description: Organic meal delivery service that prides itself on sourcing organic, Non-GMO, and sustainable ingredients for their chef-inspired recipes. Meal plan options include keto, paleo, balanced living, and plant-powered. Green Chef was the first meal kit company to receive Gluten-Free Certification through the Gluten Intolerance Group's Gluten-Free Food Service program, which applies to our Keto + Paleo meal plan.
Commission Rate: Up to $15 per sale
Cookie: 7 days
13. Martha & Marley Spoon
Description: Martha & Marley Spoon delivers delicious, 30-minute recipes with farm-fresh ingredients to your door. They offer a range of diet-specific recipes, including keto, vegetarian, vegan, and gluten-free. If you are watching your weight, the pre-portioned ingredients make a fresh food delivery a great way to count calories and manage portion sizes.
Commission Rate: $25 per new sign-up.
Cookie: 30 days post-click
Description: Sun Basket is a subscription meal delivery service that offers customers fresh organic and sustainable ingredients and recipes every week, allowing them to cook their own meals. In their Gluten-Free meal plan, Sunbasket includes an abundance of nutrient-rich organic fresh produce, wild-caught or sustainably raised seafood, responsibly sourced meat, and gluten-free products (such as pasta and flour not made from wheat).
Commission Rate: $20 per sale
Cookie: 30 days
15. Freshly - Gluten-free affiliate program

Description: Freshly combines the convenience of frozen dinners with the same delicious taste you'd get if you cooked it yourself. They are certified gluten-free by the Gluten Intolerance Group.
Commission Rate: $32 Per Freshly Fit program Sale And $19 Per other products sales.
16. Trifecta Nutrition
Description: Trifecta Nutrition is a subscription-based service that provides a variety of nutritionally balanced meals. They offer several meal plans like paleo, ketogenic, or vegan diets. All of their meal plans are gluten-free and their kitchen is free from all gluten-containing ingredients to ensure the safety of celiac patients.
Commission Rate: 50/50 profit split based on SKU's
Cookie: 30 days
17. Factor
Description: Factor is a meal delivery service that offers gluten-free meals delivered to your doorstep. Every Factor meal is cooked from scratch by real chefs using the freshest ingredients. Your order is delivered fresh to your door — never frozen along the way.
Commission Rate: $10 for every new subscription
Cookie: 14 days
18. Veestro
Description: Veestro is a nutritionist-designed meal delivery service that provides various meal options including gluten-free plans.
Commission Rate: 5% per sale.
Cookie: 15 days
19. Magic Kitchen
Description: MagicKitchen.com's healthy, chef-prepared meals are created using the freshest ingredients to ensure you receive nutritious meals that are quick & easy to prepare. Special diet meals too. Gluten-Free Prepared Meals are dieticians designed to be healthy and without gluten in the ingredients. Though their products are NOT certified gluten-free, they have offered the list of items to their customers for several years and "have not had issues with these meals".
Commission Rate: 8% per sale
20. Fresh n' lean
Description: Fresh and lean offers healthy and balanced meal subscription plans including gluten-free and organic options ready-to-eat and delivered fresh to your door nationwide.
The affiliate earns: 20%
Cookie: 30 days
Conclusion
Gluten-free affiliate programs are a great way to increase your affiliate income especially if you are in the health and wellness, fitness, or weight loss niche. While gluten-free options exist for celiac and gluten intolerant patients, the gluten-free products bring benefits to non-celiac customers. The gluten-free market is in expansion and it hosts a great bunch of opportunities for you as an affiliate marketer.
If you want to learn more about food affiliate programs, health and wellness, or keto affiliate programs read our specific articles and subscribe to lemonads' blog to get the latest news and opportunities.
Accelerate your Conversions, Increase your Revenue
with lemonads
---
You would like