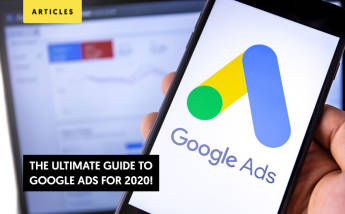 Google Ads: The Ultimate Guide on How To Invest With Your Ads in 2021!
Why the ultimate guide to google ads for 2021? If you're considering investing in ads to reach a target audience, with over 259 million visitors and 4.8 billion daily interactions on Google, well, you should stick here!
And…
So let's discover how to advertise on Google and how to optimize your campaigns to achieve the best results with your ads!
It's no secret that paid campaigns are foremost the best way to generate more clicks that will lead to a greater probability of obtaining new actual clients.
And this is where Google Ads comes in, becoming increasingly popular among businesses across all industries!
In fact, Google Ads is a paid advertising platform using pay-per-click (PPC) to reach your unique visitors known as your targeted audience, where mainly the advertiser pays per the click or the impression (CPM) on an ad.
Google Ads drives qualified traffic, or good-fit customers, to your business while they're searching for products and services like the ones you offer, boosting your website traffic and increasing your in-store visits.
Ads from Google Ads can also span across other channels including YouTube, Blogger, and Google Display Networks helping you analyze and improve your tailored ads to reach more people so your business can hit all of your paid campaign goals that suit your budget!
To not mention that Google is the most used search engine worldwide, with over 5 billion search queries a day and it has been around for nearly two decades!
According to Google, advertisers make $8 for every $1 they spend through Google Ads, for sure your competitors and Hundreds of thousands of companies are using Google Ads to promote their businesses, which means that even if you're ranking organically for a search term, your results are being pushed down the page, beneath your competitors.
If you're using PPC to advertise a product or a service, Google Ads should be a part of your paid strategy as Facebook Ads, having a huge number of visitors and users data.
So, let's delve deeper and learn through our ultimate guide to Google Ads for 2021 covering the following topics:
Google Ads: First Steps
Google Ads or Smart Campaigns?
Create your free Google Ads Account!
Google Ads Final Thoughts
Google Ads: First Steps
The first step to take with Google advertising is to establish what your goals will be with a specific advertising campaign. This is a necessary step because you'll need to have an action in mind when people click on your ad. Do you want to direct them to your website for instance, or do you have another kind of action in mind? Once you've figured that out, you'll need some way of measuring how well you're doing at reaching the goals you originally established.
Target Audience
One important step would be to consider your target audience.
The question you'll need to focus on before beginning is: Who exactly are you trying to target with your campaign? If you don't think of who these ads are for, before launching a campaign, your message will get lost and not understood as it would be too general and too vague-sounding, ending up to be hard work for nothing as your message won't resonate with the right users that would be interested in your product or service.
The target audience for this campaign is quite different from some of the other campaigns you've launched before, meaning that your message will have to be customized for that target to reach this particular group of leads and customers.
Where is your Target Audience?
Once you get the idea of who might be your target audience, consider where this group of individuals spends most of their time online: Snapchat, Facebook, Instagram, or anywhere else to know where to advertise on the platform to be reached and use the best-written content to attract and intrigue users.
Great Content for a Captivating Ad!
Creating the right message for the right people, displaying it in the right spot, you have done most of the job and will achieve the best chances of reaching your campaign objectives.
Set your Budget!
Another important step would be understanding the budget you want to invest to support your campaign.
Set Your Bid!
Calculate how much you'll be able to bid on Google Ads Search Network advertising and any other kind of advertising which will be included in this campaign.
When you exactly have an idea, make some other decisions about how long to run the campaign, how much to bid on keywords and so much more!
Which Google Ads Campaigns could you use?
There are so many ways of showing your ads, let's check some out!
Display Ad Campaigns
The benefit to the website owner is that they're paid per click or impression on the ads. The benefit to advertisers is that they can get their content in front of audiences that are aligned with their personas.
Video Ad Campaigns
Video ads are displayed before or after (and sometimes in the middle of) YouTube videos. Remember, YouTube is a search engine, too. The right keywords will place you in front of a video, disrupting the user's behavior just enough to grab their attention.
App Ad Campaigns
Google App Campaigns promote your mobile application through an ad displayed on Google Search Network, YouTube, Google Play, Google Display Network, and others.
You can run ads that encourage your audience to install your app and if they already use it, to take certain action within your app.
Shopping Ad Campaigns
Shopping Ads allow you to promote specific products and product lines. That's why, when you search for a particular product on Google, you'll see ads for different brands pop up along the top and/or side.
Now, let's check more into Google Ads and which options you have in 2021!
Google Ads or Smart Campaigns?
One thing you will pop up as you attempt to signing-up for a new Google Ads account will be the option to switch to Expert Mode (Google Ads) or continue creating your Smart Campaigns account (previously AdWords Express).
Don't panic, it's simply helping you to figure out whether you want Smart Campaigns to simplify your life, as it's an automated version of Google Ads where Google handles most of the work for you!
The struggle is that It's only available for local businesses with stores or an online e-commerce shop, so, unfortunately, If you don't have a physical store or an online store, you won't be able to catch this Smart Campaigns opportunity.
Let's take a look at Google Ads standard dashboard:
It's pretty complicated to handle and understand if you don't have previous experience as it contains dozens of sections with different metrics, reports, and as you can see for yourself, much more.
It can surely take time to manage at the beginning with a standard Google Ads account. Meanwhile, if you do have the opportunity in using Smart Campaigns it will straightforward help you with your ads creating as it's amazingly helpful for brands that are new to PPC advertising, are limited on time or resources, or own stores and want to generate extra revenue without much work!
Smart Campaigns are very simplified and after a period of time, you will likely find your sales stalling at a certain point with very little room to improve performance.
One great thing though is that their standard Google Ads dashboard is packed with so many features that will improve your account that Smart Campaigns doesn't have, as it's automated.
So let's say that if you are a brand that is completely new to paid search and/or has limited time, Smart Campaigns is a great pick for you to start with, but sooner or later, you will likely realize that you need to switch to the full Google Ads experience as most PPC marketers who have used both, state that Google Ads is much more effective than Smart Campaigns!
Check for yourself!
It's true, but Smart Campaigns are very useful for very small operations as for small shops, helping you save time as the work is already cut down, and will effectively help you achieve the goals you've set.
So, in the end, Google Ads or Smart Campaigns? This really depends on what you need, who you are, and what your brand is.
Once you've got the idea of what you're looking for, let's get started and create your Google Ads Account!
Create your free Google Ads Account!
Ready to create your free Google Ads account? Click on Google Ads and let's get started together!
Account: Step 1
sign up using your email and website URL!
Account: Step 2
As we previously said, keep in mind your budget, and we always recommend starting small to test and change to improve your ads as you will be facing different stages.
Then concentrate on your targeting and set locations of your targeting, bidding, and create the best captivating content in the "text ad" section!
Account: Step 3
Choose networks!
Don't really know? No worries, you can select both!
as you can easily change this later and will surely pick the display network for remarketing at some point in the future, picking both to start with, will help you get a better idea of how your ads are running!
Lastly, here comes your keywords!
SEO keywords
Keywords are simply the "keyword that will be captured in your text, helping an algorithm identify what your ideas and topics are, defining what your content is about.
In terms of SEO, they're the "words" and "phrases" that searchers enter into search engines, also called "search queries", helping people find you easily since Google, as for other search engines, will cluster your content into a specific section which people are searching for, helping you reach traffic.
So, let's enter a few Keywords that you want to focus on concerning your business or specific products you want to sell.
Once you enter your payment and hit continue, your Google Ads account will go live and will be ready to use!
Note that you can edit all of this later, so don't panic if you would like to make changes!
About your daily budget, Google Ads will never spend more than what you set, as you set it it will never change, so don't worry if you think this problem could occur as it won't!
Google Ads Alternatives
Google Ads Final Thoughts
Now that you've identified what you're trying to achieve with your advertising, and you have a specific actionable item in mind, you can work on defining the details of your advertising!
Remember to consider which services or products you'll be promoting in your campaign, and focus on targeting, content, budget, bidding, and all the rest!
We fully hope our Ultimate Guide to Google Ads for 2021 has answered all your doubts!
Accelerate your Conversions, Increase your Revenue
with lemonads
---
You would like