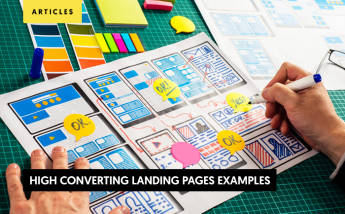 High Converting Landing Pages - 10 Examples for Affiliate Programs and How to Create One
High converting landing pages. While the affiliate marketing ecosystem revolves around consumers, advertisers play a crucial role when it comes to defining their own success. As a matter of fact, advertisers need to take every possible step to empower their affiliates and increase their chances of success, which translates into a higher number of conversions. That said, it's important to understand what a conversion is as well as the elements that affect how many conversions you generate.
In the vast majority of cases, advertisers develop their own landing pages that contain the deal being promoted and make these available to affiliates through the affiliate program. That said, not all landing pages are the same as the smaller variations can completely skew the conversion rates of your landers. Therefore, you need to understand how the different elements on your landing pages affect the results you get and use this information to create landers that set you up for success.
At lemonads, we work with some of the best advertisers and affiliates on the globe, so we're aware of all the elements that impact the performance of a landing page. In this article, we'll go over the definition of conversion, provide 10 examples of the best landing
What Is a Conversion?
Before we discuss landing pages and how they affect the performance of your content, let's take a look at the definition of conversions. A conversion is a certain action that advertisers want their target audiences to complete in the affiliate context. For example, filling out a quote form, submitting a question, or even making a purchase.
Conversions are defined by advertisers, so the exact definition varies from one case to the other. That said, conversions have in common that they represent instances where affiliates have earned commissions. Because affiliate marketing is performance-based, affiliates only get paid for each conversion they generate.
Remember, the affiliate program contains all the details that affiliates need to adhere to generate valid conversions, so you can always review the details there if you don't remember what type of setup you have.
Finally, you need to make sure that conversions are well-defined and that there are no gray areas that may confuse affiliates or cause disagreements.
How Do Landing Pages Affect Conversion Rate?
Many elements affect the conversion rate of an affiliate campaign, but the landing page is among the most important. When users click on an affiliate ad or link, they expect to be transferred to a page that's functional, safe, and that feels reliable. If the landing page you're providing to your affiliates doesn't check all these boxes, your affiliates will likely struggle to succeed.
The exact elements that negatively impact conversion rate can also vary depending on the target audience. Some of the most common issues that produce low conversion rates include slow loading speeds, poor quality content, and issues that affect the functionality of the interface. Additionally, your landing page should include quality design elements that portray your business' quality. Top landing pages builder you should take into account.
we recommend you to use a Sessions Replays software to see how your visitors behave on your Landing Page.
10 Examples of High Converting Landing Pages Examples
Now, let's take a look at 10 high-converting landing page examples for affiliate marketing programs.
1. Marketo
Marketo is one of the most powerful marketing automation platforms available, but the company still pays close attention to its landing pages. The headline and main image are extremely informative, while the content clearly states what users can expect to find as well as the conditions for the download.
2. Basecamp
When it comes to project management platforms, it's difficult to find a more well-known and reliable tool than Basecamp. The platform actually offers live classes for all members and potential members, allowing them to book a slot using an interactive landing page.
3. Airbnb
Airbnb is already super popular with consumers, but the home-sharing platform is also constantly looking for new property owners. Their host recruiting page actually takes a friendly and simple approach, featuring soothing images in combination with a color-branded CTA that pops out from the rest of the page.
4. Shopify
Similar to Airbnb, Shopify uses a friendlier approach, choosing the hide the contact form until users hit the green CTA that prominently stands out from the rest of the page.
5. Constant Contact
One of the top email automation tools out there, Constant Contact follows what it preaches because the platform employs a simple email sign-up form on an informative page to collect leads.
6. Hubspot
Hubspot needs to be introduced, especially in the affiliate marketing world. That said, the marketing automation and stratification giant has one of the top converting landing pages thanks to their combination of slick design, informative content, and attractive offer (a free trial).
7. Optimizely
The approach used by Optimizely is similar to Hubspot, opting for a more traditional informational landing page plus form combination.
8. Get Response
Get Response is among the leading in email marketing, landing page creation, and other crucial digital marketing activities. The company boasts of an excellent reputation, so it's implemented a simpler landing page that only requires email information from users.
9. Moz
Moz is at the same level as Hubspot and similar platforms, but it takes a less direct approach to get conversions through its landing page. The demo landing page only has one conversion button, attracting attention due to its positioning and opening up a pop-up window that asks for more information.
10. Zoho
Zoho is a full-stack digital marketing tool that lets its quality speak for itself. Rather than opting for aggressive landers, Zoho employs an indirect flow that features a bright-colored CTA button and a pop-up window that requests information once the button is clicked.
3 Easy Steps to Creating a Stellar Landing Page
It's important to understand that every advertiser is different. This means that you need to figure out the exact steps you need to take based on your product, target audience, and industry. Without a tailored strategy, there's a strong chance that your content won't resonate with your audience or produce the results you're looking for.
With the above in mind, the general steps that most advertisers have to go through to create a great landing page include:
Define the Purpose of the Landing Page
Although it seems obvious, many advertisers fail to define the purpose of the landing pages they create, which causes a whole new set of issues later on. To avoid these, you should define the purpose of the landing page early on because this will help you measure its success. For example, if your landing page's main goal is to produce leads, it should not be centered around a shopping cart feature.
Create Outlines and Rough Drafts of the Content
Once you've set your objective, determine what type of content your landing page will include. One of the biggest mistakes that business owners make is that they don't think their landing pages should have much content.
While it should not take away attention from your forms, the content on a landing page can help transform a prospect into a lead. So, make sure that it's tailored to help affiliates generate more conversions. You should always create a few versions and test them out to figure out which one performs best.
Monitor Your Results
Once you have tested a few versions of your landing page, it's time to analyze the results and choose which one you'll provide in your program. If you have several landing pages that performed well, you can repurpose these later on.
Check out How to optimize landing pages.
What Should Your Affiliate Marketing Landing Page Include
As we've mentioned before, an affiliate landing marketing page should have awesome content that helps marketers generate more conversions. However, determining which elements to include isn't always straightforward. Some materials are relatively obvious, while others require a bit of target audience analysis to figure out if they are suitable.
Let's take a look at some of the elements your landing page should include.
URL, Security, and Technical Elements
The URL of your landing page should not look suspicious because this can look like a huge red flag to consumers. Instead, make sure that the landing page has a friendly and easy-to-read URL that instills confidence. Furthermore, also make sure that all technical elements are on point, especially your site security features.
Design Elements and Interface Features
The design elements include virtually everything that the audience sees, from the text font and color to the graphic elements in the menu and everything in between. Besides ensuring that these features look good, they also need to be functional to deliver the ultimate positive experience to your audience.
Headlines
It's challenging to craft a great headline because they require a solid combination of aesthetic appeal and engaging content. Make sure that your headlines are informative, but they also need to be written in a way that's catchy as well. For example, you may compare your program to competitors to make a point, but make sure that whichever strategy you use aligns with your overall image.
Images
As for the graphic elements and images, verify that these also align with your brand. The images on your landing page will directly impact the way your audience members feel when they get redirected there, so having positive images usually help improve conversion rates.
Written Copy and Other Content
The written copy of your landing page may seem irrelevant, especially if you notice that competitors don't include a lot of text on their landers. That said, you should include descriptive text even if it's below the fold to give your audience a bit more information about your promotion.
At the same time, you should also include content like social media buttons and calls-to-action or CTAs. Your CTAs should be placed in strategic locations, so don't be afraid to experiment until you find the best placement.
Ready to Build a Landing Page that Converts? Find the Best Affiliate Programs at lemonads
Building a landing page that converts takes a lot of practice and expertise. If you're struggling with building a great landing page and managing your affiliate campaign, contact lemonads today, and our team will be glad to help.
Accelerate your Conversions, Increase your Revenue
with lemonads
---
You would like