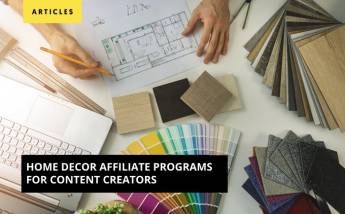 Home Decor Affiliate Programs for content creators
Home Decor Affiliate Programs. Interior design, home furnishings, wall art, and more.
According to Statista, the value of the home décor market in the United States was forecast to reach 202 billion U.S. dollars in 2024.
Big or small, minimalistic or rococo, one thing we all have in some sort of shape or form is a home. This means we can all relate to items held in the home decor environment and in consequence, a whole bunch of affiliate marketing opportunities is out there for you.
It is important that you know your audience and what they can relate to or even what they can afford to buy. Not everyone is looking for luxurious crystal chandeliers and Egyptian cotton linen. Maybe a good quality vs price mattress can relate better with some instead…
The trick in affiliate marketing is to always promote offers that can be attractive to your audience but that are also affordable to them.
As much as we love to promote the dream furniture, we need to be good affiliate marketers, and that means getting under our customer's skin as much as we can and being objective in our picks.
But no one knows your audience as you do. If they keep coming for your advice it's because you are an authority in the matter and they believe in what you promote.
We are sure you can find amongst this list, cute and relevant offers to talk to your people about.
Niches
Home Decor affiliate programs can be interesting to very diverse niches. As we said, most people having access to your content have a home. Maybe the brands we mention offer a product that can serve a purpose to your customers even if your niche blog or your Instagram doesn't specifically speak about decoration.
Examples:
You are a foodie and you love how beautiful your dinner looked served in certain china that you got in target or why not  Etsy, that was not at all expensive and that you could mix and match with other patterns you already owned. Or, you have a bridal blog and you are suggesting to your readers some places to make the wedding gift list.
Or a life hack content creator can speak about a simple hack with a utensil that happened to get in Bed Bath & Beyond.
As we always say, as long as you can add value to your customer's lives with the things you promote while being relevant, you can use whatever brand. We have witnessed how our clients use their creativity to join products and audiences in the most incredible ways.
Top Niches:
Weddings, Lifestyle, lifehacks, family, Interior design, Home decoration, home improvement, health, and wellness.
Home Decor Affiliate Programs
1. TARGET

Description: Target is an online and in-store retailer that sells everything from groceries to home decoration items. They are present in 50 states and have so many stores that are calculated the 75% of the US population live within 10 miles from a target store.
Being a Target affiliate is great because your customers have plenty of choices to pick from. The affiliate program offers up to 8% commission depending on the item category.
Affiliate Receive: Up to 8% commission.
Cookie: 7 days
2. Sierra Living Concepts

Description: They specialize in handmade furniture and decoration pieces. They build their furniture with techniques that have been passed thru several generations, but with the help of modern tools, making pieces that will last in time.
Commission: 8%
Cookie: 30 days
3. Keetsa Mattresses

Description: A San Francisco-based brand of affordable hybrid high-quality mattresses, made popular on the Internet. They offer six different mattresses to match the way customers sleep best.
Commission: 10%
Cookie: 120 days
4. Canvas Vows

Description: They frame personalized art or pictures. From your wedding, birthday, or travel pictures, they propose high-quality prints to use as decoration pieces in your home. They also personalize different items with the customer's initials or mantras. Besides canvas vows, they own the brand canvashvn which offers high-quality canvas art and motivational art design.
Commission: 25%
Cookie: 120 days
Description: Amazon sells almost everything and anything. By partnering with them you will be able to promote some cool home decor items with the benefit that the client can choose another related item and you still get your affiliate commission, obviously, if they got to amazon thru your affiliate link and they purchase within the next 24 hours.
Commission: 1-10%
Cookie: 1 day
6. Baloo Blankets

Description: Baloo Living is an Eco-Friendly, Luxury Weighted Blanket made with lead-free glass microbeads and soft premium cotton that's cool and breathable for year-round use. Their products are certified vegan through the Vegan Awareness Foundation.
Commission: 10%
Cookie: 15 days
Description: They wholesale items including home furnishing, lawn and garden items, family apparel, automotive products, health and beauty aids, electronics, hardware, toys, sporting goods, pet supplies, jewelry, and housewares.
Commission: 1%
Cookie: 3 days
8. One Kings Lane

Description:  Find designer, vintage, and exclusive home furnishings in every style. One Kings Lane's average order is more than $200.
Commission: 5%
Cookie: 14 days
9. Belle & June

Description: This brand hosts a fabulous selection of luxury home decor and gift items. Their stunning and elegant collection has over 7,000 home decor accents.
Commission: 12%
Cookie: 30 days
Description: Wayfair is an American e-commerce company that sells furniture and home goods. Formerly known as CSN Stores, the company was founded in 2002.
Their digital platform offers 14 million items from more than 11,000 global suppliers. On Wayfair, you can definitely find some products to hook up your customers with.
Commission: 7%
Cookie: 7 days
11. Apt 2B

Description: Is a modern and contemporary furniture retailer that offers a wide array of living and bedroom furniture for the modern and mid-century designed home.
Simple and sophisticated furniture for less money.
Commission: 4%
Cookie: 45 days
12. Designer Living

Description: They carry over 10,000 home goods for every lifestyle and at every budget.
The product selection includes fashion and basic bedding, furniture, wall art, and more.
Commission: 10%
Cookie: 30 days
13. Rug Source

Description: Rug Source has been providing cheap discount rugs for over 10 years. Within their styles, one can find Persian, Oriental, Antique, modern & contemporary, hand-knotted, Turkish, machine-made, and more. They offer a 30-day money-back guarantee to their customers.
Commission: 30%
Cookie: 180 days
14. Brentwood Home

Description: This mattress company uses only organic certified latex and wool, from their arms, and organic cotton from naturally renewable resources. Their memory foams are now formulated with plant-based BioFoam®, up to up to the maximum of 20%, to reduce environmental impact.
Commission: 15%
Cookie: 30 days
15. Aroma tech

Description: Is a  pioneer in the field of scent marketing. They craft scents for leading hotels, casinos, retailers, gyms, restaurants, and other first-class establishments using only high-quality, eco-friendly materials.
Commission: 20%
Cookie: 30 days
16. Joybird

Description: Joybird offers high-quality, responsibly sourced furniture meant to last a lifetime. They offer home living furniture for your living room, dining room, bedroom, home office, and outdoor spaces like terraces, gardens, or balconies.
Commission: 15%
Cookie: 60 days
17. White Terry / If only home

Description: The entire White Terry range of bed sheets is made from 100% organic cotton, and a portion of the profits generated by this business go directly to providing bedding for kids aged 6 -12 in developing countries.
Commission: 15%
Cookie: 60 days
18. The Home Depot

Description: The Home Depot is commonly known as Home Depot, is the largest home improvement retailer in the United States, supplying home decor, furniture and kitchenware, tools, gardening and construction products, and services. The home depot is an interesting affiliate program for life hackers as you can find plenty of tools and random stuff you might use for your hacks.
Commission rate: Up to 8%
Cookie: 1 day
Conclusion
Everyone has a home and because of that home items are always attractive. We all have different styles and moreover different needs. As you know your audience by heart, you can always find good products to make out of the previous affiliate programs list a ton of opportunities.
Always think about what products you are more likely to use, or which products can bring something new and exciting to your home space. Give those products priority. There is nothing better than talking about the things we love, and if you love these products your people will feel it.
If you have the chance, get yourself the products and try them. There is nothing like a recommendation or a review that comes from your own experience.
Make good content about these items. Take the time to take cute pictures and all use all the tips to make your content loveable. Making money online is not easy but if you put love in it by taking into account all those details, you can make fortunes.
Don't forget to subscribe to our Marketing blog to receive more affiliate program ideas.
Our lemonads team would be delighted if you choose to join our network. We sure have offers that your customers will love.
Accelerate your Conversions, Increase your Revenue
with lemonads
---
You would like