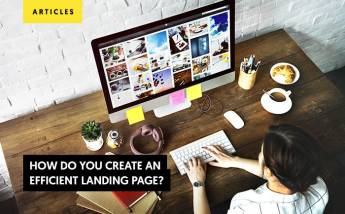 How Do You Create An Efficient Landing Page?
You want to promote a product? Are you frustrated with your campaign results? You want to grow your prospect list? Effective landing pages are the core business of a successful online marketing campaign. They are huge difference-makers in the business. Without them, marketers would be much more limited in their ability to convert website visitors into leads - and therefore, generate conversions.
Your offer can be the best, but without a great landing page, your business might not skyrocket. Whereas, a high converting landing page can be the foundation of a successful online business.
Let's be clear: your homepage is not a good landing page. So, let's start with the beginning. Unlike a website's homepage which has many purposes, a landing page has a singular purpose – to capture a visitor's information through a lead-capture form. Whether it be to buy a new product, register for an upcoming event, or simply subscribe to your newsletter, a landing page focuses on getting site visitors to do one thing and one thing only.

Therefore, a landing page is a dedicated page on your website, created for using them as a part of a digital marketing strategy. It's where a visitor "lands" after they click on a link in an email, or ads from Google Ads, Bing, YouTube, Facebook Ads, Instagram Ads, Amazon Ads, Twitter, or similar places on the Web.
Unlike web pages, which typically have many goals and encourage exploration, landing pages are designed with a single focus or goal that makes landing pages the best option for increasing the conversion rates of your marketing campaigns and lowering your cost of acquiring a lead or sale (it's worth noting that conversion rate is influenced by many factors outside the actual content of your landing page)
To sum it up, it is where your audience or new visitors are being redirected when they click on the link that corresponds to the desired landing page. It is where you can attract the right kind of customers to the exact right offer for them. To grab the attention of visitors and compels them, your landing page needs to highlight both your product's benefits and its key features. Always try to put yourself in the user's shoes, and think of why he or she used a specific keyword or key phrase, which landed him or her on your page.
Get answer to questions like what type of page, information, content, product or service they might be looking for.
Best practices to have to most efficient landing page
Let's see some of the best practices, must-dos and unwritten rules to have the most efficient landing page possible:
Use the "rule of one"
To make a good landing page, you must keep things super simple. Keep in mind the rule of one: one message, one offer, one call-to-action per page. Most businesses use or say way too much on their website and a landing page is definitely no place for that. Too much copy can scare visitors away, while not enough won't convince them to act.
There is a big difference between short and simple landing pages. If it's common to find long copy landing pages in the internet marketing industry, a short page does not automatically means a simple landing page. It means that you must get straight to the point and focus on one core offer on each of your landing pages. One message, one offer, one call-to-action providing a clear path to what to do next.
Gone in 5 seconds
First impression counts. Because people have very limited attention, because our brains are pretty much hardwired to really only pay attention to information that benefits us, the website has to communicate, in five seconds, three things : it has to tell customers what you provide, how it makes their lives better and what do they need to do to get it.
This information has to get to them in less than five seconds, which basically means they have to be at the top of your landing page, without having to scroll down - we we'll talk about the headline a little bit later. You know that people tend to do more skimming of websites instead of actually reading them so the visual clues go a long way there. Your hero shot (the primary image or video on your landing page above the fold) is the first thing visitors are going to focus on, so you'd better make it captivating. Show your product or service in the context of use: demonstrate how it works and make it easy for people to visualize themselves enjoying the benefits.
Have an amazing unique value proposition
We are not talking here in simply putting your name and your e-mail address to get a free PDF or weekly updates. It has to be awesome. You have to go above and beyond with your value proposition, to go deep with why your customer should buy your product or service. Copy and value proposition are factors that affect your conversion rate.
Your headline must draw interest, attention, and understanding. If the headline makes the visitor look, then the subheadline should make them stay. Together, these pieces of copy make up the one-two punch of a landing page's power. Do not hesitate in using emotions : they spice up your landing page copy and improve conversion rate by capturing visitors' interest and helping them relate to you, your offer, and other customers. And copy that uses emotions is much more interesting to read than a bland, boring sales page.
Convey your benefits
We're not talking here about features. Whether the audience finds your landing page through social media, paid advertising, or organic search, you need to give them a reason to care. The best example here is Apple and the use of the iPod. Instead of focusing their communication on the gigabyte of storage, they put an emphasis on the possibility of having a thousand songs in your pocket. And that is exactly the benefit that the customer is caring about.
Try to think about it this way : we offer (A), so you can (B). A being the feature, B being the benefit.
Promote Social proofs
Good landing pages make abundant use of trust signals, which can indicate to visitors that their offer and brand are trustworthy.
Case studies, testimonials, reviews from other sites, there are so many ways to prove that your clients love your products and services.
Social proof is the online version of word-of-mouth where brands build trust with customers and prospects.There's nothing like seeing for yourself proof of concept explained by real stats and customer data. Show off your previous successes to your visitors and share with them what you can do for them. The power of social proof is undeniable, and it could be the key to optimizing your next marketing campaign.
Create a short and strategic video
Because there are so many people who don't like - or don't take the time to read, creating a video is the best way to catch people's eye. It's always tricky for a publisher to optimize his landing page with videos due to the fatal question:
How can I optimize my pre-landing page while optimizing my cost and my precious time?
But, if it's possible, why not create a small clip where you go in detail through your whole process, clearly explaining the problem you solve, how you solve it, how that helps your customer life for the better and what's to be lost for your customer if they don't go with your solution. The benefits ? More retention, because a valuable video will inspire people to stay longer on your page, allowing your message to penetrate ; an increased trust because of the voice and the life given to your product;  and a clear meeting of customer preferences, as written at the beginning of this chapter.
Do not hesitate in emphasizing the transformation that occurs from before your customer found you to the happier after state. Which leads to our next point…
Have a clear call-to-action
Your CTA could (and should) be the first thing your viewer sees when they click on your page. The more visually distinct and clear you make your ask on your page, the more successful you'll be at attaining your marketing objectives.
A successful Call to Action must have two components: A verb or action word and an implied sense of emergency. A Call to Action by itself does little to drive action. On a web page, it is important to have a clearly demarcated place to drive an action and is best served by buttons. Buttons come in all shapes and sizes.
Make it mobile first
It is essential that your landing page can easily be navigated on mobile devices, as a major part of web activity comes from mobile. It's been shown that having a mobile-first site can even double your conversions. Your landing page should look and feel great on mobile devices – easy to navigate, fast loading, and ultra clickable.  
Conduct A/B testing
Landing page A/B testing is essential if you want conversions. It's the only way to know whether your current landing page is the best you can do. It's basically nothing more than the application of a scientific method to your online marketing efforts. A is your control and B is the test. Do not hesitate to share it with colleagues across a range of formats to see how it appears on all devices.

Useful tools to help you create landing pages
If you can't afford to spend your precious time creating landing pages for campaigns that are about to go live, thankfully, there are lots of useful tools out there to help you create beautiful landing pages in a fraction of the time. Here is a small list of softwares you can use:
Read our full article on landing page builder software. There are some simple steps in order to help your create your most effective landing pages. Keeping it simple and always focusing on the customer is the recipe to success.
In fact, the takeaways are not much different than best practices for online display. With a creative management platform,  you can create the perfect landing page and campaign without any major problems.
They are arguably the best way of capturing a lead's information and moving them further down your sales funnel.

To continue and learn more about the Landing Page:
Why Use an Advertorial Before the Landing Page in Native Advertising Campaigns? and 16 Tips and tricks to optimize your landing page.

Accelerate your Conversions, Increase your Revenue
with lemonads
---
You would like