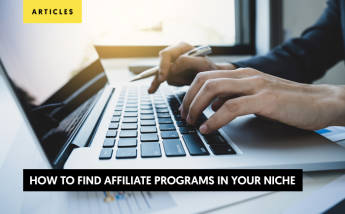 How to Find Affiliate Programs in your Niche?
How to find affiliate programs in your niche to keep your affiliate income blooming.

Having a defined niche is like having the targeting part of your campaign 80% done. It means that the people who follow you, follow you because you understand their needs, their likes, they come to you because you are an authority in the matter and you might have a solution for their problem.
The more precise you are with your content, the more credibility you have in front of your audience. If you are into reviewing tech you can't just go and promote cat food… that would confuse your public for sure, right?
But we know that constantly finding good affiliate programs that relate to your niche, can be at times complicated, especially if you are always searching in the same places.
In this article, we give you some affiliate program mines for you to explore and be original in your offers while staying relevant.
Google to find the topic and for affiliate program search.

Some people like to find first the offer and then the topic. We think you are more relevant if you do it all the way around. First, find a good subject.

If for example, you are lacking themes for your parenting blog, but you'd like to write about dads because father's day is around the corner: Trust Google Search
Use the search bar exactly as if you were doing SEO. Type your keyword and see what are the terms that appear after. As you are into parenthood, start typing kids… or how dads… and let google give you some ideas.
Then, find on Google an offer you can promote within this entry.
Google is the number one search engine in the world and you will find some answers just by typing: "affiliate marketing program'' + ''your niche''
You will find blog posts with some lists. Try Top affiliate programs + your niche. Or Top affiliate products + your niche.
Affiliate marketing bloggers spend days searching for the best programs to craft lists and guides, search on those gold mines too.

Gather all the info you have in the SERP. If you use wisely the time you use searching you'll have to search less over time. Make lists, keep that info for later on. You won't be able to use all those offers at once but now you have a list of 30 or more for next time.
Competitors

In the competitor's area, you have 2 gold mines
A. What are your competitors talking about?
B. Who competes with brands you promoted before?
What are your competitors talking about?
We are not suggesting that you steal but that you observe. Maybe besides their blog, they have a youtube channel or a podcast. Go on iTunes and check their episode titles or their videos on youtube. Check how can you do it better.
Also, check what offers they are promoting and search for the competitors of those brands, or even learn about the same brands they promote, what commission rates are they working with, where are they driving traffic to Semrush competitive research toolkit.
is very useful for this.
Who competes with brands you promoted before?
Another way to find new affiliate programs in your niche is to check the products or services that compete with the ones you promoted in the past. Sure it can be awkward to promote the competition if you were super excited about a product. But there are other ways for you to promote other links. You can review these other products or compare a bunch of them while adding your new affiliate links or sending them to the previous post.
Affiliate Networks

Affiliate networks are like traders in affiliate marketing. They put together publishers and advertisers seeking benefit for both. This network's job is to find the best affiliate programs around to nourish their marketplace and make it super interesting for their affiliates. By exploring those, you will for sure find some great affiliate programs for your niche.
By using an affiliate network like lemonads, you'll have access to hundreds of the most interesting high-paying offers. The benefit of working with an affiliate network is that we use all kinds of paying methods from PayPal to bank wire making it easy for you as a publisher to cash out your earnings.
Affiliate Directories

Affiliate directories are very complete databases where you can find a huge amount of programs and offers that you can filter or organize as you need. You can search by the commission rate, niche, and so on. Directories are not as popular as they were decades ago but in affiliate marketing, they are still a good tool that affiliate marketers use.
e-Learning

Education and skills affiliate programs are an ace under the affiliate marketer's sleeve. This is something that works for every niche. Today you can find affiliate courses in almost anything and everything. It is one of the most appreciated gifts as well. Some good programs you can check on are Thinkific, Masterclass, Teachable, Kajabi, podia, or Udemy.
Chose well your affiliate programs
Affiliate is a synonym of partner, and that's how you should think about every program you choose to affiliate/partner with.
1. Reputation is everything.
Is the company well known? You don't want to partner with people that have a bad reputation in the business. Neither affiliate with no good companies.

2. Social Proof
Is it well-reviewed? Even if the companies are new, we have social referencing to help us know if they are trustworthy or not. When seeking reviews, double-check that the people behind are real and not their employees.
3. The commission structure
A good partnership brings benefits to both parties. Make sure that the programs take care of you and are serious with their promises.
4. More products = More opportunities
Maybe it's better to bet on affiliate programs from companies that have multiple products and not just one. This way you have more chances that your users find an option that suits them better.
Conclusion
To find affiliate programs that are relevant for your niche we recommend: Rely on google. Use your competition as inspiration on what and what not to do. Search for the affiliate links they are already promoting and also check on the competition of the products they promote.
Evaluate your past affiliations and make a comparison or a review of the competitor's products or services. Like that you will be able to affiliate with new programs while being honest with your audience.

Affiliate to a network like lemonads can guarantee you the quality of the offers while providing you with multiple paying methods and solutions.
Affiliate Directories are still relevant for affiliate marketers and they can be a good tool when you lack offer ideas.
We hope you pulled some great ideas from this article.
Apply as a publisher,  join our network and affiliate with some of the best affiliate programs around.
Accelerate your Conversions, Increase your Revenue
with lemonads
---
You would like