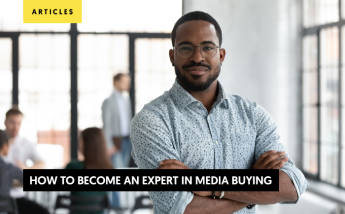 How to Become an Expert in Media Buying: Skills Required + 5 Essential Tips
Media buyers are an essential part of the affiliate ecosystem, but understanding the role that these individuals and agencies play is not always straightforward.
Although they don't own or manage any platforms, these marketers can help advertisers connect with their audiences and transform users into paying customers. But, in order to become a successful media buyer, you have to know what happens behind the scenes.
There is no silver-bullet solution to becoming a media buyer. Every marketer is different, so you need to find your strengths and develop the skills you're missing in order to achieve your goals. That said, as long as you put in the work and learn from every experience, you should be able to find the winning combination.
At lemonads, our team of affiliate marketing experts understands the value of media buying and the steps marketers need to take to increase their chances of success. Below, we'll go over the different skills required to become a media buyer and discuss 5 tips to help you hit the ground running.
What Is Media Buying?
In the affiliate context, media buying is the process of purchasing digital ad placements in order to launch one or more marketing campaigns. There are billions of potential ad placements available for digital media buyers, so these marketers have to learn to identify the best options and get them at the lowest possible price.
Unlike traditional affiliates that run their own website, media buyers have the freedom to invest their resources into the best placements across the whole internet. However, becoming a media buyer also means maintaining good relationships with a larger number of stakeholders.
Besides advertisers and affiliate networks, media buyers also have to maintain a good relationship with publishers, which are the platforms where the traffic comes from. But, these professionals can also rely on ad networks that sell large quantities of assorted traffic at a slightly higher price.
Benefits of Becoming a Media Buyer
Because digital media buying takes advantage of platforms that already attract quality traffic, this affiliate technique often produces immediate results. Traditional affiliates, on the other hand, need to work on attracting traffic to their platforms before being able to monetize these users. Nevertheless, affiliates that run their own site usually have higher profit margins, so it depends on what each professional prefers.
Additional benefits of media buying include:
No Website Management Required
Running your own website requires quality servers, strict security protocol, full compliance with all regulations, and other features. The good news is that media buyers don't have to worry about implementing updates or ensuring that the platform ticks all the boxes in terms of compliance. All that responsibility falls on the shoulders of the publisher or network you're working with.
Huge Gallery of Offers
Like conventional affiliates, media buyers have access to a huge collection of offers from virtually all industries. From automotive to sportswear, technology, and everything in between, media buying professionals can pick and choose the verticals they prefer. This allows them to work with products they are passionate about and advertisers of all sizes.
Countless Ad Networks to Choose From
It's true that media buyers can maintain relationships with individual publishers, but most marketers work with ad networks that help them find the best platforms. Media buyers can actually choose from a massive array of ad networks that sell all types of traffic, which can be filtered by gender, age, location, device type, and other variants.
Skills Required to Become a Successful Media Buyer
One thing that traditional media buyers and their digital counterparts have in common is the need for a particular set of skills. Media buying requires quick thinking and assertiveness because these affiliates have to make quick decisions in certain scenarios, but finding success in this industry is all about the long game.
Some of the skills required to become a successful media buyer include:
Perseverance and Self-Teaching
Every media buyer has to start somewhere, so don't feel discouraged if you don't get the right results immediately. Media buyers need to have perseverance and keep trying different variables until they find a formula that works. Not only this, but you need to develop the ability to teach yourself via research as well as firsthand experience.
In-Depth Understanding of the Affiliate Industry
The digital marketing industry is worth almost half of a trillion dollars and affiliate advertising contributes to this monumental number. To achieve your objectives, you need to understand how the industry works, what its purpose is within the larger digital advertising machine, and when each stakeholder comes into play. This will allow you to build better relationships with vendors and carve out a place for yourself.
Comprehensive Researching Skills and An Innovative Mindset
Not only do you need to know how to research for educational purposes, but you also have to learn to find information for practical purposes. Before launching your campaign, you need to conduct competitor research, determine which elements are producing results for them, and create a strategy that allows you to compete with the top marketers quickly.
As with all other types of digital marketing, media buyers also need to be creative. Crafting attractive ads requires certain artistry, so having a creative mindset will help you develop engaging materials that speak to your audience.
Organization and Negotiation Skills
Media buyers have to deal with multiple networks, advertisers, and software vendors. This means that there are always invoices to send, expenses to pay, and other managerial tasks. It's easy to lose track of these and forget to complete an activity, but this usually affects other areas of your operation. The solution is simple: learn how to be organized and use task lists and check off tasks as you complete them.
At the same time, media buyers also need to be great negotiators in order to get the best offers and traffic. Always discuss the possibility of getting a discount with the network representative or obtaining additional resources from advertisers. You may not always be able to negotiate right away, but once you have the ability to consistently develop successful campaigns, you can discuss potential discounts or deals with your account manager.
Ability to Manage, Understand, and Examine Analytics
Setting up a tracker is simple, but the real magic begins once you start collecting information. To make sense of this information, you have to know how to manage, understand, and examine large data sets.
This may come naturally to some media buyers, but all professionals can develop this skill through practice. Just make sure to learn what each statistic means and how to create custom reports, which will help you learn how to identify the different patterns.
Patience
Media buying can produce awesome results, but all marketers go through a learning period. It's important to stay positive, trust the process, and be patient.
5 Tips to Become an Expert Media Buyer
Remember, all marketing professionals are different, so you have to create a tailored approach designed for your specific scenario. You have to consider your budget, current knowledge, and understanding of the affiliate ecosystem. If you feel like one of these basic requirements needs work, take your time and take the plunge when you're confident enough.
Here are some general tips to help keep you on the right track.
Create a Detailed Plan
The world of media buying moves at a fast pace, so it's easy to lose track of your goals and mismanage your resources. You can prevent this from happening by creating a detailed plan that includes short and long-term goals, steps to achieve them, and milestones to keep you focused along the way.
Choose Offers with Easy Conversion Flows
Once you start exploring the offers you have available, you'll notice that easy conversion flows have the lowest payouts. This may discourage you at first, but these offers can help you learn the ropes without burning through your whole budget.
Start with Low-Tier GEOs
In affiliate marketing, countries are divided into different tiers based on their potential to produce revenue. Tier-1 countries are the most lucrative, but these are also the most expensive and difficult to convert. There are tier-2 countries that are easier to convert and offer slightly lower payouts, but these are more suitable for media buyers that have medium experience.
Tier-3 countries are more affordable and still have decent conversion rates, so you can develop your skills while making back at least a portion of your investment. Once you feel confident enough, you can test out higher tier Affiliate Program and make adjustments as you go along.
Research Different Ad Networks
There are hundreds of ad networks you can work with, many of which specialize in a specific type of traffic. But, not all ad networks are the same, so you have to thoroughly research your options until you find one that suits your needs. Be careful not to confuse an ad network and an affiliate network.

Some of the elements you want to keep in mind include:
Traffic volumes
GEOs covered
Verticals
Security measures
Reputation
Tracking features
Build an Optimization Calendar
Before launching your campaign, you have to create an optimization calendar you will follow to make improvements to your ads. This is where the analytics interpretation skills will come in handy because you have to parse large volumes of data and transform it into actionable information.
Get More Tips on Becoming a Successful Media Buyer at lemonads
Media buyers are beneficial to the entire ecosystem because they allow publishers to monetize their traffic without having to manage a campaign, while advertisers still get to promote their affiliate programs and attract new customers.
We hope that the tips above help you understand this type of affiliate marketing and guide you on your quest to becoming a successful media buyer. Just remember to work on developing the right skills and creating a tailored plan before you get started.
If you want to learn more about becoming a media buyer or running your own affiliate website, contact lemonads, and our team will be glad to help.
Accelerate your Conversions, Increase your Revenue
with lemonads
---
You would like