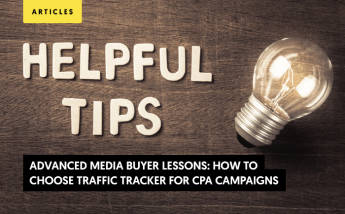 How to Choose Traffic Tracker for CPA Campaigns? (Advanced Media Buyer Lessons)
One of the biggest benefits of digital marketing is that this approach allows you to make decisions based on accurate data.
Instead of attempting to connect the dots, you can monitor and track the performance of your marketing campaign, to the point of seeing exactly where you spent every single dollar and seeing how much money you got in return. That said, media buyers can't simply rely on default tools offered by their traffic providers.
Instead, these affiliates need to partner with reliable tracking platforms and implement these top-notch solutions into their CPA campaigns. This is the only way to ensure that the data collected is accurate and that each interaction comes from a legitimate user.
At lemonads, our team members have worked closely with successful media buyers across a variety of different industries, so we're familiar with the tracking tools these affiliates employ. Below, we'll go over the definition of a CPA campaign tracker, the different types available, and give you tips on getting the best tracking software for your media buying ads.
What Is CPA Campaign Tracking Software?
Also known as an affiliate tracker or tracking tool, a CPA campaign tracker is a platform that allows media buyers and other marketers to monitor the performance of their ads. Designed specifically for cost-per-action campaigns, these trackers provide valuable insights and help unveil information that allows media buyers to make better decisions during the optimization process.
While the exact features may vary from one platform to another, tracking software provides the ability to monitor different statistics including clicks, click-through rate (CTR), conversion rate (CR), impressions, number of total conversions, and a huge array of additional metrics.
Benefits of Employing a Reliable CPA Campaign Tracker
The benefits of tracking your ads can be summarized as simply improving all aspects of your campaign. But, the reality is those campaign trackers have a profound impact on your marketing activities because their benefits are felt in different areas.
For starters, having a reliable tracking platform allows you to understand what type of ads your audience likes and which adverts you should stop using. This can help you build a strong connection while ensuring that you get the most from your investment.
Not only this, but you can identify the regions that are producing the best results and funnel your resources into these locations. Besides increasing your earnings, this also reduces waste while allowing you to cut down on the types of ads you have to develop.
If used properly, tracking platforms can increase your return on income or ROI. In addition to targeting the most profitable locations, your campaign tracker can also help you launch retargeting campaigns and generate double the number of conversions from the same traffic set.
Finally, ad trackers help you streamline different parts of your marketing plan, including optimization, new ad development, and location targeting adjustments.
Are our Ad Network Trackers Reliable?
Media buyers can purchase traffic from a variety of different sources, but ad networks are among the most common providers. If you've already launched a campaign, you may have noticed that your ad network also provided an in-house tracker. Many affiliates opt for using this feature because it's free, so it doesn't add the expense to their project.
With the above in mind, ad network trackers aren't the most accurate. This is because these providers already focus most of their resources on running the network. This means that:
The technology that powers the tracker isn't always the most innovative
Discovering new types of fraud isn't a priority
There may be a lack of post-conversion analysis, which unveils more false conversions
For this reason, experienced media buyers always leverage a reliable third-party platform that allows them to monitor and adjust their campaigns directly through the tracking interface. Even if you feel like you don't have the budget to implement a separate tracker, making this investment will likely improve your profitability and result in higher earnings.
Servers vs. Cloud Trackers
There are dozens, if not hundreds of platforms you can use to track your media buying campaigns, but not all of these are the same in terms of quality and performance. Moreover, many leading trackers offer different features, so you need to evaluate all of your options to find the best alternative.
Keep in mind that all CPA tracking platforms can be categorized into server or cloud-based.
Server or self-hosted solutions are installed directly on the media buyer's server. This can become a major problem because not all media buyers have the resources to purchase server space. But, affiliates that have the right setup can take advantage of the lower long-term costs and privacy that self-hosted trackers offer.
As the name suggests, cloud trackers are hosted by the provider, so end users can access them via any internet browser. These often require a subscription payment, but they offer the most practical setup for media buyers that have limited resources.
How to Choose the Best CPA Tracker for Your Campaigns
Like any other piece of marketing software, you need to conduct extensive research before choosing the best CPA tracking software. You should create a list of the leading providers that you can realistically work with and work on narrowing down the options based on your requirements.
To choose the best alternative, you should consider the technical requirements, security features, pricing, and overall performance.
Installation and Configuration Requirements
Depending on the type of platform you choose, you'll either have to take care of the tracker's installation or configuration. Self-hosted solutions require installation, so you need to have a technical team on your end or make sure that the tracking software provider offers assistance with the setup process.
If you choose cloud-based solutions, you won't have to worry about installation. But, you will likely have to configure or tune your tracker by choosing the right settings. Note that this is usually not as complex as the installation, but you'll still want to take your time and ensure that it doesn't require additional technical knowledge.
Privacy and Security
Even though media buyers purchase traffic, these affiliates still need to make sure that the tracking tools they employ follow sound privacy and security practices.
From a privacy perspective, ensuring that the tracking provider doesn't unlawfully store or use data is the most important aspect. That said, you should also verify that the options you're evaluating have implemented robust security features.
After all, criminals often target the weakest area, so you need to make sure that the tracker you opt for actively takes steps to create a safe environment and minimize cyberattacks.
Costs
The cost of a tracker can vary tremendously depending on the platform's reputation, features, and overall quality. As we mentioned before, self-hosted alternatives tend to be more affordable in the long run because media buyers only have to purchase the licensing.
However, you can also find low-cost cloud alternatives if you don't want to start paying for server space for your tracker. These are subscription-based, so you will have to pay a monthly fee, plus remember to check any additional costs like updating or migration expenses.
Speed and Performance
Believe it or not, the speed of your tracker affects your ad loading times. If you have a slow tracker, it may compromise user experience and reduce the number of conversions you generate from the traffic you purchase.
Instead, you should opt for the fastest possible alternative. Cloud-based alternatives are usually better for media buyers who want to focus on speed because these providers have multiple servers around the globe. Self-hosted trackers can be even faster, but you need a certain level of technical knowledge to ensure that they perform at this level.
5 Top CPA Trackers Available
As we mentioned before, there's a huge number of different tracking platforms available, and evaluating each one individually can take a significant amount of time. To help you out, we've put together a list of five of the best CPA campaign trackers you can work with. These are Binom, Voluum, Adsbridge, Redtrack, and Thrive.
1. Binom
Binom is a superb affiliate tracker that allows you to track more than 20 metrics, including IP range, proxy, clicks, conversions, and almost every other major statistic you can think of. While this solution may be better suited for advanced media buyers, it offers a great alternative that boasts of multi-level filters to ensure that you only get the relevant traffic.
2. Voluum
Voluum is a cloud-based tracker with a mid-level price tag, but it performs as well as any leading platform. This tool employs pixel technology to track conversion and other metrics on both mobile and desktop devices. And, you can also export all your findings to manually work with the information you collect.
3. Adsbridge
Adsbridge has been one of the industry leaders for years, so it's earned a solid reputation as one of the best available. It's suitable for campaigns in more than 160 countries and it can track up to 10 million events, depending on the plan you choose. Plus, you can create and manage all of your campaigns directly on this platform, which minimizes work across the board.
4. Redtrack
If you're looking for a powerful alternative that allows you to start with a low-cost, basic plan, then Redtrack may be the best alternative. As good as any other tracker in this list, Redtrack has a collection of powerful features including cookie-less traffic, so you can monitor the performance of your ads regardless of the settings that your audience members use on their browsers.
5. ThriveTracker
Last but not least, ThriveTracker is another platform that has been around for years. This platform offers self-hosted and cloud deployment, both of which have powerful features. You can even use specialized features like auto-scaling, which helps your tracker stay on top of your campaigns even if they start growing exponentially.
Ready to Find the Best Offer? Contact lemonads Today!
Having a reliable tracker is essential if you want to succeed. That said, there are many different alternatives, so take the time to conduct your research and choose a solution based on your unique circumstances.
If you want to pair your tracker with the best affiliate program, contact lemonads and our team will be glad to help.
Accelerate your Conversions, Increase your Revenue
with lemonads
---
You would like