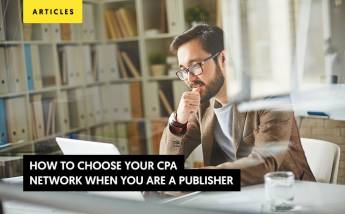 Publishers: How To Choose Your CPA Network
If you are a newcomer in affiliate marketing, finding a reputable CPA network that has a solid selection of offers, pays out commission on time and has knowledgeable staff that will help you sustain and grow your online business can be tricky. Therefore, where do you begin to figure out what is the best network for you?
What is Affiliate Marketing?
Before addressing the idea of how to choose your Affiliate Network, let's have a quick review about what a CPA Network really is.
A CPA Network (also called affiliate program or affiliate network) facilitates a partnership between brands who want to generate more conversions on their website and affiliates who want to monetize their traffic. As such, the CPA model is a simple concept once you break down into how it works and who's involved:
Advertisers – The online retailers who want a high-qualified traffic to their business' website and such increase sales, generate leads, or boost conversions. They are the content provider and offer owners.
Publishers – They can be webmasters, bloggers, e-mailers, or media buyers. They want to generate conversions with the traffic they provide to the ecommerce websites. They are the traffic providers and they are responsible of the advertisers' ads.
Affiliate Network – The intermediary network that brings together Publishers and Advertisers to help them make money by promoting products or being promoted.
By picking commission up on conversions generated by the traffic provided, the publisher earns revenue and expands his business. Commission is evaluated depending on the conversion: a sale or a certain action to be completed by the users when they arrive on the advertiser's page, such as  subscribing to a list, downloading a software, etc…
Why should a publisher work with a CPA Network?
In this article, we are going to focus on publishers.
These players are responsible for the ad's promotion and are looking for top quality offers that best fit with their audience in order to have a high monetization rate. Affiliate marketing is very profitable for publishers when the target is correlated to the advertiser's audience. Good publishers can make a great difference to an advertiser's profits, so finding high-quality offers is a major step in the process. They need to be an authority in the same niche as the products being offered by the advertiser and should have an active audience who engages with them on a regular basis.
Compared to other marketing tools, affiliate programs offer a number of benefits including several points :
It's pretty easy to set up. You only need a traffic source and a CPA network and it takes very little capital up front to use this marketing technique. When you do a partnership with a trusted affiliate network, there's only one or two meetings. Just to introduce you the platform and to know you a little bit more in order to show you the offers that would suit your traffic best. You can begin to get traffic from affiliate sites almost right from the start.
You can get paid quickly. As lemonads, certain affiliate networks offer the opportunity of being paid every week or even every day, which makes it possible to recover the money very quickly in order to reinvest it more quickly on new offers with the aim of always earning more money.
You have a high return on investment. You've probably read it before, ROI is the heart of the business. Affiliate marketing generates 16 percent of all online marketing. These types of marketing campaigns drive a better quality of traffic and offers a better value than most traffic sources. The more sales you drive, the higher your commissions can be. Plus, CPA marketing gives you scale and distribution.
How do you choose your CPA Network? Choosing the right CPA network for a publisher is crucial since his revenue considerably depends on it. That's why it's important to rely on facts and showings when making your choice. One of the key benefits of becoming a publisher through an affiliate network is the number of opportunities this opens up, alongside the ease of getting started. Industry knowledge is an important factor when it comes to success, and networks are aware of all the latest trends, as well as how to get the best out of an affiliate program.
How to choose your CPA Network?
When it comes to making money online from websites, there are thousands of networks. It remains tough to choose which network is best for your website. Here are a few tips to help you choose which one is the best for you as a publisher:
Longevity: Before joining an affiliate network, do some digging and see how long they have been in business and how long management has been in the space.
One of the best identifiers of a quality affiliate network is the definition of how long the network has been operating. Even though a network is new, it does not automatically put them in the "I shouldn't go there" bucket, however, networks that have been in business for more than a few years obviously know what they are doing and are good enough to stay in business in such a cut-throat industry.
Quality of offers: Of course, the number and the quality of the offers are key indicators of a CPA network's relevance.
Feel free to keep a close eye on what type of offers are on the platform and from which advertisers. To do so, you can get information directly from the Affiliate Network, but also find out about the aggregator websites which aim to present offers of all affiliate programs. We recommend Offervault. It is a reference in the aggregator marketplace.
Also, check that the Affiliate Network has exclusive Affiliate Programs, it means offers that you can't find elsewhere. These offers often have advantages in terms of payout.
Avoid CPA networks with bad reviews : The downside to CPA marketing (as with any online money-making opportunity) is the questionable networks that have shady practices.
Before you jump on board with any affiliate network, read the reviews. The most popular negative reviews topics include lack of payment (please note that even highly reputable CPA marketing networks may withhold payment for specific reasons, so review the network's policies before signing in), unhelpful assistance, and difficulty to use the platform. Review websites as Affpaying or Topnetworks, but also Forums as STM, Afflift, or WarriorForum can be really useful to help you choose a CPA network
Good assistance: The expertise of the team who will assist you is very important. This or these people are most likely to redirect you to the most profitable offers according to your traffic. They will support you, guide you, and give you all information you need. As such, it is essential that the affiliate program takes the time to get to know you well and to understand precisely what type of traffic you bring. An onboarding where the account manager does not take the time to ask you who you are may not to be a good CPA network.
Payment terms: A study realized from lemonads publishers at the beginning of 2020 shows that payment terms are the most important criteria for publishers to choose a Affiliate network.
Indeed, as we said above, how quickly publishers get paid has an impact on how quickly they can reinvest that money into new opportunities. Therefore, it is very important to choose a CPA network with daily or weekly payment terms, which is still very rare on the marketplace.
Verticals and Geos diversity: As a publisher you may already have specific verticals and geos that you work in or would like to work in. Different networks will focus more on certain niches than others and it is vital to understand who your visitors are and what are their principal needs. When this definition will be made, you will want to join a network that has a lot of different offers available for you to choose from. Joining a network that has limited options for your vertical(s) or your geo(s) will greatly decrease the amount of revenue you can earn, simply because you won't have enough options.
Choose networks that screen new publishers : In the most common cases, you will want to get the job done with a network that can screen new publishers and not offer automatic acceptance. Why ? Because if networks fail to screen new publishers, it can mean they are ultimately jeopardizing their own business by opening it up to potential fraud, which could have a direct effect to your own legitimate commissions.
To sum it up, you may want to join a Affiliate network that will exclusively work with publishers, and  who are dedicated, serious and motivated to make money. By joining a network you are investing in them as much as they are investing in you so you need to make sure that they are taking their investment in you seriously and are going to be their to support you as you grow and develop your business.
Into lemonads, we adopt a thorough selection process of all publishers because we are sure that in affiliate marketing, the publisher and the Affiliate network need to have a human and partnership relationship before a B2B relationship to be able to develop together our common business.
To find out more about Affiliate Networks, feel free to check out our article on why using a CPA network is more efficient than direct affiliates.
Accelerate your Conversions, Increase your Revenue
with lemonads
---
You would like